HONG KONG - ASIA
PORT INFORMATION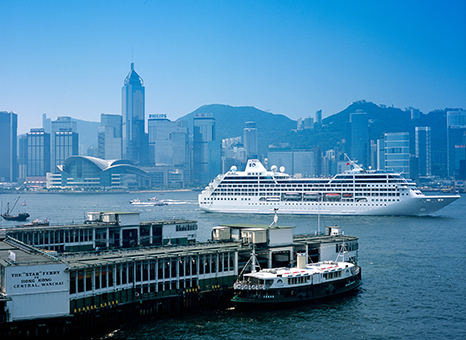 Photo courtesy Hong Kong Tourism Board

Hong Kong probably ranks as Asia's most vibrant, cosmopolitan and intriguing city, famous for its festivals, food and shopping. Hong Kong offers a host of memorable tourist attractions within its compact area, with The Peak and the Giant Buddha on Lantau island among the most awe-inspiring. Fabled Victoria Harbour is a colourful moving jigsaw of Star ferries, freighters, sampans and junks. A city of diverse contrasts, you only have to walk Hong Kong's streets and enjoy its street markets to feel the pulsating fusion of East and West.

Cruise Terminals in Hong Kong
Harbour City Ocean Terminal
The sole cruise terminal in Hong Kong at present, until the new Kai Tak Cruise Terminal opens in 2013, the Harbour City Ocean Terminal is located in the heart of Victoria Harbour at Ocean Terminal making it the perfect embarkation/disembarkation point for cruisers.
The three-storey terminal building features more than 700 retail shops, 50 restaurants, two cinemas and three hotels and is only steps away from major Hong Kong attractions and instant public tranasport and taxis.
China Merchants Wharf
Some cruise passengers may find their cruise ships located at alternative berthing at the China Merchants Wharf and the Container Terminals located in the western side of Hong Kong Island only 10 minutes from Central, the heart of the city.
Kai Tak Cruise Terminal
A new cruise terminal at the site of the old Kai Tak airport is set to begin operations in 2013 and at that time will be able to berth the world's largest cruise vessels.
Hong Kong International Airport, recognized as one of the best airports in the world, is only 25 minutes away from the cruise terminals by the Mass Transit Railway Airport Express. City buses and taxis are also available for quick and easy transfers.
Cruise Lines using Hong Kong Cruise Terminals as an Embarkation / Disembarking Port
The many major cruise lines operating in Aisa using Hong Kong as a port of embarkation or disembarking include Azamara Club Cruises, Costa Cruises, Hapag-Lloyd Cruises, Holland America Line, Oceania Cruises, P&O Cruises, Regent Seven Seas Cruises, Royal Caribbean, Seabourn, Silversea Cruises.
Must See Attractions in Hong Kong
Some of Hong Kong's's major attractions are only minutes away as visitors step off their cruise ship at the Ocean Terminal in Kowloon. Nearby are many attractions including the Hong Kong Cultural Centre, the Hong Kong Museum of Art and the Hong Kong Space Museum.
The Peak: Take the Peak Tram from the Lower Peak Tram Terminus on Garden Road for a steep mountainside climb to The Peak for its stunning views over the city's towering skyscrapers, Victoria Harbour and Kowloon. There are more great vistas from the viewing terrace at the Peak Galleria, as well as the Peak Tower Sky Terrace. Housed in the Peak Tower are Madame Tussauds Hong Kong and the Peak Explorer Motion Simulator.
Victoria Harbour: This is one of Hong Kong's greatest assets, a harbour bustling with activity day and night. Capture the sights, sounds and sensations of Hong Kong with a ride on the iconic Star Ferry, a harbour cruise or a ride in a traditional Chinese junk and enjoy "A Symphony of Lights", a stunning multimedia show featuring more than 40 Hong Kong skyscrapers in a dazzling extravaganza.
Ocean Park: A marine mammal park, oceanarium, and animal theme park, Ocean Park has three attraction areas which are connected by a cable car, an outdoor escalator which is the second longest in the world, and Ocean Express. The park is also home to a fascinating Sea Jelly Spectacular, featuring more than 1,000 sea jellies of all sizes from all over the world.
Take the Star Ferry across to Hong Kong island where Hollywood Road and Upper Lascar Row (also known as "Cat Street"), crammed with antique shops and an open-air curio market, are must-see stops. Bargain hunters will also enjoy the stalls on Ladder Street, just a few metres downhill. Nearby Man Mo Temple is a picturesque tribute to the God of Literature (Man) and the God of War (Mo).