SAN DIEGO - CALIFORNIA - USA
PORT INFORMATION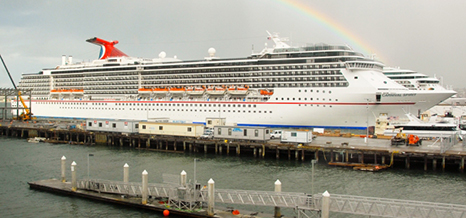 photo courtesy San Diego CVB

With seven cruise lines serving San Diego and the San Diego Cruise Ship Terminal conveniently located in downtown San Diego a short distance from countless attractions, San Diego is an ideal city to begin and end your cruise.

Consistently recognized as one of the leading family vacation destinations, San Diego offers a near-perfect climate, a variety of family-friendly activities, world-class attractions and special events throughout the year. San Diego has 70 miles of pristine beaches.

Brief History of San Diego, California
The San Diego area was home to the Kumeyaay Indians for more than 10,000 years, until the bay was discovered by the Portuguese in 1542 and finally established and named (for a Spanish saint) by the Spanish in 1602.
At the end of the Mexican-American War, the gold rush of 1848 attracted a huge number of prospectors and settlers, and 13 years later, the original town, now called "Old Town San Diego" situated away from the sea, was moved to what is now called "New Town San Diego" on San Diego Bay. It is now the heart of the city of San Diego.
Today, San Diego is second largest city in California, and the eigth largest city in the USA.
Cruise Terminals in San Diego, California
Located at the heart of downtown San Diego at 1140 North Harbor Drive on the B Street Pier, and close to a wealth of attractions, the San Diego Cruise Ship Terminal has comfortable facilites with all of the necessary features.
Current improvements to the facilities for cruise ships at the Port of San Diego include an auxiliary cruise ship terminal on Broadway Pier adjacent to the Port's primary cruise facility at B Street. The new complex is slated to open in late 2010.
The current 30,000-square-foot main cruise ship terminal building is supplemented with two other buildings for passenger reception and baggage handling.
The San Diego Cruise Ship Terminal is only 10 mintues from San Diego International Airport and within walking distance from the Santa Fe Depot station for those passengers arriving by Amtrak.

Amtrak now provides daily Thruway service to Cruise Line Port Areas in San Francisco, Long Beach, San Pedro and San Diego. The San Diego station is just three blocks from the downtown San Diego Cruise Ship Terminal.

A new service offered by some cruise lines arranges for cruise ship passenger luggage to be picked up at the airport and delivered to the stateroom meaning that cruise passengers simply have to walk off the plane and head directly to the cruise ship.
Parking is NOT available at the terminal, but the cruise lines are able to suggest various alternatives.
Cruise Lines using San Diego Cruise Terminal as an Embarkation / Disembarking Port
Azamara Club Cruises, Carnival Cruise Lines, Celebrity Cruises, Holland America Line, Regent Seven Seas Cruises, Royal Caribbean, and Silversea Cruises use the Port of San Diego as their port of embarkation and disembarking.

Carnival Cruise Lines is introducing a new one-of-a-kind schedule of five- and nine-day Mexican Riviera voyages from San Diego aboard the Carnival Spirit.

Must See Attractions in San Diego, California
SeaWorld San Diego: This is San Diego's leading tourist attraction and one of the most popular marine-life parks in the world. Spread across 189 acres on beautiful Mission Bay Park, SeaWorld San Diego is known for spectacular animal shows, interactive attractions, aquariums, rides, beautiful landscaping, dining facilities and education programs for all ages.

San Diego Zoo: World famous, and deservedly so, the San Diego Zoo houses over 4,000 rare and endangered animals representing more than 800 species and subspecies from the forests and jungles of the world. Its prominent botanical collection has more than 700,000 exotic plants. The Zoo exhibits animals in the most natural way possible, adding shows and animal presentations Visitors can walk along pathways, into aviaries, and through bioclimatic zones or take a 35-minute guided bus tour.

Wild Animal Park: This is an expansive wildlife sanctuary located 30 miles north of downtown San Diego in the San Pasqual Valley near Escondido, California. The Park spans 1,800 acres and cares for over 3,500 animals comprising more than 400 species. The Park showcases herd-style animals from the plains and savannas of Africa and Asia such as rhinos, giraffes, and antelope.

Balboa Park and Museums: With a variety of cultural institutions laid out among its beautiful 1,200 lushly planted acres, Balboa Park, just minutes from downtown San Diego, is the nation's largest urban cultural park. It is home to 15 major museums, several performing arts venues, lovely gardens and many other cultural and recreational attractions (including the San Diego Zoo)..

Other attractions in San Diego include the Reuben H. Fleet Science Center, Birch Aquarium at Scripps, Knott's Soak City USA, Belmont Park with its Giant Dipper roller coaster, more than 90 museums, historic sites and monuments.