MIAMI - FLORIDA - USA
PORT INFORMATION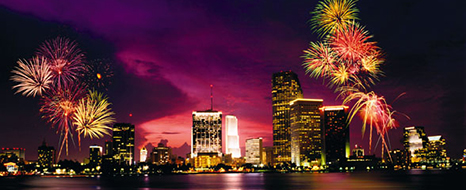 photo courtesy Carnival Cruise Lines

PortMiami, known worldwide as the Cruise Capital of the World, handled more than four million passengers in fiscal year 2011, more than any other cruise port in the world.

The recognized Cruise Capital of the World, and often referred to as the world's premier playground, Miami offers visitors the best of all worlds: great year-round weather, top-ranked beaches and the attraction of the sparkling waters of Biscayne Bay teeming with sea life, exotic plants, and living coral reefs against the backdrop of a cosmopolitan metropolis.
A popular port of embarkation, disembarking and a popular port too for world cruises, Miami appeals to all those looking of good food, great shopping, golfing, water sports and the mixed culture of a myriad of the local ethnic groups.
Brief History of Miami
Discovered by 16th Century Spanish explorers, the Port of Miami, located at the mouth of the Miami River in southeast Florida at Biscayne Bay, is today one of the United States' leading resort and tourism destinations, contributing more than $18 billion to the economy of South Florida.
The port's boom years began in 1896 when the East Coast Railroad was extended to Miami and the Port of Miami was established. Shortly after that, the first passenger cruise ships began arriving in Miami.
Cruise Terminals in Miami
Just 20 minutes from Miami Airport, located on Dodge Island just east of downtown Miami, and a mere five minutes from the main heart of Miami, the Port of Miami cruise terminals are amongst the most modern cruise facilities in the world and plans are underway for even more improvements.
Passenger terminals feature a VIP lounge, high-tech security screening facilities and an airport-style conveyor baggage system.
The Port of Miami is approximately 25 minutes from Fort Lauderdale Airport.
Secure long-term parking for cruise passengers is available in parking facilities located at each of the individual cruise terminals, There is a free shuttle service to the cruise terminal locations. Reservations are not required.



Cruise Lines using Miami Cruise Terminal as an Embarkation / Disembarking Port
More than 10 major cruise lines use Miami as their port of embarkation and disembarking. These include Azamara Club Cruises, Carnival Cruise Lines, Celebrity Cruises, Costa Cruises, Crystal Cruises, NCL, Oceania Cruises, and Royal Caribbean International. These cruise lines offer 3, 4, 5, 7, 8, 9, 10 and 11 day cruises to the Bahamas, Eastern and Western Caribbean, Mexico, Key West, South America, North America and Europe.
Must See Attractions in Miami
Jungle Island: This theme park, on Miami's Watson Island close to resorts and cruise ship terminals, is home to more than 3,000 exotic animals and 500 species of plants. Here, visitors enjoy animal stage shows, one-of-a-kind interactive aviaries, plant nurseries, jungle trails, a petting farm and educational exhibits, as well as world-famous parrot shows, a new Serpentarium and Jungle Theater, an Everglades Habitat and much more – all nestled on a lush tropical island.
Bayside Marketplace: Downtown Miami's waterfront shopping/dining and entertainment center, commonly featured on Miami Vice, is the gateway to over 100 shops, live musical entertainment, bicycle tours, charter boats and top-notch restaurants. Nearby is the American Airlines Arena on Biscayne Bay, a sports and entertainment arena, home to the Miami Heat.
Everglades National Park: A drive of about 50 minutes from the Miami cruise terminal and covering 1.5 million acres, Everglades National Park is the third largest in the US National Parks system. Made up of sawgrass prairies, mangrove swamps, subtropical jungles and the warm waters of Florida Bay, the park is home to a rare community of plants and endangered animals that inhabit the seemingly endless grassy waters. Visitors to the park can enjoy self-guided and ranger-led tours and activities from the Main Visitor Center at the Park's entrance, or journey deeper into the Everglades for a more extensive experience in the Florida wilderness. At the edge of the Everglades is the Everglades Alligator Farm where visitors can enjoy an exhilarating airboat tour into the surrounding Everglades and a stroll around the farm to see the alligators, crocodiles, caimans and wildlife that reside there.
Other attractions in Miami include one of Florida's most popular tourist attractions, Miami Seaquarium, which gained notoriety as the location for filming of the 1960s hit TV show Flipper, and Miami's acclaimed Metrozoo. Parents of stargazers and budding naturalists will also want to schedule a trip to the Miami Science Museum. Nearby is Vizcaya Museum & Gardens, the lavish waterfront Italian Renaissance mansion built by industrialist James Deering in 1916.