EDITORS NOTE: Cruises to Anchorage, Alaska use one of three different cruise port terminals. The first is in Anchorage itself, and the other two are further afield at Seward and Whittier.
WHITTIER - ALASKA - USA
PORT INFORMATION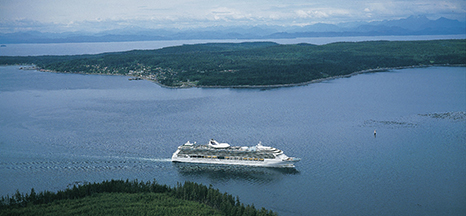 photo courtesy Royal Caribbean International

Named for the American poet John Greenleaf Whittier, the town of Whittier, the only ice-free port in Alaska, is known as the western gateway to the dramatic Prince William Sound and the surrounding Chugach National Forest.
The small boat harbor attracts thousands of cruise ship passengers and other tourists each year with the promise of exiting adventure excursions into Prince William Sound including day cruises to the glaciers, kayak tours, scuba diving and fishing charters.
Cruise Terminal in Whittier, Alaska
Whittier has developed as an alternative cruise port to the more crowded Seward and has the added advantage of being a little closer to Anchorage airport.
Whittier is accessible by Alaska Railroad from Anchorage, by the Alaska Marine Highway ferry system, and by car or bus via the Seward Highway and Whittier Access Road.
The journey from Anchorage airport takes about an hour and a half.
Most cruise lines offer add-on options to their cruises for the train or motor coach transfer. For those wanting to be independent, Avis car rentals serves Whittier from Anchorage Airport and there is the independent Whittier Shuttle bus.

Located at the mouth of Whittier Creek, the Whittier Cruise Terminal facilities are simple but efficient offering simple departure and arrival processing, and a couple of food and shopping outlets.


Cruise Lines using Whittier, Alaska Terminal as an Embarkation / Disembarking Port
The Diamond Princess, Coral Princess and Island Princess each use Whittier as their port of embarkation and disembarking as does Cruise West and their cruises exploring the best of Prince William Sound.



Must See Attractions in Whittier, Alaska
There is not much to see in Whittier itself apart from the stunning vistas, but it is home to day boat cruises for glacier viewing, and the famous Anton Anderson Memorial Tunnel the longest highway tunnel in the US that connects the City of Whittier and Prince William Sound to the Seward Highway and the rest of Southcentral Alaska.
Even though there is not much to the town itself - further out, attractions abound!
Prince William Sound Glaciers: No trip to Alaska would be complete without glacier viewing and Whittier, a busy Alaska cruise port, is perfectly placed for up-close and personal views of these magnificent rivers of ice. It is known as The Western Gateway to Prince William Sound which is made up of many deep fjords and spectacular collections of glaciers where you can watch glaciers calve. You can also kayak the waters of Prince William Sound from Whittier.
Wildlife: Whittier is surrounded by the Chugach National Forest, a vast wilderness and a wonderful place to watch Alaska's wildlife. Available from Whittier are day cruises, fishing charters, kayak tours and scuba diving.
Alaska Wildlife Conservation Center: This is about a 10-minute drive from the Whittier cruise ship terminal. The Center cares for and provides spacious habitats for orphaned, injured and displace Alaskan wildlife such as bison, bears, grizzlies, moose, elk, musk ox, deer, caribou and lynx, coyotes, foxes and birds of prey. Animals that cannot be released into the wild are given a permanent home at the Center.

Portage Lake Glacier: The Whittier Access Tunnel will take you to the Begich Boggs Visitor Center and Portage Lake Glacier, the most visited glacier in Alaska. Here visitors can learn about glaciers, glacial lakes, the arctic landscape and arctic wildlife from interpretive displays and from the Forest Service naturalists. The award-winning film "Voices From the Ice" has breathtaking images of calving glaciers. There are spectacular views of Portage Lake and the icebergs that calf from Portage Glacier at the far end of the lake.