Cruise News - AMA Waterways in Africa



February 12 - 2012

: AMAWATERWAYS UNVEILS NEW AFRICAN CRUISE AND SAFARI TOUR


Showcasing herds of zebras, grazing elephants and rivers teeming with exotic animals, AmaWaterways' adventurous African safari river cruises will debut in the summer of 2012.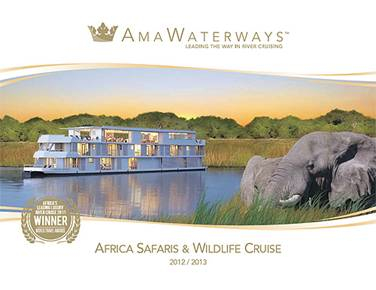 Recently featured on the hit TV show, "Jack Hanna's Into The Wild," AmaWaterways explores Africa's most renowned locations, including South Africa, Botswana, Kenya and Tanzania up close and personal. Guests will have an opportunity to embark on the Zambezi Queen, a 28-passeneger ship designed specifically for safari river cruising to maximize sight seeing.

"Africa is a popular destination spot that provides so many natural activities," said AmaWaterways' Executive Vice President and Co-Owner Kristin Karst. "AmaWaterways is always looking for ways to wow our guests and the safari itineraries do not disappoint. Africa's diverse wildlife, sweeping plains and towering peaks make it the perfect place for an exciting vacation."

AmaWaterways' African cruises include the 16-day Stars of Africa, the 16-day African Sunsets and the 19-day Golden Trails of Africa. The tours bring the picturesque cities to life with morning and afternoon game drives, beach picnics and local wine tours. Guests will visit local museums such as the Huguenot Museum or Ngorongoro Archaeological Museum and also experience the sights and sounds of tribal dancing and visits to local villages. Experimental excursions such as tiger fishing, tours of Victoria Falls and evening sky presentations are destined to become favorites for guests.
"I highly recommend the Zambezi Queen. It's a must. Anyone that's looking to cross something off a bucket list or a way to travel in Africa, this is the way to go," said Jack Hanna, travel host. "From dining to the resting area to the accommodations and the wonderful staff and riverboat guides that get you up close to the wildlife, everything is top-notch and beyond five star. I've done this for 26 years now and this has been the epitome for me and my family to be on this magnificent vessel."
For more information about AMAWATERWAYS' exciting fleet of vessels and new itineraries, visit the line's website at www.amawaterways.com or call 1-800-626-0126.