Cruise News - Costa Concordia Disaster

January 14 - 2012

: Costa Cruises disaster with the Costa Concordia off the western coast of Italy



It has never been the role of Prow's Edge Cruise Magazine to dwell on the nasty events that sometimes happen to some cruise ships and cruise passengers. In fact, considering the huge number of cruise ships departing everyday from a huge number of ports all over the world, it is astonishing that there are not more such events to report on.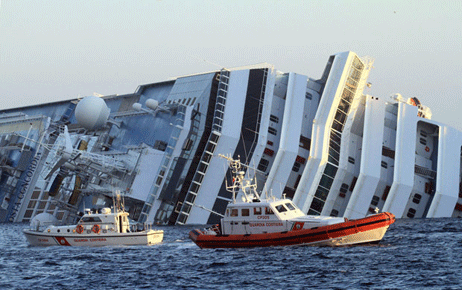 Photo Credit: Enzo Russo, AP Photo
The latest disaster, however, where the popular cruise ship, the Costa Concordia ran aground off the western coast of Italy late on Friday evening, is one of the more ugly cruise disasters to happen in a number of years.
Apparently the huge ship struck rocks off the Italian coast at the start of a 7-day Mediterranean Cruise that was to include the ports of Savona, Marseilles, Barcelona, Palma, Tunis, and Palermo.
The more than 3,200 passengers and a crew of 1,023  include mainly Italians, but also Germans, French, British and a few Canadians, and some Americans.
Three bodies have already been pulled from the sea and there are fears that there may be more.
For more up to date news about the latest development in this tragic affair, we suggest you take a look at the popular news stations. Costa Cruises themselves do not yet seem to be carrying any updates.
For more information on other aspects of Costa Cruises visit www.costacruises.com.