Cruise News - World Cruises with Cunard Line

June 22 - 2010

: Cunard Announces 2012 World Voyages Aboard Queen Elizabeth and Queen Mary 2 – On Sale 15 July



Continuing the company's legacy of the annual World Voyage they pioneered 90 years ago, Cunard Line is proud to announce the 2012 World Voyage programme aboard The Most Famous Ocean Liners in the World. The Line's newest ship, Queen Elizabeth, and its flagship, Queen Mary 2, will sail these legendary voyages to a combined 60 ports across 33 countries, featuring Queen Mary 2's first circumnavigation around Australia.

The leader in World Cruising, Cunard offers itineraries calling on legendary ports, featuring overnights in Sydney and Hong Kong on Queen Elizabeth; and overnights in Cape Town, Hong Kong and Dubai on Queen Mary 2. These rich travel legacies, combined with the Line's hallmarks of elegant fine dining, impeccable White Star Service™ and a wide variety of premier stateroom accommodations - including the award-winning Queens Grill and Princess Grill suites - provide unforgettable experiences.

"Not only are our guests seeing the wonders of the world while enjoying Cunard's signature White Star Service, they are joining the Line's nearly century-old historic travel adventure," said Peter Shanks, president of Cunard Line.

Photo courtesy Cunard Line - White Star Service

Queen Elizabeth World Voyage



Photo courtesy Cunard Line - Queen Elizabeth

For her second World Voyage, Queen Elizabeth will once again offer a complete circumnavigation of the globe on a 107-day journey from Southampton. North American guests have the ease of embarking on their World Voyage experience from New York, Fort Lauderdale or San Francisco, after the ship transits the Panama Canal.

From the West Coast, Queen Elizabeth sails into the South Pacific and New Zealand before arriving for an overnight in Sydney. Next, she heads north to Singapore via Queensland, Malaysia, Vietnam and Thailand, and makes an overnight stay in Hong Kong.

After visiting more of Malaysia, Thailand, Sri Lanka and India en route to Dubai, Queen Elizabeth begins the final leg of her epic voyage, including the transit of the Suez Canal, as well as calls in Egypt, Greece, Italy and Portugal before returning home to Southampton.

Here, North American guests have the option to rendezvous with Queen Mary 2 and take in the Line's iconic Transatlantic Crossing to complete their historic World Voyage. Fares for the full 107-day World Voyage start from $20,995 per person.

Segment Voyages offer the Queen Elizabeth experience and capture the essence of a World Voyage, ranging from 12 to 24 days, including New York to San Francisco (17 days), San Francisco to Sydney (24 days), Sydney to Singapore (24-days), Singapore to Dubai (12 days) and Dubai to Southampton (22 days). Guests can enjoy great value by combining two or more consecutive segments to create adventurous Liner Voyages. Segment fares start from $2,775 per person.

Queen Mary 2 World Voyage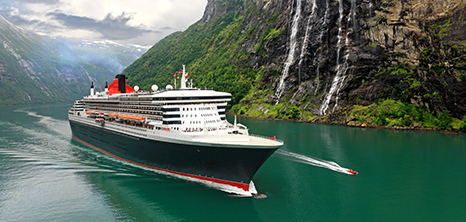 Photo courtesy Cunard Line - Queen Mary 2

Queen Mary 2 will begin her fifth World Voyage in Southampton, including a maiden call to the spectacular sand dunes in Namibia's Swakopmund before a two-night stay in Cape Town. From South Africa, she sails to Sydney via Mauritius where she offers her first-ever circumnavigation of Australia and a maiden call in Darwin along the way. After returning to Sydney for a second visit, she is off to Japan, including a maiden call to Hiroshima, and China en route to an overnight stay in Hong Kong. Queen Mary 2 then visits Vietnam, Singapore, Thailand and India en route to Dubai.

From here, Queen Mary 2 will call in Egypt and transit the Suez Canal before returning home to Southampton via Greece and Portugal. Full World Voyage fares start from $20,995 per person.

Segment Voyages aboard Queen Mary 2 range from 15 to 22 days and include Southampton to Cape Town (15 days), Cape Town to Sydney (20 days), roundtrip from Sydney (22 days), Sydney to Hong Kong (19 days), Hong Kong to Dubai (16 days) and Dubai to Southampton (16 days). Segment fares start from $2,995 per person.

Enhanced Benefits Program
In addition to receiving a bonus 10 percent discount off Early Booking Fares (EBF), Full World Voyage and Liner Voyage guests will receive an on-board credit of up to $3,000 per stateroom when booking by 28 February 2011. Full World Voyage guests also receive complimentary Hotel and Dining Charges.

Further, an invitation will be extended to all Full World Voyage guests to join Cunard President Peter Shanks ashore at one of the ports of call during their time on board for the traditional World Voyage Dinner, an exclusive evening of world-class dining and entertainment. Cunard World Club members will receive an extra 5 percent savings off Bonus Early Booking Fares.

For more information and to book a 2012 Cunard World Voyage aboard Queen Mary 2 or Queen Elizabeth, consult your Travel Agent, call toll-free 1-800-7-CUNARD (1-800-728-6273) or go to www.cunard.com.