Cruise News - Hapag-Lloyd Cruises New Ship - MS COLUMBUS 2

April 19 - 2012

: Hapag-Lloyd Cruises Christens new MS Columbus 2


Hapag-Lloyd Cruises christened their newest addition to the fleet, the COLUMBUS 2. After a short conversion period in Barcelona, the COLUMBUS 2 joined the fleet immediately. The first cruise will sail from Mallorca to Malta this week.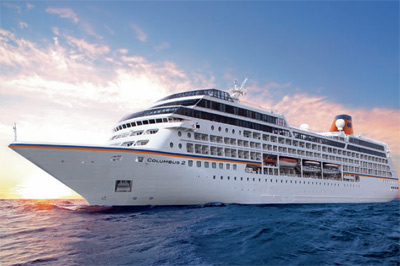 The next expansion step by the Hamburg operator is the completion of the new-build, the MS EUROPA 2. From May 2013 onwards the ship will be positioned in the five-star segment, as a modern lifestyle-oriented version of the fleet's flagship, the MS EUROPA. All cruises on the new EUROPA 2 will be fully bilingual and will cater to the English-speaking market.
Hapag-Lloyd Cruises took over the COLUMBUS 2 from Oceania Cruises, with a two-year charter contract and the option to extend. The COLUMBUS 2 has 11 decks and 349 cabins, accommodating a maximum of 698 passengers. "Thanks to a few conversion measures, including the addition of a Kids and Teens area, we can now attract families onboard the COLUMBUS 2. The family-oriented ship will be positioned in the four-star segment, and will offer a range of German-language cruises," according to managing director Sebastian Ahrens.

Hapag-Lloyd Cruises' new EUROPA 2 will take to the high seas in May 2013. Her maiden voyage will take place from May 11-25, 2013 from Hamburg to Lisbon. The ship is currently being built at the shipyard STX Europe in Saint-Nazaire, France. The newly built addition to the fleet will feature eleven decks, all-suites with their own outdoor verandas, and the largest space per passenger ratio in the cruise industry. All of the cruises of the EUROPA 2 will be international, meaning they will be conducted in both German and English for the duration of all cruises. An English-language brochure will be published in Fall 2012.

For more information about Hapag Lloyd Cruises visit:
http://www.hl-cruises.com