Cruise News - SeaDream Yacht Club and Lou Hammond & Associates

May 15 - 2013

: Lou Hammond & Associates joins in the pleasure of promoting the SeaDream Yacht Club



"It's yachting, not cruising!" A statement that defines not only the size of SeaDream Yacht Club's vessels, but the onboard lifestyle ...

With a maximum of only 112 guests and a 95-person award-winning crew, SeaDream Yacht Club's elegant mega-yachts SeaDream I & II, are annually rated number one 'Boutique Ships' in the Berlitz Guide to Cruising & Cruise Ships.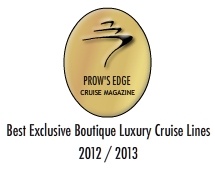 SeaDream Yacht Club has also has recently won the award for one of the Best Exclusive Boutique Luxury Cruise Lines - 2012/2013 in the Prow's Edge Cruise Magazine Awards 2012/2013

And now Lou Hammond & Associates is proud to announce its association with SeaDream Yacht Club.
Other cruise lines benefitting from the skills and support of Lou Hammond & Associates include the American Queen Steamboat Company and Blount Small Ship Adventures.
 
May through October 2013, SeaDream's two ultra-deluxe mega yachts sail the Mediterranean with an emphasis on visiting smaller, less crowded ports and intimate yacht harbors.
Passengers can join the Chef on walks through local markets, discovering tasty local delicacies – and even explore the back roads of various different and unusual locations with SeaDream's complimentary mountain bikes.
Treasures to enjoy on board the vessels include dining al fresco and enjoy the stunning views, swimming in the crystalline Adriatic from the yacht's marina or unwinding with a good book on a Balinese Dream Bed.
The expression "yachting" is not only a sentiment about size : it is a statement about lifestyle aboard the small vessels.
Chic and stylish, SeaDream's 56-stateroom yachts are favored for their elegant informality, state-of-the art facilities, personal service provided by a crew of 95, inclusive open bar and gratuities, ocean view accommodations, luxury spa and world class cuisine. 

Contact your travel professional or SeaDream Yacht Club at 1 800 707-4911 or visit www.SeaDream.com.

See also the recently updated and and exhaustive profile for Prow's Edge profile of SeaDream Yacht Club at: www.prowsedge.com/cruise-lines-seadream-yacht-club.html

For more information about Lou Hammond & Associates take a look at www.louhammond.com