Crystal Cruises - Master Chef Nobu Matsuhisa


February 20 - 2013 Master Chef Nobu Matsuhisa Aboard Crystal Cruises 2013 Black Sea Cruise

One of the world's greatest culinary artists, Master Chef Nobu Matsuhisa, is visiting his luxury vacation partner, Crystal Cruises, this summer to teach, mingle, dine, and cook for Crystal guests.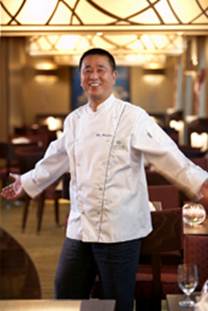 The famed sushi maestro, and mastermind behind the line's exclusive Silk Road and The Sushi Bar restaurants, will join Crystal Symphony's 12-day Rome-Istanbul Black Sea voyage beginning July 13. Accompanied by Fumio Hazu, the Sake Master behind Nobu's exclusive, 140+-year-old sake brand, the two will showcase their expertise during several ultra-intimate gourmet experiences, including:
• Two Omakase, or Chef's Choice, dinners in Silk Road, limited to only 70 guests and featuring some of Nobu's finest dishes and connoisseur items, such as white sturgeon caviar and Hokusetsu "Musical Sake."
• Sake tasting sessions, including insight into Hazu's unique "live" sake brewing processes such as playing Japanese music to bottles for three years to create a smoother taste from vibrations.
• Live cooking demonstrations, with Nobu sharing cooking secrets behind his renowned fare.
• Silk Road and The Sushi Bar appearances, during regular dinner hours, to welcome guests and enhance their meal enjoyment.
• Cookbook signings and photo opportunities
"The partnership between Nobu and Crystal Cruises has been so successful because we both have a sincere passion for excellence, and a desire to deliver it in an atmosphere of friendly, yet attentive, hospitality," says Toni Neumeister, vice president, food and beverage operations. "Nobu truly enjoys engaging with his clientele, many of whom are also Crystal travelers, yet he also relishes time with his family. The ease and luxury of a Crystal cruise provides the perfect vehicle for this very busy man to put it all together: connect with guests, spend time with his chefs, and relax with his multi-generational, global family."
Crystal's Nobu-cuisine restaurants, the only ones of their kind at sea, feature his personally-trained chefs, signature dishes, Nobu sake and his own line of dinnerware. Complimentary and open almost every evening of every cruise, the restaurants offer coveted fare that is also available via room service on Crystal's butler-serviced Penthouse deck accommodations.
The "Bounties of the Black Sea" itinerary visits Rome's port of Civitavecchia, Sorrento, and Sicily, Italy; Constanþa, Romania; Odessa (overnight) and Yalta, Ukraine; Sochi, Russia; and Istanbul, Turkey (overnight). All-inclusive, "Book Now" fares begin at $5,510/person, with $900/person savings if booked by February 28.
Extraordinary culinary experiences are a hallmark of every Crystal vacation. Crystal Symphony and Crystal Serenity's extensive, innovative choices for gourmandizing include the ultra-luxury line's coveted cheese and wine cellars, overseen by on-board, certified cheese and wine sommeliers (Court of Master Sommeliers-certified); fresh, chef-like cocktails served by certified mixologists; and gourmet dining options at every meal, whether in the Crystal Dining Room, at afternoon tea, or in Nobu Matsuhisa and Piero Selvaggio's specialty restaurants.
For more information and Crystal reservations, contact a travel agent, call 888-799-4625, or visit www.crystalcruises.com.