Cruise Articles - Cruise Reviews : All about Star Cruises and the SuperStar Gemini

Star Cruises and the SuperStar Gemini
by Byron Clayton
On Dec 28th of 2012, Star Cruises expanded its fleet capacity by almost 20% with the addition of the SuperStar Gemini. Originally built as Dreamward for NCL in 1992, the ship last saw passenger service in 2008.




SuperStar Gemini's maiden arrival to Hong Kong
The first thing you will notice when you come aboard the 50,764 ton SuperStar Gemini is the glamorous colour scheme throughout the ship which starts with the Grande Reception on Deck 7 which is bathed in gold, plush red carpeting and recessed lighting. Onward to your cabin, you are greeting by bright reds, gold and green in floral designed patterns.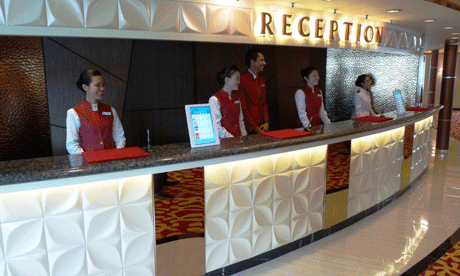 Grande Reception – Deck 7
After 4 years being laid up, 50mn USD was used to refurbishment the ship and prepare her for a new life in China. Continuing their pioneering legacy of developing new business opportunities in the Asian cruise industry, Star Cruises is heavily investing to capture the leisure needs of China's growing middle class. Make no mistake, this is a truly an Asian cruise product designed to delight an Asian audience.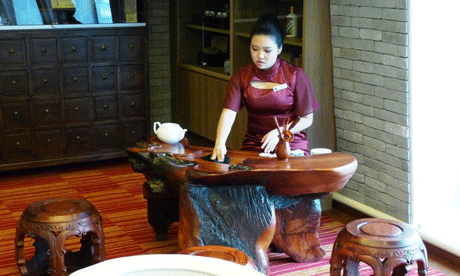 Tea Corner – Deck 9
The ships layout has remained relatively unchanged including passenger capacity. There are 18 suites, 77 cabins with balcony, 542 with window and 146 inside cabins. All of the cabins have been upgraded with flat panel LCD TVs, new bedding and carpets.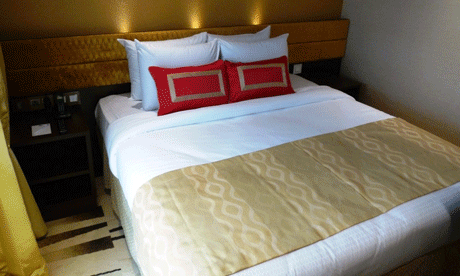 Executive Suite – Deck 10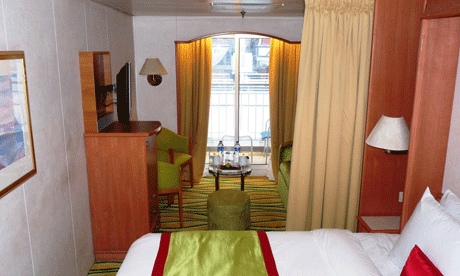 Balcony Cabin – Deck 8
Food: Gemini has 5 dining options; the newly added Dynasty restaurant on Deck 11 offers a Chinese buffet with an additional 3 private table service rooms available by reservation, Bella Vista on Deck 9 offers a western set menu, the Mariners International Buffet is located midships on deck 9, Oceana Asian Barbeque on Deck 11 and the Blue Lagoon which is also located on Deck 11.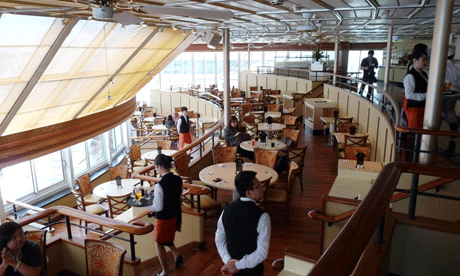 Dynasty Restaurant – Deck 11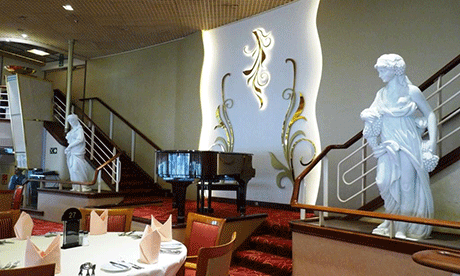 Bella Vista Restaurant – Deck 9
Mariners International Buffet – Deck 9
Oceana Barbeque – Deck 11
The best kept secret on-board is the Blue Lagoon restaurant. Hidden near the Sun Deck pool bar, this extra tariff a la cart restaurant is like an Asian café. This cosy enclave is brightly coloured in yellow and blue and serves the most popular dishes from Singapore, Malaysia and Indonesia. The food and service are of exceptional quality and a few of the mouth-watering options are; Nasi Lemak, Hor Fun, Satay, and Vietnamese Burger.
Blue Lagoon Restaurant – Deck 11
Shopping: the large China Duty Free shopping complex has been integrated on Deck 9 in addition to the Ports of Call shop specializing in electronics and Star Cruises logo products. Deck 11 also has a dedicated jewellery shop and from Hong Kong the high end luxury shop Milan Station.
China Duty Free Shop – Deck 9
Gaming: considering Star Cruise' has a long and distinguished heritage in the gaming industry, it is no surprise that almost all of Deck 10 is dedicated to this indulgence.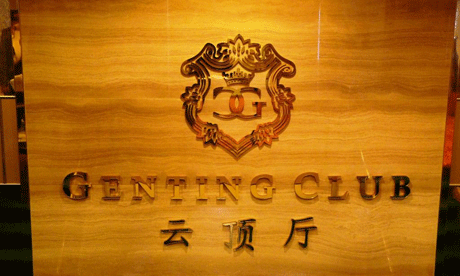 Genting Casino – Deck 10
Star Cruise's ability to understand the key motivational drivers of their customers has allowed them to innovate and focus their product. Star Cruises has adopted a new 3 pronged strategy to appeal to its core Asian audience; food, shopping and gaming. While a kid's area, Karaoke and production show entertainment can be found aboard, most of the ship's facilities are dedicated to the 3 focus areas.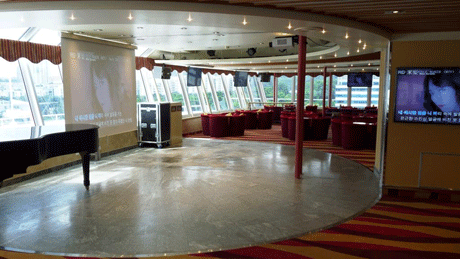 Observatory & Karaoke Bar – Deck 12
Star Cruises has done a fantastic job renovating the Gemini. She is bright and classy without going over the top. With 75 charter cruises already booked for 2013, it would appear Star Cruises has once again got the formula correct. Congratulations to Star Cruises ad keep on innovating!
Photos courtesy Byron Clayton


For more in formation on Star Cruises visit www.starcruises.com/



---


Byron Clayton

Byron Clayton has been a freelance writer and passionate cruiser since 1984. He started the website Clayton Shipping in 2007, with a focus on ship appreciation in Asia. Byron has been living and traveling extensively in Asia for the last 10 years and he regularly publishes articles on shipping in Asia, UK and US.

Byron lives in Singapore with his wife and their two Pugs.

He can be contacted at [email protected]

OTHER ARTICLES

• Asia : Tips for Star Cruises 1 - by Byron Clayton
• Asia : Tips for Star Cruises 2 - by Byron Clayton

• Asia : Boutique Luxury Cruising - by Byron Clayton



---