Cruise Articles - Cruise Reviews :
Around Africa with Crystal Cruises

Single Women Out to Sea

by Winnie Graham
The band strikes up and couples take to the floor, the giddy beat of the music heart-throbbingly alluring. I am sipping a glass of wine as I watch the dancers abandon themselves to the mood of the moment. Though I am travelling alone, I do not feel the wallflower.
There is pleasure in simply being aboard the Crystal Serenity sharing in the enjoyment of the merry makers as the ocean liner makes its way round the African coast.
"May I?"
The voice takes me by surprise. I look up into the blue eyes of a silver-haired man smiling down at me. "Shall we dance?" he repeats.
Somewhat shakily, I stand up and move onto the dance floor. It has been a long time since I was whirled round and I stumble once or twice as I try to get the hang of those long forgotten steps. But the music takes over and I've got it. My partner asks my name and I ask his. We are friends, rhythmically linked together for a few heady moments on the dance floor. This is fun!
I joined the Crystal Serenity at Cape Town, on a short segment of a round-the-world cruise appropriately called the "Safaris and Saris" expedition. After two more South African ports of call – at Port Elizabeth and Durban – the ocean liner sailed for Mumbai via Zanzibar and Mombasa where passengers who wanted more wildlife experiences after the Kruger National Park, joined excursions to the Serengeti and the Ngorongoro Crater in Kenya and Tanzania.
But as I go through the paces on the dance floor, that is still in the future. The days out to sea are every bit as enjoyable now that I have got to meet one of the Serenity's "ambassador hosts",that brave band of men who volunteer for the job of entertaining single women passengers, specifically on the dance floor.
As we trot to the beat of the band, we make small talk, mainly about our ports of call, the entertainment on board and the lectures we have heard. It's pleasant, noncommittal stuff. When the music stops, he walks me back to my seat, then moves to invite another dance partner.
In an age where women invariably outlive their husbands and are free to enjoy their inheritance, a growing number of wealthy widows – along with divorcees and a goodly number of unmarried career women – are embarking on cruises where the shipping line takes care of their every need, providing even partners on the dances on board. It's a sensible concept. Why should single women on a voyage miss out on the fun simply because they do not have a husband or partner?
Success stories abound. One widow on the Crystal Serenity who had never danced during her long marriage joined a cruise when her husband died. She was nearly 85. An "ambassador host" taught her to dance – and she loved it. Now 95, she goes cruising every year – just to dance. For her, it's the journey that counts. Not the destinations.
I knew about the "hosts" before I joined the cruise and wondered how they coped with the job of providing constant attention to lone women passengers. Surely, in the romance-charged atmosphere of a cruise liner, attachments developed? What would a male host do if he fell in love with one of the widows or divorcees, or for that matter, if one of the single women fell for him?
Is romance part of the deal?
No, say Edward Murmurian and James Wood, both retired businessmen, who have been hosting on Crystal Cruises for several years.




Both have made many friends among the women passengers but have steered clear of emotional entanglements.
It's their dancing skills and companionship, they say, that women enjoy.
Wood, from Allentown, Pennsylvania, the father or two sons and two grandsons, adds: "It's great seeing a woman's face light up when we ask for a dance. Why should she sit and watch while others have fun?"
Murmurian, from Waterford, Michigan, a single parent and now a grandfather, echoes his sentiments. "We are extremely fortunate. I love dancing so it's a pleasure partnering the ladies – and it's a great base for platonic friendships."
The two hosts spend between three and six months a year cruising, invariably avoiding the northern winters. They do not receive a salary but are guests of the Crystal who accord them special status with state rooms of their own.
Both men have visited virtually every corner of the globe since they signed on as hosts. Both realise that their skills on the dance floor are appreciated by single women who invariably outnumber the married women by seven to one.
When he retired Murmurian spotted an article on hosting and immediately sent off his application for employment to a cruise company including a photo of himself. Eighteen months later he was called for an interview. His dancing skills were tested. He had a job. That was eight years ago.
"I've been dancing since I was 15," Murmurian says. "I love this job, and it gives me the opportunity of seeing the world at the same time."
Wood, in fact, has been hosting even longer and has been to some 200 countries worldwide. He discretely refuses to comment on female involvement but says he is careful to keep his onshore arrangements to himself, a time when he is free to do as he pleases.
"Once or twice a passenger has asked if she could accompany me ashore and I've found myself in the husbandly role of carrying her parcels when what I really wanted to do on my time off is sightseeing," he says. "Now I make plans before I go ashore in foreign ports."
When their cruises draw to a close, both men return to "normal" life on land, spending time with family and friends. Murmurian devotes time to golfing and fishing, his other interests.
Rick Spath, Crystal Serenity's cruise director, says that despite the apparent advantages of "hosting", life for the hosts is not quite as simple as it seems.
For starters, all hosts undergo strict recruitment interviews when their backgrounds are closely scrutinised. No one with a criminal record or shady past gets beyond stage one. The applicants have to be accomplished dancers, and though they are accorded guest status, are not paid. In short, they have to be men of private means.
Most are US citizens mainly because interviews are conducted in Los Angeles, but among them are some European and British citizens of various races. The rules are simple: the hosts may not dine alone with a woman in the evenings or visit their state rooms.
"Most people think the men have a dream job but it's not one I would want," Spath admits. "Some passengers do form attachments with them. They send love notes and invitations to their favourite host who has to handle the missives with tact and discretion in the confined environment of a liner. And they are expected to treat every woman with equal courtesy and show no favouritism."
Problems occasionally arise when a woman may perceive her favourite host as paying more attention to another passenger. She is quick to complain. The women expect the hosts to remain totally impartial.
On one occasion, a host danced with a married woman. A couple of single women complained to her, pointing out that the hosts were hired to keep them entertained. She had a husband.
"But he's in a wheelchair," the married woman countered.
"Tough," came the response. "That's your problem."
While the pressure is on to keep everyone on board entertained, there is no reason for any passenger to be bored. Few liners offer passengers such an incredible variety of things to do. The Crystal Serenity's daily programme is packed.
Apart from five-star nightly entertainment in nightclubs, restaurants and theatres, the liner has an interactive learning centre known as ComputerUniversity@Sea, a Walk on Water fitness programme, keyboard lessons, golf clinics, a Feng Shu inspired spa, a fully equipped gym, a library and seven restaurants including three featuring world renowned chefs, Nobu Matsuhisa, Wolfgang Puck and Piero Selvaggio. The qualify and range of the dishes served on board has done much in getting the Crystal Serenity the "best cruise ship in the world" award for ten consecutive years.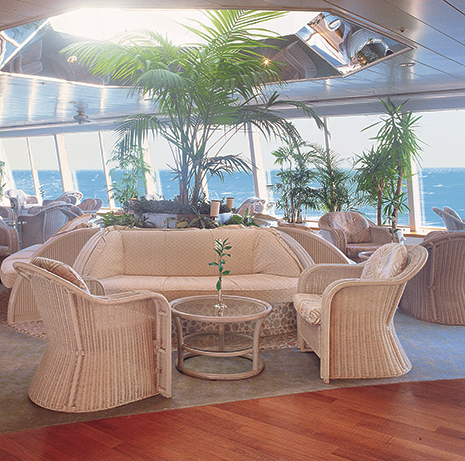 Distinguished speakers provide informative lectures while the ship is at sea. While in South African waters there were some excellent lectures on the political situation as well as on some of the major players, including former president Nelson Mandela, and Cecil Rhodes, the 19th century diamond baron, once the richest man in the world.

Experts from Sotheby's discussed the art and culture of each port on the itinerary while wine and food festivals are a regular part of the cruise.
Passengers are offered an amazing selection of shore excursions when they are in port, yet there are some who prefer to stay on board. Cruising has become a way of life, possibly because – for the women passengers at any rate – the hosts are always on hand to be attentive and keep them dancing.

Photos courtesy Crystal Cruises and Winnie Graham


---
The Crystal Serenity's next world cruise – the Grand Exotic Expedition – sails from Los Angeles on January 17, 2011 and in the first segment will call at Honolulu, Bora Bora, Papeete and Rarotonga before heading for New Zealand and Australia. It then continues to the Far East before turning south again to call at Port Louis (Mauritius), Durban, Cape Town and various ports along the west coast of Africa. It concludes in London on May 8.
Passengers who book by April 30 (2010) are being offered special "two for one" fares.

For more information call your preferred cruise agent, or call Cruises International in South Africa, at (international) 011 27 11 327 0327 ext 209. Cruises International is the largest Cruise Line Representative in Southern Africa.
Visit Crystal Cruises at http://www.CrystalCruises.com
---

Winnie Graham, former travel editor of The Star, South Africa's leading daily newspaper, started travelling seriously when she retired a few years ago.  Since then she has seen a fair bit of the world but confesses cruises - either ocean or river - are decidedly the most leisurely way of getting around. Trains come next on her list of favourite modes of travel. When she's home she lives in the mountain village of De Rust, a five hour drive from Cape Town.