Cruise Articles - Cruise Reviews :
Asia - Myanmar (Burma) with Pandaw Cruises

Along the Irrawaddy to Bygone Times
By Petra O'Neill

It was a momentous day. As I stood on the ship's observation deck, travelling upstream on the Irrawaddy River from Yangon to Mandalay, watching life pass by and pagoda after pagoda come into view, one of the passengers onboard came rushing over to me.

On his short wave radio, we were able to hear the historic announcement by Aung San Suu Kyi, that she had dropped her opposition to travellers visiting Myanmar (Burma).
For years I'd grappled with the moral dilemma faced by many travellers, of whether or not to go there. I'd weighed up the pros and cons and decided that I would seek out a responsible tour operator and would frequent locally owned restaurants, tailors, guesthouses and shops to ensure they received some benefit from me being there.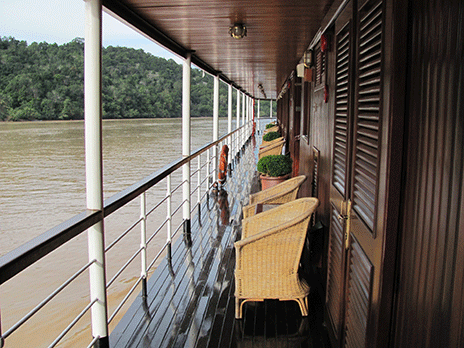 It was after my arrival in Yangon, formerly known as Rangoon, that after a long day of exploring the sights on foot, I caught a taxi back to my hotel. The taxi had no covers on the seats, just springs and I had to hold the door shut. The driver was an affable young man, who told me he had studied Engineering at University and since graduating was fortunate to find work as a taxi driver. He said he lived in hope. The Burmese are perhaps the most reserved people I have ever encountered and while that conversation was brief, it was one of the few I had during my three weeks there.
Like stepping back in time, Yangon offers a glimpse of what other great Asian cities were once like, with many historic buildings, albeit decrepit and crumbling, including splendid examples of British colonial commercial architecture along the waterfront, interspersed with pagodas, temples and Chinese shop houses that come into view.
I spent several days exploring Yangon on foot, with the Savoy Hotel serving as my base. While I visited the main sights; Pagodas including Shwedagon Pagoda, Chinese and Indian temples, the treasures at the National Museum and Bogyoke Aung San Market, my favourite experiences were with the local people I met. At lunch, at the Feel Myanmar Food restaurant, wait staff brought me small tasting portions that were my first introduction to Burmese cuisine, more subtle than found in neighbouring countries. Green beans infused with a crunchy peanut and chilli sauce was exceptional. The restaurant was noisy and packed. With street signage in Burmese and with maps deficient in detail, it required the utmost concentration to avoid becoming lost. While attempting to find Ngahtagyi Pagoda on a map that showed it as no more than a dot, an elderly man motioned for me to follow him. And so I did, for perhaps a kilometre, climbing hundreds of steps along the way. When we arrived, he gestured for me to enter and as I turned to thank him, he was gone.
After collecting two beautifully stitched tailored silk shirts from Globe Tailors, I joined Pandaw Cruises for a 14-night journey travelling upstream from Yangon to Mandalay.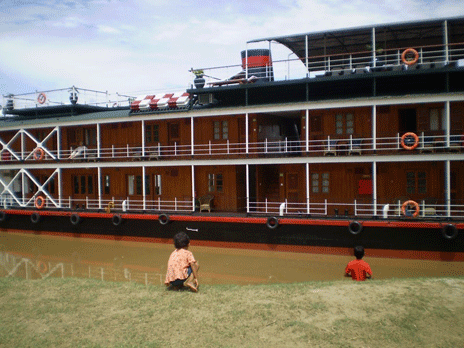 At 2,170 kilometres long, the Irrawaddy is Myanmar's longest river. Once referred to as the Road to Mandalay, it is still used as a commercial waterway. The Pandaw II harks back to a bygone time, reminiscent of the original paddle steamers built by the Irrawaddy Flotilla Company established in 1865 by Scottish merchants that became the largest privately owned river fleet in the world, with 602 vessels by the 1930's. George Orwell, William Somerset Maugham and Rudyard Kipling all undertook journeys by paddle steamer in Burma. Tragically, all were destroyed during World War II.
At every village and riverside town there were ramshackle warehouses, rickety jetties, dirt roads and dwellings made of thatch and woven bamboo. Young children swam while their mothers washed clothing on stone slabs and men wearing the traditional Longyi, or sarong, fished from canoes or steadied wooden ploughs pulled by oxen. And by nightfall, the unmistakable sign of rural poverty of no lights.
We visited Twante village to observe the famed clay water pots being made by hand. At Prome, we viewed a 5th to 8th century archaeological site of early Buddhist artefacts. We visited the forts of Minhla, and many spectacular pagodas, including the Myat-thalon Pagoda, built with solid gold bricks. We explored the most renowned of the 3,000 pagodas and temples at World Heritage Listed Bagan, the capital city of Burma from 1044 until 1287 and the largest ancient Buddhist site in the world. We visited villages to observe daily life. In Mandalay, a dusty town so celebrated by Kipling and the last capital of the Burmese Kings, we visited pagodas, Shwe-im-bin teak carved monastery and Mandalay Palace.
The highlight for me though was the wonderful sleepy river town of Salay, with a beautiful teak museum, monastery, pagodas and colonial architecture. It was here that an impromptu band began playing using rudimentary instruments and an old gramophone connected to a car battery for amplification. A crowd soon formed and the music was mesmerising.
I enjoyed visiting markets to engage with the local people and exchange the greeting of "Mingalabar" or hello. And as with any country, there are traditions that for the first time traveller there are new and fascinating. At markets, I would hear "Thanaka!" Whenever I asked what the dried yellow paste was applied to the faces of most women, children and even men, the reply was "Thanaka." A very limited range of western style beauty creams were actually sold, but featured prominently on shopfront signs. "Lizard Cream," "Nivea Cream" and "Paris Shampoo." Many market stalls sold bundles of cuttings or small logs of lightly coloured timber with a mild fragrance. I asked one of the stallholders "Thanaka?" Laughter ensued, and the young woman demonstrated how it is made. With a little water, a paste is produced by grinding the timber cutting on a stone slab called a Kyauk Pyin and applied to the cheeks with finger strokes to make decorative patterns. This prized beauty product comes from the forests of central Myanmar and has been used for over 2000 years.
On my final evening, I visited the majestic Shwedagon Pagoda once more, a perfect way to conclude my journey to Myanmar. It was while I was listening to the gentle humming of mantras by young Buddhist monks I realised that while the immense beauty of Myanmar is evident everywhere, it was only that young girl selling Thanaka who I ever saw laugh. I met people who were gentle and helpful, kind and with a generosity of spirit. But a country without hope is a country without joy, and with that I felt a great sadness for its people and hoped that by travelling there we provide reassurance that they have not been forgotten. With the recent international interest in Myanmar, perhaps change is finally on its way.


---
Travel Notebook
Myanmar

Getting there
Singapore Airlines, Malaysia Airlines, Air Asia and Thai Airways International fly to Yangon, Myanmar.
Since booking hotels and land arrangements from outside Myanmar and knowing who the responsible tour operators are is difficult, you'd be well advised to work with a Myanmar travel specialist. Or, if you would prefer a local tour operator, U Aung Kyaw Lynn, Director, Majestic Tourism Services, can arrange tailor-made tours, transfers and sightseeing with local guides. 095 1 212882 or email: [email protected] and [email protected]

Where to stay

Built in the 1920's, The Governor's Residence in Yangon emanates style and history in a tranquil lush tropical garden setting. It is a beautiful imposing two story teak mansion built as a state governor's residence to host visiting dignitaries and is the most comfortable place to stay. As soon as I entered, I was greeted with a glass of iced lime water and invited to wander around. "But I'm not a guest," I said. "We hope that you will be next time."
Among the many guesthouses, the elegant Classique Inn www.classique-inn.com is run by two Burmese sisters.


Getting around
Since roads are severely potholed, the preferred way to travel is by boat. Pandaw Cruises offers cruises on the Chindwin and Irrawaddy Rivers. Based on the Irrawaddy Flotilla Company's paddle steamers the Pandaw II is beautifully crafted, hand finished in brass and teak with rattan furnishings
The Road to Mandalay is elegant, luxurious and European with service standards and accommodation befitting Orient-Express Hotels, Trains and Cruises www.orient-express.com. Completely refurbished and upgraded after being damaged by Cyclone Nargis, it boasts spacious cabins of cream tones, teak and Burmese artwork.


Information
For information on visa requirements and official news, contact the Embassy of Myanmar. Perhaps the best guidebook is by Lonely Planet. Get hold of free tourist maps. Take pristine US dollars which are widely accepted. Myanmar has no ATM's and few hotels accept credit cards. Communication is woeful. Internet access is unreliable, there is no email access, or international roaming for mobiles and phone calls are prohibitive.


What to buy
Admirers of Burmese art will find great pleasure in browsing Yangon's shops and galleries. Avoid antique Burmese lacquer and woodcarvings since many have come from monasteries. Bogyoke Market in a grand colonial building has crafts from all over Myanmar and Nandawun sells handicrafts at reasonable prices.
---

Petra O'Neill is a Freelance Travel Writer based in Sydney, Australia. "As a child, I was greatly inspired by a story about a mouse who travelled to exotic locations on a magic carpet." After juggling a corporate career with journeys of adventure, travel finally held sway. Petra specialises in writing about remote destinations including Papua New Guinea, Indonesia, Malaysia, Thailand, Burma, Laos, Cambodia, Vietnam and India. Petra's work has appeared in numerous publications in Australia and the UK. She can be contacted at
[email protected]
Photos courtesy Petra O'Neill


---
For more information about Pandaw River Cruises please visit:
http://www.pandaw.com/