Cruise Articles - Cruise Reviews :
Panama Canal with Cunard Line

On the Queen Victoria in the Panama Canal
by Julie Rekai Rickerd
Tradition and civility are front and center onboard the Cunard line's majestic Queens. From the humble beginnings of Halifax-born Canadian Sir Samuel Cunard's three mail ships, the line grew into a fleet of the most luxurious passenger ships.
True to their names, the Queens are regal inside and out. Like all contemporary luxury liners they have the "standard" amenities like a casino, theater, art gallery, library, shopping gallery, multiple pools and Jacuzzis, a full-service gym and spa and innumerable venues in which to eat, drink, celebrate and be entertained. But each Queen has exclusive and unique features.

From the moment we checked in to the Queen Victoria for our 11-day Panama Canal Cruise in Port Everglades, Florida, we felt special. We received a friendly, white-gloved welcome at the gangplank and from then on it remained "white-glove service" all the way.
Carol from Winnipeg, Manitoba fell in love with Queen Victoria on her very first voyage. She has since been its regular passenger from New York City to Southampton, a Hawaiian cruise from Los Angeles and now to the Panama Canal along with her mother, three brothers and their spouses. She spoke so highly of her previous cruises that they were keen to join her and experience the pleasures for themselves.
Kathy from Philadelphia is another convert. She became enamored of Queen Victoria's "Queens Room", a magnificent ballroom in which afternoon teas are served, replete with delicate tea sandwiches and freshly baked scones, and tea dances are held. There is even an opportunity to partake in a "Champagne Afternoon Tea", a perfect mix of Veuve Cliquot champagne and Tetley's finest teas.
Kathy had searched many ships for an ideal-sized ballroom and finally found it on the Queen Victoria complete with a number of dance hosts and resident ballroom dance instructors. The Queens take their ballroom dancing very seriously. Lucky are the twelve couples who qualify to enter the ballroom dance competition for which they train assiduously.
The ballroom's walls are decorated with wonderful period photographs of Queen Victoria, her consort Prince Albert and their large brood of princes and princesses. Elsewhere in the public spaces and along the stairwells the walls are filled with nostalgic black-and-white blow-ups of celebrities, actors, musicians, politicians and royals who had basked in the hospitality of the Queens; Jacqueline Kennedy Onassis, Oona and Charlie Chaplin, Duke Ellington, Dwight D. Eisenhower, and Queen Elizabeth, the Queen Mother.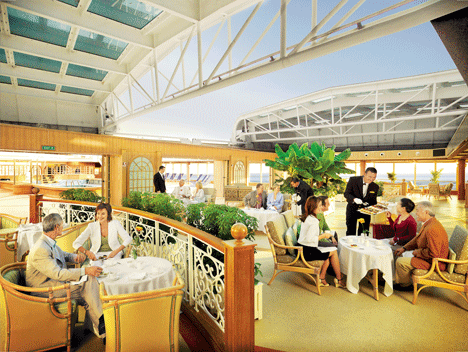 The two-storey, richly-paneled library has a full-time librarian, whose job includes selecting a book for each journey's book-club sign-ins. Discussion sessions of that particular book are held in the library's leather armchairs and couches among its glassed-in bookcases.
Anne and Michael, veteran Queens cruisers from North Carolina, like to keep in touch with their large family who are spread out over several continents. For them the fact that Queen Victoria has a vast, multi-cubicled Internet Center is a must. Equipped with the latest technology, it is run by IT wunderkind Adam, who has the patience of Job in guiding expert or neophyte through any problem that might occur. An equally handsome room of computers is a designated IT Learning Centre for the technologically innocent or challenged.
QV's "Cunardia", Cunard's permanent museum at sea, fascinates for hours with many cases of memorabilia, artifacts and vintage souvenirs of the original Queens, including the Queen Mary's log book and her Zig Zag clock, the timekeeping device that kept World War II U-Boat attacks at bay.
Queen Victoria's Royal Court Theatre is a three-tiered wonder of grandeur with "the ambience of a 19th century theatre, with rich brocade fabric dressing the walls, a deep red velvet curtain, private boxes featuring an ornate frieze of gold leaf, and murals framing the walls above the stage", explains Martin Lilly, Cunard's Director of Creative Entertainment. It is a lavish venue for QV's theatrical productions, movie presentations and Insight Lectures series, given by a variety of experts, ours being an historian of the Caribbean and an Environmental Scientist. The theater's sixteen private boxes seat two to eight guests who are pampered with individual bottles of Veuve Cliquot champagne and a variety of snacks all served by their personal white-gloved ushers.
Marianne is Queen Victoria's indefatigable social hostess. A wanderer at heart, she has been at sea for almost twenty years. She hardly catches her breath as she is in charge of the Solo Travelers Program, an excellent way for single passengers to meet each other and take part in activities of mutual interest: runs the Ballroom, all themed events, the various formal Balls, looks after the orchestra, organizes games, teaches arts and crafts and introduces passengers to the Captain at cocktail parties. Apart from all that, this former Secretary of the Year for Great Britain coordinates all on-board media, VIPs, celebrities and some administration. On sea days she never works less than thirteen hours during which she remains ever amiable and available.
David Stephenson, the QV's Hotel Manager is another multi-tasking phenomenon. He is responsible for the entire interior of the ship, "the general manager of a hotel that moves". He was named a ship's hotel manager at age 34 and today, at 58, he confides that he has "never had a day without something happening on board that has never happened before". Barely into the 2012 season, Stephenson is already planning for Queen Victoria's 2013 world cruise. The cruises require "meticulous advance ordering and much more pre-planning as they are in continual evolution and the competition is fierce". Experienced supervision throughout the ship is Stephenson's mandate. He ensures that the quality of the White Star Service onboard is at its highest level from the "economy class" inside cabins to the premier class Queen's and Princess Grills suites. The latter two have their private deck, private lounge, private dining rooms with a courtyard for al fresco dining, and designated concierge and butler services.
Meals are superb, plentiful and always available. The main dining rooms serve copious and varied breakfasts, lunches and dinners while a Lido buffet, an informal alternative, serves delectables around the clock on Wedgwood plates and in Waterford glasses specially designed for Cunard. The Golden Lion Pub enhances the ship's British tradition with many beers on draft, including Guinness, and "pub grub" like Bangers and Mash, Fish and Chips, and a Ploughman's Lunch. Celebrated Chef Todd English oversees the specialty restaurant on board that serves lunch and dinner daily.
Our days at sea were balanced with stops at the lush Caribbean Islands of St. Thomas, Antigua, Grenada, and Bonaire. There were shore excursions aplenty and I was particularly enchanted by Antigua's 365 beaches, its homes-away-from-home of Eric Clapton and Silvio Berlusconi and the magnificent yachts moored in the bay that leads to Horatio Nelson's Dockyard.
The ultimate highlight was traversing the Panama Canal's first lock on its Caribbean side. From early morning until the crossing's completion we were privy to a "play by play" commentary by Canal expert, Tony Grenald, regarding the Canal's history and how we were proceeding without any form of mechanical aid.
At sea we had limitless options: reading on wooden deck chairs or in the library, swimming, golf, giant chess, working out, ping-pong, paddle tennis, shuffleboard, deck quoits, fencing or logging miles circumventing the open decks.
Indoor lovers had access to spa treatments, tables of gigantic puzzles, bingo, cooking and baking demonstrations, wine, champagne and whiskey tastings, lectures, movies and serious shopping.
Debarkation at Port Everglades was as seamless as embarkation had been but our mood was somber. We were reluctant to leave Queen Victoria and envied the passengers who were continuing on the next leg of her voyage.
As we glanced back at "our" elegant Queen Victoria, we recalled a "grand voyage" in the classic tradition of Cunard and understood why "with Cunard, the journey may be even more magnificent than the destination".


---
Photos courtesy Cunard Line
---

For more information about Cunard Line visit its web site at http://www.cunard.com


---

Julie Rekai Rickerd

Julie Rekai Rickerd is a Toronto-based travel and arts writer whose love of global adventure began at an early age. Forever on the move ever since, she has had the good fortune to visit all 7 of the world's continents. She has shared the details and pleasures of these journeys with her readers for many years. Among her favorite modes of travel are cruises that she began to enjoy in the early 1980s when there were but a few small ships plying the tourism waters. She has followed the extraordinary evolution of the enormous cruise industry with great interest and never does she miss an opportunity to take a cruise to one of the many corners of the world where ships of all sizes now go.


Articles by Julie Rekai Rickerd at Prow's Edge Cruise Magazine
• Escaping Winter on a Caribbean Cruise – by Julie Rekai Rickerd
• On the Queen Victoria in the Panama Canal – by Julie Rekai Rickerd