Cruise Articles : Western Caribbean Cruise with Royal Caribbean

Cruising Into Mystery with New Offering From Mysterious Destinations
by Greg Latimer
Hand Prints in Cozumel - photo by Greg Latimer
Mysterious handprints attributed to the ancient Maya, but that look more like handprints from ancient aliens.
A plantation in Jamaica said to be haunted by the mistress of the house, and the lovers she murdered there.
And now you, provided with equipment and training, investigating these locations first-hand, under the guidance of experienced Expedition Leaders.
If it doesn't sound like an ordinary cruise experience, you're right… It isn't.

It's something completely new from Mysterious Destinations, a Maine-based tour company that specializes in relaxed vacations combined with intriguing investigations into the unknown and the unexplained.

They've entered the cruise market in partnership with AAA, and they're offering a 7-day Western Caribbean Expedition that departs from New Orleans on Nov. 24, 2012 aboard Royal Caribbean's Navigator of the Seas.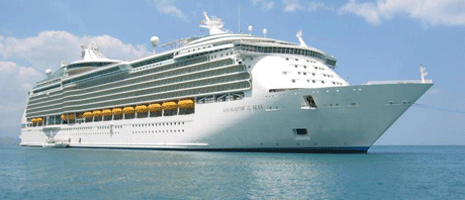 Not only will their participants enjoy a Caribbean cruise and plenty of free time; they will also be invited to join seminars on paranormal investigation techniques while underway, conduct investigations at the locations noted above, and have the option to join in a presentation to the ship's passengers of evidence collected during the expedition.

On Jamaica, the Mysterious Destinations Western Caribbean Expedition has been allowed enhanced access to the Rose Hall Great House, considered by one television documentary to be one of the ten most haunted places in the world. The location is said to haunted by Annie Palmer, who allegedly murdered three husbands and an unknown number of male slaves she took as lovers before she in turn was murdered.

While there are plenty of stories about this location, and Ghost Adventures has visited with some interesting results, very little serious research can be located on Rose Hall. "We're hoping our visit, with proper equipment and training, will add to the base of knowledge about this intriguing location," said Sally Lobkowicz, Director of Mysterious Destinations.

On Cozumel, the group will focus on ancient handprints at a Maya ruin deep within the island's interior.

A previous visit to the site by Mysterious Destinations located handprints that seemed larger than Maya hands, and observed that no thumbprints could be discerned on the handprints surveyed. Mysterious Destinations has received special permission for members of their group to go past the usual perimeter to record the handprints by measurement, photographically and otherwise. A study of these handprints may reveal unusual trends, according to Mysterious Destinations. The Cozumel shore trip also includes other haunted places and a Mexican lunch.

The Navigator of the Seas will also stop at Grand Cayman Island, which will be a "free day" for the Mysterious Destinations group, although members are invited to join the Expedition Leaders on an island scouting expedition.

The entire experience -- cruise, shore trips and more -- is all rolled up into one inclusive price. What's more, the Mysterious Destinations Expedition Leaders assigned to the group will provide service to the guests before the cruise even departs and then both onboard and onshore through the cruise experience.

Prior to the cruise, the Expedition Leaders will be available to answer any questions that guests may have, and make recommendations for their trip. "We've all been first time cruisers before, and even experienced cruisers may have questions about the investigations we'll be conducting," Lobkowicz said. "We'll be ready to field any inquiry about the cruise and the ports we'll be visiting, and we've got plenty of experience to make anyone's cruise more comfortable."

While on the cruise, the Mysterious Destinations Expedition Leaders will guide the group onshore, and onboard they will act as Cruise Hosts, ready to solve any problem that may arise for participants.

The cruise begins and ends in New Orleans, where the Mysterious Destinations team recently returned from a trip to check the haunts, history and unique lodging options in the "Big Easy".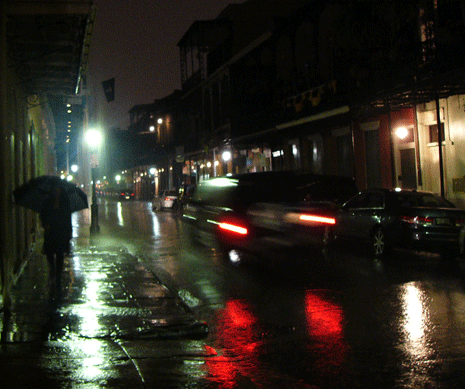 Rainy Night in the French Quarter - photo by Greg Latimer

"We explored five French Quarter area hotels with histories of ghostly activity, attended walking tours of haunted areas and checked a mortuary where paranormal investigations are conducted," Lobkowicz said. "So, when our participants make their cruise reservations we will also be able to give them options for lodging and activities in the same theme."

In a quirky coincidence, "orbs" (circular images that may be paranormal anomalies captured in photographs) were photographed at two of the hotels visited. "In one case it appeared as though the hotel manager was being followed through the building by one small and one large orb, as these objects were spotted in photos at two different locations on the property, a short distance behind her," Lobkowicz said.



---


So, for those seeking something completely different for their next vacation, Mysterious Destinations may be a good place to check. Find them online at www.MysteriousDestinations.com, telephone them at 207-380-4677, or e-mail them at [email protected] .




---

Greg Latimer

In his role as Research Director for Mysterious Destinations, Greg Latimer personally travels to locations ranging from Cozumel, Mexico to Virginia City, Nevada and back to the wooded coastline of Maine.

Presently residing in Maine, his articles and photos continue to be published in The Lincoln County News and in 2001 he was recognized by the New England Press Association with an award for investigative reporting.


Articles by Greg Latimer at Prow's Edge Cruise Magazine
• Cruising Into Mystery with New Offering From Mysterious Destinations – by Greg Latimer