Cruise Articles - Cruise Reviews :
Puerto Rico with Holland America Line

Cruising the Maasdam
by Sharon Spence Lieb
Aboard Holland America's sleek Maasdam, I'm excited by my schedule: digital photo workshops, cooking classes, travel lectures, ballroom dancing, pool games, Vegas style shows, and seminars in buying diamonds and fine art.
How can anyone choose from among dozens of shore excursions: Shopping, garden/beach visits, train tours, wreck diving, tubing whitewater rivers, kayaking a bioluminescent bay at night.

I'll be busy, I'll be adventurous, but I won't be bored.
The gym promises I'll work off extra calories with daily aerobics, weight training, yoga, and walks around the deck. The Spa is luxe, with alluring anti-aging facials, seaweed massages, and a whirlpool oasis with classical music and soothing sea views.

As the sky blazes apricot and raspberry, the sleek Maasdam glides away from Port Everglades in Fort Lauderdale towards San Juan, Puerto Rico. For the next two days at sea, 1,200 passengers will enjoy non-stop activities, delicious food, and new friends.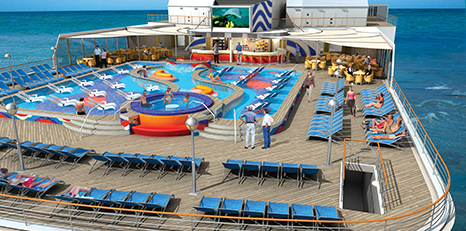 Maasdam - photo courtesy Holland America Line

Saturday morning, scrambled eggs, fresh fruit, and strong coffee is delivered to my cabin at 8am. I bound outdoors to Deck 6 for my sea walk. Frigate birds with six-foot wings soar over the waves as ivory clouds sweep past. A salty sweet wind clears my mind.
Strolling around the deck, I meet a red haired Canadian lady, on vacation with her family. Zenalia tells me they drove 2 days to escape winter and come onboard the Maasdam.
"I'm so happy on this ship. Don't you love the rolling motion and the magnificent sea and sky?" she asks, as we fall in step.
"Actually, I'm kind of a landlubber. I hope I don't get seasick," I grin. "I'm eager for the shore excursions on Monday."
"Although I live in Canada with my husband, I'm originally from Portugal," Zenalia explains. "Our family home is on San Miguel Island off Portugal."

"Well no wonder you love the sea," I say. "Many of the great maritime explorers were from Portugal. Maybe you're the great granddaughter of Vasco de Gama or Ferdinand Magellan?"
"You might be right, Sharon. For sure the sea is in my blood," Zennalia laughs.
After that morning, Z and I were fast friends. We became obsessed with the Maasdam's exquisite food and the hopeless task of not gaining weight.
"Saw you dressed to the nines at The Pinnacle Restaurant last night," she'd grin. "I was decadent …. grilled veal chops in rosemary and chocolate soufflé with Grand Marnier sauce. Ahhhh."
"I was in heaven with lamb chops and bing cherry baked Alaska. How many aerobics classes are we in for today?"
A kitchen tour with Executive Chef Joachim Barelmann revealed the ship's average weekly consumption: 8,500 pounds of meat, 6,000 pounds of chicken and fish, and 18,000 eggs. Add in 12,000 fresh veggies, 4,000 quarts of dairy and a bakery preparing 120 loaves of bread, 4,000 dinner rolls, 800 croissants and 800 sweet rolls.
Bottom line: relish every sensational morsel and bring loose clothes.
With entertaining classes, lectures, gym workouts, library browsing, and serene hours at The Spa, two days flee by. The Maasdam sails over The Puerto Rico Trench, where the Atlantic Ocean is five miles deep.
Fascinating slide lectures by travel guide Greg Miller inspire me to
book offbeat shore excursions: Kayaking Laguana Grande, a bioluminescent bay off Puerto Rico's east coast; an open-air scenic train ride around St. Kitts, and tubing the Layou Gorge River on Dominica.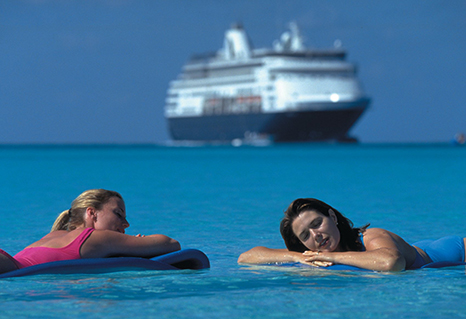 Maasdam - photo courtesy Holland America Line

All the shore excursions were fabulous, but my kayak tour was unforgettable.

Forty intrepid passengers depart The Maasdam at 4pm, not sure what to expect during an evening kayak trip. Our bus leaves San Juan's rainbow hued historic area for the island's east coast. By 6pm we're wearing helmets, life jackets, and climbing into orange kayaks bobbing next to shore. We don't know each other, or even exactly where we are, but we're anticipating adventure
"Everybody ready? Ok, follow me," calls our guide Miguel. "You're in for a surprise."
Paddling into a darkening tunnel of mangrove trees, we work hard to keep up with Miguel. The water is shallow and our paddles scrape rocks.
"Don't crash into the mangrove roots," Miguel calls back. As the sky deepens to cobalt, we emerge out of the tunnel into a huge lagoon. Swooshing in the water, our paddles are rimmed in a beautiful green glow. Waving my arm in the warm water, it too is alien green.
"This lagoon is very special," Miguel tells our group. "The bioluminescence you see is a one-celled algae called a dino flagellate. They divide into four cells and only live 5 days. But they're an important food for all the marine life growing here. Dino flagellates exist because of a unique balance in the water temperature, salinity, and lack of pollution. When touched, dino flagellates emit light. Isn't it beautiful?"
Right on cue, we all wave our arms in the water as a soft Caribbean shower soaks our skin. Imagine if billions of stars fell into the sea …. and glowed. Thrilling.
My kayak partner Annette decides to swim with the dino flagellates. She slides out the back of our kayak. Her entire body is outlined in green glow.
"Nice outfit, Annette. What's it feel like"" I ask her.
"Creatures seem friendly," she jokes.
"I crown you: Bioluminescent Babe," I announce.
Paddling to shore, soaked and silent, we're lucky to have encountered such magnificent mysterious creatures.
The next day I join my cruise mates for a "Wildlife Under our Keel" lecture given by Greg. "The most colorful and spellbinding view of the Caribbean is below," he tells us. "You'll see antler, staghorn, and brain corals; sponges, anemones, and tropical reef fish in day-glow colors. Maybe you'll be lucky and spot graceful spotted eagle rays and turquoise parrotfish. My point is: get wet and go exploring." Greg is totally convincing.
In the library, I settle into a comfy leather chair with fresh brewed coffee and browse through "Oceans," by deep sea pioneer and National Geographic Explorer in Residence, Sylvia Earle. Her book contains an essay by philosopher/naturalist Loren Eiseley: "If there is magic on this planet, it is contained in water … it's substance reaches everywhere, it touches the past and prepares the future. It can assume forms of exquisite perfection in a snowflake, or strip the living to a single shining bone cast up by the sea."
With so many nature lovers inspiring me, I waste no time walking to the Excursions Desk to book a snorkel trip for tomorrow. Why in the world would I do anything else?

Photos courtesy Holland America Line

---
About Holland America Line



Holland America Line is a premium cruise ship leader in the industry. Their fleet of 14 ships offers nearly 500 cruises to 320 ports of call in 100+ countries. Two-to-114 day itineraries visit all seven continents, including Antarctica, South America, Australia/New Zealand, and Asia voyages; a Grand World Voyage, and sailings to ports in the Caribbean, Alaska, Mexico, Canada/New England, Europe, and Panama Canal. Conde Nast Traveler Magazine gave Holland America their 2008 World Saver Award, one of 38 companies selected as a global leader in social responsibility.

For more information visit the Holland America Line web site at www.hollandamerica.com
---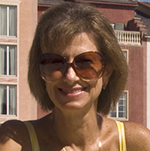 Sharon Spence Lieb
Sharon Spence Lieb is author of guidebooks on Florida, Chicago, Santa Fe, Trinidad and Seoul. She contributes articles on adventure, wildlife/nature, cruises, and offbeat luxury to a variety of global magazines, newspapers and webzines.
Her award winning "Globetrotters" travel/photo feature is published monthly in Charleston, South Carolina and here's the link to her adventures:
www.moultrienews.com
– click Travel, scroll the page and explore Planet Earth with Sharon.