Cruise Articles - Cruise Reviews :
Fiji with Captain Cook Cruises

Captain Cook Cruises Cultural Fijian Cruise

by Roger Allnutt
South Pacific country Fiji has been a popular destinations for travellers for many years. There are 334 islands making up the Fijian archipelago of which Viti Levu and Vanua Levu are the two largest.
The international airport is at Nadi on the western side of Viti Levu and many of the top resorts are located at Denarau only a few kilometres out of Nadi. The administrative heart of Fiji is the capital Suva at the eastern end of the island and easily reached by internal flight or via the Queens Road highway along the south coast.

Fiji-based Captain Cook Cruises has been running cruises in Fiji for many years including cruises to the Yasawa Islands and their Heritage Cruise from Denarau to the old capital of Levoka on Ovalau Island, to Taveuni and also to Savusavu on Vanua Levu.
In 2011 they introduced their new 8 day/7 night Cultural Cruise focussing on Vanua Levu and some of its offshore islands. This cruise is offered six times a year starting on the first Tuesday of the even numbered months of the year.
The 140 maximum passenger Reef Endeavour sails to a number of small coral cays where passengers can enjoy the excellent snorkelling among the brilliant coral reefs (bring an underwater camera if you have one) and for those already with diving certification the one board dive crew will take you to some splendid dives. A couple of younger passengers on our cruise took the opportunity to gain certification.
The ship is an intimate small ship with excellent facilities. Cabins on four decks are spacious and well appointed; there are plans to increase the number of suites on the top deck by combining adjacent cabins. There is a swimming pool, two spas, sun deck, sauna and mini gym, two bars and lounges, library, gift shop and day spa. Dining is single-sitting .



Our cruise only had 48 passengers including 34 from one large 'family' group from South Auckland celebrating the grandmother's 80th birthday. A delightful group ranging in age down to a 12 month old baby and great to travel with.
The cultural highlight of the cruise was the visits made to four small islands off the eastern and northern sides of Vanua Levu where the local inhabitants come from different 'backgrounds'.
The first was Kioa Island with about 600 people descendants of a small number of people who moved there in 1946 from Vaitupu in Tuvalu (formerly the Ellice Islands) when those islands became overcrowded. The money to purchase Kioa was earned by working for the Americans who occupied their islands in WWII. The people are Polynesian and they still retain many old ways; berthed offshore a flotilla of about 10 canoes came out to greet us and circled the ship twice before we went ashore. Our welcome included drumming, singing and dancing in traditional costumes, some kava drinking and afterwards while we explored the small village the ladies sold excellent local handicrafts.
Close by is Rabi island with a much larger population in four settlements home to Banabans originally from Kiribati who are the indigenous owners of the island. The indigenous Fijian community that once lived on Riba moved to Taveuni but still retain close links. Both islands visited had a church, the centre of local activity, and a large rugby field and whilst there the young New Zealanders immediately struck up a rapport with the local young men.
The two other islands visited were Drua Drua and Kia off the north coast. The visit to Kia was on Sunday when most Fijians go to church, sometimes three times. At Kia we were welcomed by the local pastor and listened in awe at the superb singing by the small congregation, four part harmony in perfect pitch with no instruments. From my schooldays I even remembered 'Oh Come all ye Faithful'.
At all islands we were welcomed with great friendliness, kindness and openness, they wanted us to appreciate their lifestyle, to show off their facilities like schools and to join with them in their daily activities. Fortunately I managed to avoid the kava drinking which I left to others to partake.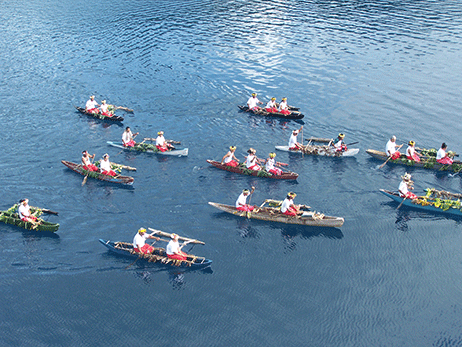 At each island it was important to dress appropriately (shoulders and knees covered for both men and women) and observe other local cultural traditions. Interestingly at a couple of islands the arrival of the Cultural Cruise earlier in 2011 was the first time some islanders had seen white women.
The main town of the cruise was Labasa, the largest town on Vanua Levu. Its main product is sugar and we did a short tour of the local mill before exploring the town. The population contains a large number of Fijian Indians who run the shops and have their own temples including the odd Snake Temple of Vuniika which is famous because of a large cobra shaped rock that , according to legend, keeps growing.
I had done the Heritage Cruise a couple of years previously and overall found that cruise preferable. There was a greater range of places visited, the entertainment was better and the food was superior to that provided on this cruise.
Flight schedules or the desire to spend a few more days in Nadi area could have you looking for extra accommodation. Close to the airport I would recommend the Best Western Hexagon Hotel about halfway between town and the airport.
A great place to stay for at least a couple of days just a short drive south of Nadi is lovely Sonaisali Resort, reached by a short boat transfer from their base just off the highway. A superb garden setting with comfortable, spacious rooms, large pool, many activities including a Sunset Cruise and a couple of fine dining options.
The best timing for this cruise is from May to October.
The photo of the coral fish was taken by Jennifer Williams of New Zealand; the others are by Roger Allnutt
---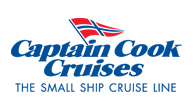 For more information on Captain Cook Cruises to Fiji check the website www.captaincook.com.fj/

---


Roger Allnutt is a freelance travel writer based in Canberra, Australia, and a long-time member of the Australian Society of Travel Writers. He travels widely around the world researching material for publication in newspapers and magazines in Australia, New Zealand, US, Singapore and other parts of the world.
Roger is happy to accept commissions and can provide material on many parts of the world. He can be reached at [email protected]. 
His other interests include food and wine, classical music and theatre and playing tennis.

---