Cruise Articles - Cruise Reviews :
Asia - Borneo with Pandaw Cruises

Journey to Borneo: Upstream on the mighty Rajang River in Sarawak, Malaysia
by Petra O'Neill
"Right step, right step, right step, back, now forward and turn. You have it!" With considerable patience, Rosa had been teaching me and my fellow passengers how to do the Poco Poco dance, a traditional dance performed by the Iban tribes people of Sarawak, on the island of Borneo.
Earlier that day, I had also honed my skills in using a blow pipe and as much as Rosa is an accomplished dancer, you could tell from the look in her eyes that she knew she would impress us by demonstrating her skill at hunting by using the blow pipe. Slowly she walked, then turned quickly, put the blow pipe to her pursed lips, took aim at the balloons bobbing about in the breeze, and popped them all in rapid succession. None of the passengers, except "Stoney" from Alaska, had ever hunted before, let alone used a blow pipe. Rosa Minggu was the Administrator on the Orient Pandaw and she, like many of the crew, were local Iban.
I was travelling upstream on an 8-night journey from Sibu to Kapit and back down to Sarikei on the Rajang River, which at 563 kilometres, is the longest river in Malaysia. Borneo has one of the world's most diverse eco systems, its rainforest home to a multitude of species of flora and fauna.
Twenty years ago I did the same journey, expecting to find an old colonial paddle steamer such as Joseph Conrad might have found. Instead I experienced hell-raising journeys in express boats built like space capsules that go at break-neck speed, with Tommy Lee Jones action movies blaring. In Kapit, I found an old cafe with antique Chinese marble top tables and sat near an Iban elder. He said one day I would come back. I've often thought since about that cafe and the old man.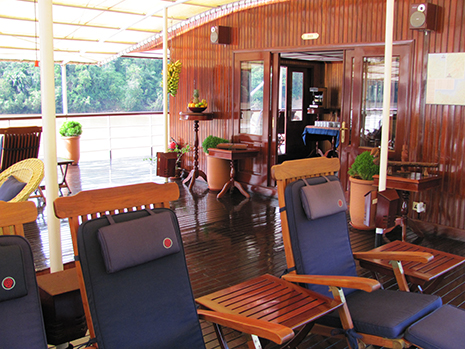 The Orient Pandaw commenced journeys on the Rajang River in 2009. Beautifully hand finished in brass and teak, with rattan furnishings and an informal colonial ambience, it cruises at a leisurely pace. The Rajang is muddy brown, with a swift current and the 360 degree Observation Deck allows you to view the lush tropical rainforest up close, the Iban longhouses that comprise a row of attached dwellings under one roof, small riverside towns and piers with boats moored. This is how I had imagined the trip should be all those years ago.
The Irrawaddy Flotilla Company, established in Myanmar (Burma) in 1865 by Scottish merchants, became the largest privately owned river fleet in the world. Tragically, all were destroyed during WWII. In 1995, Paul Strachan, a Scottish Historian, set about rebuilding one of the original paddle steamers and established Pandaw Cruises. Since then, several Pandaw ships have been built based on the plans of the original paddle steamers.
My journey began in Sibu, a port city much as I remembered it; predominantly Chinese with a busy produce market, historic shop houses and a bit edgy, as a city with attitude should be. I'd caught the public bus from the long distance bus station to the wharf, dropped off my bag and set off for the market. Here I found a woman selling the largest bananas I have ever seen.


I returned to the Orient Pandaw and met the other passengers. Most were Australians, several from the United States, Sweden, Switzerland and the United Kingdom. Ages ranged from 35 to the very determined Frances Higgins, who celebrated her 80th birthday onboard and outpaced most of us.
All the excursions were interesting, some were exceptional. One morning, very early, we went by longboat on a creek very close to shore and were able to observe daily life, people taking their produce to market by boat, hanging up washing, chatting together.
Another highlight was our visit to Melanau village, famous for its Songket weaving workshop that counts the Sultan of Brunei among its clients. The women here were friendly and demonstrated how Songket is woven from gold and silver thread.
I also enjoyed our visits to longhouses, Jandok and Nyuka. At Jandok we were welcomed by the Iban headman and given a traditional welcome of music, dance and rice wine. I was invited to dance, but do not think I did so well, as the children all laughed. At Nyuka, our visit coincided with a visit by the Minister for Social Development and other important guests, there to present awards to those who had excelled in community service. The Minister took time out to meet with us all.
On one day we had a beach picnic, with the Pandaw crew excelling at traditional Iban bamboo pot cooking (such as cooking fish or rice in hollowed out bamboo).
Near the Pelagus rapids as far upstream as the Orient Pandaw could go, we were transferred to a flat bottomed cargo boat and through turbulent swirling waters we went. The sky turned black and a tropical downpour left us all drenched. That was the only time I saw Frances Higgins looking less than elegance personified. Otherwise she managed four outfit changes per day, each suited perfectly to the occasion.
While I enjoyed the company of my fellow passengers, all soon slipped into a tropical torpor, falling asleep on the deckchairs with novels opened on their laps, the boat their destination.
At Kapit, I went to the cafe where I had been 20 years ago. Neville Josef, the extremely obliging Purser, arranged for a small boat to take me there. The cafe was unchanged but the rainforest trees that stood along the shoreline have long since gone to make way for a pier for the many express boats that are now found here.
We went on walks through rainforests, crossing small wooden bridges over creeks to view waterfalls. We wandered through river towns with historic colonial buildings, including Fort Silvia in Kapit built in 1880 to prevent tribal conflict between the Iban and Orang Ulu. At Fort Silvia there is a visitor's book. While our guide Louis Jap provided informative commentary, I got distracted and began reading the entries. Under occupation, a previous Pandaw passenger had written "Gentleman, scholar and wit." Another wrote "Professor Guru."
My fellow passengers relaxed and enjoyed themselves on this journey on the Rajang River. A heady mix of the tropics, good food and company, travelling at a leisurely pace and the cocktails, served each evening, that only I declined, mixed using several local spirits at once and shaken with great fervour, by our barman, Aung Kyaw Myint from Myanmar does that to those joining this cruise.
Photos courtesy Petra O'Neill
Travel Notebook: The Rajang River, Sarawak, Malaysia
Getting there
Malaysia Airlines and Air Asia fly from Australia to Kuala Lumpur and onto Sibu and Kuching. Singapore Airlines flies from Australia to Singapore with flights on Silk Air to Kuching.
Where to stay
One of the most delightful cities in South-East Asia, Kuching offers a glimpse of what other Asian cities were once like. Laid back, with Chinese shop houses and historic colonial architecture, including the splendid Kuching Museum and the palace or Astana. The Esplanade along the Sarawak River is pleasant for an evening stroll. If coming from Australia, it is wise to spend several days in Kuching first to become acclimatised. The Hilton Kuching is the place to stay.

Getting around
Sibu is 8 hours from Kuching by bus, just over 4 by Express boat, or a short flight away. The cruise onboard the Orient Pandaw starts and finishes here.
Information
Sarawak Tourism:
Email: [email protected]
Website: www.sarawaktourism.com

Tourism Malaysia:
Level 2, 171 Clarence Street, Sydney. Email: [email protected] or 355 Exhibition Street, Melbourne. Email: [email protected]
Website: www.tourismmalaysia.com.au

For more information about Pandaw River Cruises please visit:
http://www.pandaw.com/


---

Petra O'Neill is a Freelance Travel Writer based in Sydney, Australia. "As a child, I was greatly inspired by a story about a mouse who travelled to exotic locations on a magic carpet." After juggling a corporate career with journeys of adventure, travel finally held sway. Petra specialises in writing about remote destinations including Papua New Guinea, Indonesia, Malaysia, Thailand, Burma, Laos, Cambodia, Vietnam and India. Petra's work has appeared in numerous publications in Australia and the UK. She can be contacted at [email protected]



Photos courtesy Petra O'Neill



---