Cruise Articles - Cruise Reviews :
USA East Coast with Carnival Cruises


Cruising on the Carnival Pride Resort Ship

by Alec Alpert
Once you board the majestic Carnival Pride resort ship, you are in the world of pleasure. For the next seven days, there is nothing to worry about. You are pampered and well fed. Exotic destinations wait for you to explore. And, most of all, you will not be bored.
Carnival keeps passengers entertained throughout the cruise in everything they do. Spectacular Las Vegas-style shows, live bands, nightclubs, and discos steer you out of your cabin. Ship entertainers engage you in games and contests on the deck. Waiters, bartenders, and busboys smile, laugh, chat, and are always ready to burst out in song. Every day your room steward twists your bath towels into the shapes of cute monkeys, frogs, dogs, and horses and leaves them on your bed for your amazement.

Besides the razzle-dazzle, you can go to art auctions, get massages, work out, relax in a lounge chair, gamble in the casino, take yoga classes, read, shop, socialize, play bridge, attend wine tasting classes, or simply relish the serenity of being at sea and more. Carnival satisfies everyone – young, young at heart, and sophisticates.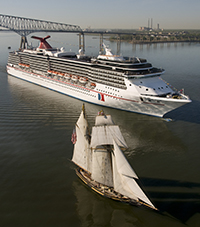 That is how my wife and I felt on board the Carnival Pride ship that sailed in September from Baltimore, Maryland, to Port Canaveral, Florida, and the Bahamas ports of Nassau and Freeport. In essence, this 963-foot-long ship is a floating vacation resort.
Of the multitude of activities, dining out in the elegant Normandie Restaurant and then watching a show in the lavish Taj Mahal Theater is the favorite pastime of most passengers.
Located at the back of the ship and spanning two decks with wraparound windows, the Normandie Restaurant impresses you with lavish, elegant décor and attention to detail. Tables are nicely set with white tablecloths, plenty of silverware, and iced water or iced tea. Live flowers in a vase complement the charm of dining.
Every day the menu is different and you can eat as much as you want. A wide selection of exquisite appetizers, entrees, and desserts caters to all tastes, and includes a variety of beef, poultry, fish, and seafood, supplemented with fresh green vegetables, breads, rolls, cheese, and ripe fruit. I savored beef Wellington, lamp chops, fillet mignon, lobster, and shrimp. Especially, I liked steamy, succulent Maine lobster tails that melt in your mouth and go well with Chardonnay. And who could resist those seducing desserts with cappuccino? I fell in love with chocolate macchiato cake, pear chocolate cake, cheesecake, and warm, chocolate-melting cake.
Waiters are fast, very friendly, and dressed formally, and always take pains to ensure you are satisfied. They bring your next dish and replace your plates and silverware in time. I never stopped being amazed how they manage to serve over 2,000 passengers with such an incredible efficiency. They make you feel as if yours is the only table on the ship.
Tables vary from 8-person sittings to tables for two. On the first night, we sat at a round table with young newlyweds from Ohio, India, and Mexico City. Within minutes, we engaged in a conversation.
We learned that Dave and Michelle from Ohio had romantically married two days before the cruise in a restaurant on a lake. Handsome Adesh and lovely Eshika from New Deli told us a story of their 4-day wedding. Over 300 relatives and friends participated in elaborate festivities with live bands, entertainers, lots of dancing, traditional Indian food, and rituals. Eshika amazed us with a cell-phone picture of a 6-foot-tall wedding cake. Live music and lots of dancing were highlights of the wedding of cheerful Diego and Asalia from Mexico City.
For the rest of the journey my wife and I decided to dine at a table for two – after all, we were celebrating our 25th wedding anniversary and wanted some privacy. On the day of the anniversary, the staff brought us a delicious cake shaped like a heart with the message "Happy 25th Anniversary" inscribed on it with chocolate. For a few minutes, we became the focus of attention as four waiters sang us a "Happy anniversary to you" song and some passengers clapped.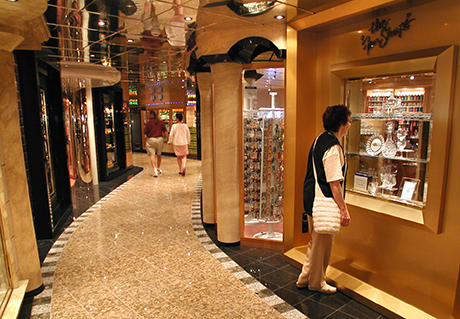 After lovely dinners, most folks head for the 1,170-seat Taj Mahal Theater, a breathtaking room that spans three decks in the forward section of the ship. Live entertainment ranges from spectacular Las Vegas-style revues to Broadway musicals and cabaret acts that include vocalists, magic acts, ventriloquists, and comedians. The shows are loud, colorful, and highly energetic and are supported by a 10-piece live orchestra. During the show, waiters offer drinks and liquor you can put on an oval stand in front of your seat. Ice-cold pina coladas were my favorite.
During the day, court-style venues throughout the ship serve grilled meats, pizzas, stir-fry, deli, salads, fruits, sushi bar, and ice cream. There are self-help beverage stands, including coffee and tea. And if you are still hungry at night, you could order from free 24-hour room service.
Most people hang out by the pools with hot tubs on the Lido Deck, sipping soft drinks or alcoholic beverages, with beer being the most popular. Well-stocked bars nearby and roving waiters make sure that everyone is cared for. Live music from the stage on the deck maintains a celebratory mood.
One day on the Lido Deck, we watched a hilarious "Hairiest Chest" competition. The essence of this game was for three female judges from the audience to choose the hairiest man out of ten volunteers. Cheered by the ship's entertainer and the crowd, accompanied by loud tunes from the sixties and seventies, the three finalists, one at a time, with chest exposed, did a sexy dance in front of the judges.
Then about hundred women from the audience joined the winner for the celebrity chain walk, in which you put hands on the shoulders of the person in front of you and pace with the rhythm of the music in a human chain around the deck, cheered by the crowd and the ship's entertainer. It was an energetic, loud, and funny spectacle.
For the night, you retreat into the privacy of your cabin (they call it a "stateroom"). There are 1,062 cabins, of which 750 have a private balcony. Our cabin had a private balcony. It is well worth it for just a bit extra. First, a balcony's glass wall with a door gives you access to the bracing sea air. In the morning, you can open the curtain and enjoy the magnificent scene of the moving ocean. Better yet, you can sit outside on the balcony's chair relishing a balmy breeze, watching breathtaking sunrises, sunsets, and colorful rainbows, and sometimes dolphins trying to outrace the ship.
On the third day, early in the morning, we arrived at Port Canaveral, Orlando, Florida. A day before, at the ship's Shore Excursions desk, we purchased an excursion to the Kennedy Space Center and NASA, a 7-hour guided tour that departs at 8 a.m. An air-conditioned tour bus took us through the essential parts of the world's largest industrial park that employs about 15,000 people and spreads for many miles in all directions of Cape Canaveral.
Two enthusiastic space program experts took us on the thrilling space exploration journey. It was akin to being on the Discovery Channel, and was so informative, engaging, and awe-inspiring.
I always wondered how they build and transport enormous space vehicles to the launch pad. The Vehicle Assembly Building is where the vehicles are assembled. It is the world's tallest building for assembling spacecrafts. Once completed and ready for launch, the 4.5 million-pound Space Shuttle is then transported on the 6-million pound Crawler-Transporter to its launch pad. We stopped across from the Crawler-Transporter to see the details of the enormous platform driven by the caterpillar tracks.
At the Shuttle Launch Complex, we disembarked from the bus and spent half an hour on the observation gantry, enjoying a breathtaking view of the giant technological marvel that the launch pad is, while the guides explained to us the intricacies of the Space Shuttle program.
At one of the giant IMAX® theaters, we experienced the thrill of the Moon exploration in 3D on the five-story screen with surround sound. Presented and narrated by Tom Hanks, the film "Magnificent Desolation: Walking on the Moon" features rarely seen NASA footage with renditions of the lunar landscape, sending the audience a quarter-million miles above the Earth. The movie was so realistic that we felt we had just visited the Moon!
But that was just a warm-up. The bus dropped us off at the spacious Apollo/Saturn V Center exhibiting a real Saturn V rocket used in the Apollo program. After a briefing of where we were, we were let into a large Firing Theater that hosts the control center used in the early space missions. Three huge screens above the computer consoles show movies of historic launches of the Apollo program. With replication of the real-life voices, sounds, and images, you indeed feel as if you are in the middle of a real launch event.
Then we were left for a self-guided tour of the overhead display of the gigantic Saturn V rocket and the modules. The rocket is separated into its launch sequence components, so a viewer can study the details of this marvel of technology. Especially, if you are mechanically inclined, you will appreciate the minute details of the design and the incredible complexity of the rocket.
The other artifacts are the Lunar Rover, a slice of moon rock you can touch, a Lunar Lander capsule and numerous stands with colorful information about the Apollo program. In a dedicated darkened room, among many other things, actual suits that astronauts wore on the moon are displayed.
Eventually, you will get hungry and can eat at the "Moon Rock" café that has juicy hamburgers, pizza, salads and drinks, and is located next to the Saturn V exhibit.
In the Space Shuttle Plaza, visitors can tour inside of the full-sized Shuttle replica. You will see, touch, and smell what astronauts experience during a Shuttle mission.
You can wrap up your Kennedy Space Center tour by participating in the Shuttle launch experience in a looming, six-story facility that simulates a takeoff of the Shuttle with roaring of the engines and vibrations. Just make sure you are in decent health before embarking, as the vibrations and jolts are those of the real take-off (but you are warned about that before entering the facility).
On the fourth day, the ship docked at the shore with palm trees and colorful buildings – we had reached the Bahamas' Nassau Harbor.
My wife and I disembarked and with some other passengers took a taxi to the Atlantis Resort. It is an awe-inspiring, enormous complex of buildings, towers, gardens, sculptures, fountains, beaches, theme parks, waterfalls, restaurants, and casinos, occupying most of Paradise Island. The theme of the resort is based on the legend that twelve thousand years ago a very advanced civilization had existed on the island of Atlantis in the Atlantic Ocean, which disappeared into the ocean due to a cataclysmic earthquake caused by volcanic eruptions.
Whether the ancient Atlantis really existed we will never know for sure, but the world that the futuristic Atlantis Resort on the Paradise Island creates indeed stimulates your imagination. The architectural design creates a vision of the city from another civilization. Just by looking at spear-like structures on the corners of buildings, pointing into the sky, and futuristic arches connecting buildings reminds you of scenes from science fiction movies.
Once inside the building, the lavish interior overwhelms you with its originality, grandeur, spaciousness, and attention to detail. Another attribute that strikes you, everything is extremely clean, in good condition, well organized, and maintained. Staircase rails sparkle, carpets look brand new, walls are shiny, and there is plenty of light. Parts of the floor covered with linoleum reflect almost like a mirror.
Tall domed ceilings with frescoes create an aura of magnificence and generosity. The sounds of running water from multiple fountains, outfitted with marble and sculptures, make you feel relaxed and welcomed. Live palm trees and exotic colorful plants and flowers bring even more life to the stunning décor. Personnel are friendly, competent, and helpful.


Just strolling around spacious halls is an adventure in itself. It is like touring an exciting city. High-end stores like Versace, Gucci, Fendi, Rolex, Bulgari, and others surround you in the shopping venue. In casinos, you can play Poker, Black Jack, Roulette, or just slot machines. You can enjoy French, Italian, Asian, or Mediterranean cuisine in restaurants like Café Martinique, Casa D'Angelo, Nobu, Bahamian Club, and more. They are, however, on the pricy side. At Marray's Delicatessen, on the other hand, you can eat a delicious, hearty meal for a fraction of the price of those specialty restaurants.
Of a wide spectrum of activities, we chose a "Discover Atlantis" tour to explore the supposed ruins of ancient Atlantis. The tour guide takes you through the maze of splendid chambers, twisted streets, boulevards and plazas, all under water and seen through massive glass walls. Thousands of exotic fish and sea animals pass you by as you walk, including sharks, barracudas, stingrays, hammerheads, jellyfish, turtles and more. At some point, you pass through a glass tunnel that separates you from a ten-foot shark's skin only with the thickness of the glass. Take a close-up picture of a shark, and your friends will think that you were swimming with the sharks – it looks so real.
Many sites are dedicated to specific endeavors of Atlanteans, such as the Submarine Room, Navigation Room, Treasury Room and Laboratory. In the Submarine Room, for example, you can study elaborate diving suites and diving spheres that the Atlanteans used in the final attempt to reinforce the submerging foundations of their continent. In the Navigation Room, an intricate navigational device of about two stories high was used by the Atlanteans to predict the weather and travel conditions, and determine planetary positions.
If you or your family like water adventures, Atlantis offers Aquaventure, a theme park of multiple high-speed water slides, a mile-long river ride with rolling rapids and waves, a stunning water-play castle, and eleven swimming pools. For the thrill of a lifetime, the young at heart and kids plummet down a 60-foot vertical drop through shark-infested waters and splash into an enormous pool.
Freeport, Bahamas, was our next (and the last) port of call on the fifth day of the voyage. Since we had only six hours, we decided just to shop at the Port Lucaya Marketplace and then stroll on the beach across the street from it.
This marketplace is an about a mile-long waterfront stretch of shops, restaurants, cafes, game arcade, bank, museum, and more. A 20-minute taxi ride with other passengers from the ship brought us there. For the most part, it comprises a flea market of goods made by the locals, although high-end, air-conditioned stores are also present, where you can buy genuine, high-quality jewelry, leather, watches, and many other extravagant items at discounted prices. In addition, they have an abundance of charming souvenirs you can find only in the Bahamas.
The next day was a non-stop sailing home. The fun and pampering went on as usual. I took a Swedish massage that made feel 20 years younger. My wife had a facial.
We returned to Baltimore on the seventh day around 9 a.m. The disembarkation was well organized and problem-free. We were on the parking lot with our on-wheels luggage within thirty minutes.
This was our first cruise and it made us enthusiasts. We are looking forward to our next cruise. All the fun we had, the exotic places we visited, the impeccable service we experienced, abundance of delicious food we ate, mesmerizing shows we have seen, new people we have met – all this just in one week … and at a bargain price.
For more information visit Carnival Cruises at http://www.carnival.com
---
ABOUT ALEC ALPERT
Alec Alpert is a freelance travel journalist who covers North America, Europe, Central, and South America, with a focus on journey and destination travel. Alec can be reached at [email protected].
---

Photos courtesy Carnival Cruises