Cruise Articles - Cruise Reviews :
On the Canal du Midi in France

CANAL DU MIDI – Snaking through Languedoc's Vineyards and History
by Richard Varr
I gaze beyond the tree-lined 17th century Canal du Midi and all I can see are vineyards – rows and rows of delicate vines dotting the hilly countryside. 
We're cruising on Tango, an elongated, early 20th century barge that once hauled produce and goods from the Atlantic Ocean to the Mediterranean Sea.  Today, however, Tango is a barge hotel and the cargo is human – pleasure seekers basking in the steady calm breezes and brilliant "light" that makes the South of France like nowhere else.
"Look – the Pyrenees are in clear view," yells barge owner and Captain Daniel Sak as he points toward shining mountain peaks along the distant Spanish border. "On a clear day like today, we can see the snow-capped mountains 100 miles away."
It's the start of a cruise that will take us on one of the most scenic canals in the world – a snaking corridor whose walls are mighty tree trunks and whose ceilings are leafy branches casting shade along gentle waters.  At a walker's pace, Tango quietly chugs along amidst views of Languedoc's burgeoning vineyards and orange poppy fields bathed in the spring sunlight.  We duck our heads under petite stone bridges at 17th and 18th century villages built as resting spots for the horses and crews that pulled barges 30 or 40 miles a day.
It's also a journey that will bring out the true flavors of the region.  We indulge in wine tastings at vineyards along the way and dine on simple but fresh fish, meats and vegetables from local farmers' markets, with foods cooked in olive oil made locally.  The canal meanders through an area often referred to as the world's largest vineyard – more than one-third of all French wines come from Languedoc.
"Eighty percent of the region is countryside and vineyards," explains tour guide Christophe Maria, a native of Marseille.  "Provence is less peaceful now because it's more crowded.  When I grew up 25 and 30 years ago, Provence was peaceful like this, but now it's very busy."


Less than two meters deep, Canal du Midi is one of the oldest dug by hand.  Completed in 1681, it provided a water commerce route from the Mediterranean Sea to the Atlantic Ocean by intersecting the Garrone River at Toulouse.  Armed with picks and shovels, it took 12,000 workers – including 600 women – 14 years to complete the job, planting 45,000 Sycamore trees along the banks to hold back dirt and provide shade for the horses.  Today, the 240-kilometer canal has more than 300 structures including locks, bridges, dams and a tunnel.
The canal, now a UNESCO site, was the dream of Pierre-Paul Riquet, a local tax collector who persuaded King Louis XIV to commission the project which put an end to long sea journeys around Spain and threats from feared Barbary Pirates.  Riquet, who was in his 60s when the digging began, died only a few months before the canal's completion in 1681.  "Riquet wanted to make it beautiful with bridges and locks made of the best stones and decorations," explains Maria.  "He wanted it to be a pleasure for the eyes."
Thomas Jefferson, who visited in 1787, noted "countless vine plantations" and how barges were "cluttered with goods" including "sacks of grain, barrels of wine and brandy."  Like pleasure seekers today, Jefferson even observed the slow pace and scenic countryside.  "Of all the methods of traveling I have ever tried, this is the pleasantest," he once wrote. 
The canal snakes through charming Languedoc towns and villages.  While at the village of Le Somail, Sak – also the barge's chef – visits the market in Narbonne to pick up fresh produce and meats – sausage, zucchinis, baby clams, olive oil and popular Minervois and Corbières wines that are bottled locally.
What makes the Languedoc wines unique is blending, says Sak.  "What's fantastic here is that we're not only limited to a variety of a grape.  The winemakers blend different grapes together more or less as they feel, like a chef would stir up ingredients and be creative."  Languedoc's wine heritage dates back to Greek and Phoenician sailors who planted vineyards around 700 BC – about 900 years before vineyards flourished in other areas of France.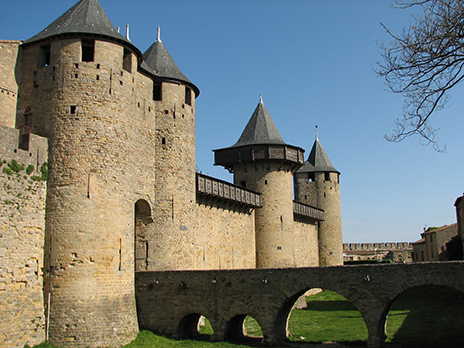 At lunchtime, our table is decorated with orange poppies picked from a nearby field.  Chef Sak prepares cassoulet, a local specialty dish of pork sausage and duck cooked in white beans.  We then visit the Domaine de Guery Vineyards in Capestang for a wine tasting.  "We put the whole grape in the vat and the wine ferments inside the grape, inside the skin," winemaker Jean-Charles Tastavy explains.  "After three weeks, every grape is full of wine – like a little bottle of wine."
"In most parts of France they can add sugar with a limit," adds Tastavy.  "The limit is tighter in Bordeaux with two percent, Cote d'Azur only one percent," he adds.   But along the Mediterranean coast in Languedoc and Provence, no sugar can be added.  "Nothing – zero," he exclaims.  "So we have to wait until the grapes are completely ripe when we pick them."
The Canal du Midi also flows through Carcassonne, the medieval walled city dating back two millennia to Roman times.  In the evening, floodlights illuminate its double walls where I can only imagine what it was like when proud knights jousted here, and when soldiers stood guard over the mighty fortress against Charlemagne and others who once ventured to penetrate the walled city. 
"I imagine the merchants coming in, the monks, soldiers, knights and troubadours all speaking the Occitan language in their medieval way.  All the richness and wealth – Carcassonne was the climax of humanity of that time," says tour guide Elsa Vernières.  "The stone walls have witnessed what happened here." 
Highlights of the medieval town center, used as a backdrop in the filming of the 1991 movie Robin Hood: Prince of Thieves, include the 11th-13th century Viscounts Castle, the old town hall that's now a luxury hotel, the 13th century St. Nazaire Basilica with its Romanesque nave and vaulting, and the medieval city's 22 water wells that remain today.
The greatest highlight, however, could be the legend of how Carcassonne got its name. In the 9th century, Charlemagne came from the north to besiege the city.  He was outdone, however, by one Lady Carcas.  With no food left, Lady Carcas fed the last bit of wheat to a small pig and threw it off the wall.  "The pig falls at the feet of Charlemagne and the wheat burst through the stomach," Vernières explains.  "Charlemagne thinks there's still food in the city because they're still feeding wheat to the pigs.  So he decides to leave."   Subsequently the name Carcassonne, as one version explains the legend. 
The town of Béziers, where the imposing 12th-15th century St. Nazaire Cathedral sits high on a hill, is home to the Canal du Midi's Locks of Fonseranes with its eight basins and nine water gates.  Along the main thoroughfare Allées Paul Riquet sits the 1838 statue of Béziers favorite son.  "The statue is strong and handsome – he's a very important man," says Béziers tour guide Bérengère de Carnas.  "Pierre-Paul Riquet was born in Béziers and we are very proud of him."
Photos: Richard Varr
---
 
Getting there: Air France (800-237-2747) flies to Montpellier with a connection in Paris. www.airfrance.com
 
Canal du Midi Barge Cruises: www.canalsoffrance.com
 
City Tourism Websites:
Carcassonne http://www.carcassonne-tourisme.com/carcassonne_EN.nsf/vuetitre/docpgeIntroVisiter
Béziers
http://www.beziers-tourisme.fr/default.aspx?lg=5
---
Richard Varr is a Houston-based freelance writer, travel writer and photographer.
His website is www.travelwriters.com/RichardVarr
he blogs at www.varrtravel.wordpress.com/