Cruise Articles - Cruise Reviews :
Tahiti - With Princess Cruises

A Tahitian Princess Rainbow
by Sharon Spence Lieb
Offshore Bora Bora's jagged peaks, the frenzy begins. Black tipped reef sharks circle a brave group of snorkelers. Thirty stingrays undulate around our legs, hungry for fresh sardines our guide tosses them. Overhead, two massive black frigate birds dive for leftovers.
Just another exotic morning for Tahitian Princess cruise passengers who signed up for the "Snorkel Safari and Ray Ballet".

"Besides raw sardines, what else is for lunch?" I ask Mati, our copper toned boat captain who sports long curly dreadlocks, shark teeth earrings, and a tiny thong.
"Maybe YOU. See those sharks?" he gestures. The sharks circle us, lazily
But nobody can bear to leave the warm turquoise/cobalt/sapphire South Pacific Ocean. We're too dazzled by schools of yellow butterfly fish, swarming over pink and gold corals. Blue lipped clams smile up at our masks. The iridescence is hypnotic. The moist breeze, languid. A rare wildness. Worth being Shark Bait.
Another glistening day, we explore Muri Lagoon, off the island of Rarotonga.
Captain Tama motors our thatched roof glass bottom boat over a shallow white sea bottom.
"We're docking at a deserted beach to prepare you for lunch," he announces. "Only kidding! Although these are called The Cook Islands, we did not eat Captain Cook, as some believe. We only ate the missionaries … and they were rubbery."
Properly welcomed, he drops us off on a sliver of perfect ivory sand, dotted with pink shells, pearly coral, and shaded by tall green coconut palms. Some cruisers work on their tans, others play with pink parrotfish and yellow angelfish.
With a blow on his giant conch, Captain Tama calls us for lunch. Laid on braided palm leaves is a feast for famished sunworshippers: grilled swordfish, potato salad, coleslaw, French baguettes, watermelon, starfruit and bananas.
"Manuia!" Captain toasts us. "Tahitian for "cheers!"
A sublime picnic on a Robinson Crusoe beach. Guaranteed to unwind even the most devoted Workaholic.
Back onboard Tahitian Princess, Food & Beverage Supervisor Giuseppe Renda knocks at our Stateroom #6009.
"Good evening, Mr. and Mrs. Lieb," he says "Please can you give us ten minutes alone with your balcony?"
Warren and I depart of our cozy cabin for a twilight stroll on top deck. Giuseppe and his army of waiters swarm into our room. What are they up to?

Tahitian Princess Stateroom with Balcony - photo courtesy Princess Cruises

Upon our return, the balcony has been transformed into a fine dining restaurant. Fresh flowers. Elegant silver, china, crystal. Champagne on ice. Seated like Royalty, we dine on crabcakes, salad, succulent lobster, chocolate mousse and decaf cappuccino. Sumptuous.
"Did you enjoy your special Balcony Dinner?" Giuseppe returns hours later to ask.
Are the twinkling stars bright enough? Is our lucky charm the silver moon?
There's so much to do onboard ship. Computer, photography and gourmet cooking classes. Ping pong tournaments, line dancing, bridge, fruit carving lessons, golf putting, Art auctions, wine tastings, pottery, water volleyball… Not to mention fascinating lectures on Tahiti, Huahine, Rarotonga, Raiatea, Moorea and Bora Bora….
But again and again, I'm lured to the Lotus Spa. A beautiful British Masseuse named Jennifer Terris is an expert in body smoothing, soul soothing treatments. She promises to rid me of all my Type A Modern Civilization Disorders.
My first treatment involves a fragrant ginger and lime concoction. My snaky skin becomes newborn baby soft skin. Then Jennifer rubs my body with oil from the rare apetahi flower, found only "in the mountains of Raiatea" she tells me. As if this doesn't transform me into Cleopatra, I'm then treated to a deep tissue massage so relaxing, I can barely float back to my cabin.
Walking in, Warren asks,"Why do you smell like a garden?" Before falling into blissful sleep, I say, "Do not wake Cleopatra, darling."
Like a butterfly, I flit back days later to Jennifer, the WonderSpa Woman. This time, she brushes me with a thick gooey green paste only Popeye would appreciate. Ocean seaweed. Wrapped like a burrito in thin blankets of aluminum foil, I'm left alone to contemplate this hardship duty. Although I'm usually claustrophobic about closed in spaces, after 20 minutes, I feel …. nurtured and renewed.
After two treatments at the Lotus Spa, I become a sea nymph. I'm now living in the Pacific Ocean with purple lipped clams. I'm the one waving happily to silly snorkellers who wish they could be me.
Besides chatting with new friends in the Tahitian Princess swimming pool, I laze away many days, Sky Dreaming. Watching billowy clouds change shape from a chaise lounge is a whole lot more fun than a downer newscast on CNN.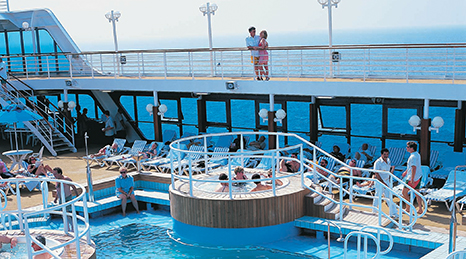 Tahitian Princess pool - photo courtesy Princess Cruises
One minute they're swirls of luscious whipped cream in a cobalt sky. Next, the clouds form into my fluffy white cat Sage, sadly meowing "Mom, when are you coming home? (Guilt is everywhere.)
One afternoon, I'm astonished to see a chorus line of fanciful Angel clouds flying overhead on their way to a Heavenly cocktail party.
"Wait for me!" I think. "Aren't I invited too?"
"Silly girl," the Angels murmur. "Don't you get it? Heaven is all around you, dear one. Especially on that cruise ship."


Photos courtesy Princess Cruises

---
About Princess Cruises



Offering voyages to more worldwide cruise destinations than any other major line, Princess sails to all seven continents and calls at some 280 ports around the world: Tahiti/French Polynesia; Australia/New Zealand; South Pacific; Hawaii; Asia; India;
Africa; Canada/New England; Antarctica; Caribbean; Alaska; Panama Canal; Europe; Mexican Riviera; South America.
Princess's Adventures Ashore program ranges from four wheel drive safaris, to shopping/culture tours, hugging dolphins, to high adventures like night diving with giant manta rays.
ScholarShip@Sea programs include Culinary Arts, Visual/Creative Arts, Photography, and Computer Technology.

For more information visit Princess Cruises at http://www.princess.com/
---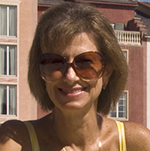 Sharon Spence Lieb
Sharon Spence Lieb is author of guidebooks on Florida, Chicago, Santa Fe, Trinidad and Seoul. She contributes articles on adventure, wildlife/nature, cruises, and offbeat luxury to a variety of global magazines, newspapers and webzines.
Her award winning "Globetrotters" travel/photo feature is published monthly in Charleston, South Carolina and here's the link to her adventures:
www.moultrienews.com
– click Travel, scroll the page and explore Planet Earth with Sharon.