Cruise Articles - Cruise Reviews :
Scotland Isles with Hebridean Island Cruises

Hebridean Princess - A Floating Country House Hotel
by Ursula and Eldrid Retief
If you've ever seen a stereotypical postcard of a luxury country house hotel – you know the sort of thing: casually-elegant atmosphere and comfort, five-star cuisine – chances are you could be looking at the Hebridean Princess.
The ship has all that and more. The difference is that Hebridean Princess is a floating country house hotel, and one of the Captain's tasks is simply to change the view, exploring Scotland's western isles and remote coastal villages as he does so.

He concentrates on those inaccessible destinations normally visited only by private yachts .... and unreachable by any country house hotel or larger cruise ships! On some itineraries Hebridean Princess visits the Orkney and Shetland Isles, and also visits Norway on three itineraries in July.

The common denominator of the Hebridean cruise is spectacular scenery, abundant wildlife and remote, peaceful locations. The lengths to which the captain will go to make passengers comfortable sometimes provides a surprising turn in the scheduled itinerary. He always seeks out the quietest moorings. Most nights, the ship anchors in sea lochs or bays far from habitation. A fleet of tenders ferry guests safely to and from land.

The bond of the 49-passenger Hebridean Princess with the Hebrides is a deep-rooted one. In a previous life, before its complete reincarnation as a floating country house hotel, it was an Oban-Mull ferry, the MV Columba. Each of its 30 spacious, individually designed bedrooms are named after West Coast Scottish islands, castles, sounds, lochs and bays. All bedrooms incorporate generous wardrobe space, drawers and dressing tables, TV (with satellite channels), personal safe, fridge and coffee/tea-making facilities, hair dryer, and ironing board/trouser press.

We were enchanted with the Hebridean Princess. There was smoked salmon aplenty, oysters by the crate, there was whiskey galore on tap. We read several books, explored tiny Iona, so influential in the establishment of Christianity in Scotland, the curiously named Muck, sailed past Fingals' Cave on Staffa which stretches 250 feet into the rock, and explored another half dozen islands.

The cuisine was an endless delight. Five chefs led by chef Paul Sim who devised haute cuisine menus using locally sourced ingredients throughout the cruise. At the black-tie Farewell Gala Dinner (which followed champagne and canapes in the Tiree Lounge) guests could choose from asparagus spears with a pink grapefruit hollandaise, seared scallops with a crispy bacon and orange salad, mushroom soup, a cassis sorbet, roast leg of lamb carved over ratatouille served with rosti potato and mint jus, or a Hebridean Princess lobster salad, a dark chocolate and pecan nut brownie with chocolate ice cream, a tropical fruit pavlova, a selection of Scottish cheeses .... after which we rolled back to the Tiree Lounge for coffee and petits-fours.

Each evening while we enjoyed dinner in the wood-panelled Columba Restaurant, the itinerary for the day ahead was placed in our room, alerting us to the next day's activities .... for instance, the timing of the first boat ashore at Loch Scavaig the next morning. Or it might have contained tips for cruise guests – "take a walk to Loch Coruisk with the Cuillin Hills as their backdrop, or "wear stout footwear ashore as it is likely to be damp underfoot".

It also whetted our travel appetites with news of the port at which the Princess' sister ship, Hebridean Spirit, was. While we were mooching around the Hebrides the Hebridean Spirit was at Koper (Slovenia), Chioggia, Venice, Trieste (all of course in Italy) and Rab in Croatia.

The Tiree Lounge, fitted with large picture windows on three sides and with an intimate bar and a massive Inglenook-style fireplace, comfortable lounge suites and chairs, could easily be the focal point for the guests of a genteel country house hotel. The other public rooms are the Look-Out Lounge, the Conservatory, the well-stocked Library with its leather club armchairs and sofa, The Skye Deck, a sheltered sun deck with bar serving drinks, tea and coffee and, weather permitting, barbecues and lunches, and The Boat Deck, the panoramic deck aft of the funnel providing spectacular all-round views and comfortable teak steamer chairs.

The principle element of a holiday on Hebridean Princess is relaxation, but there is clay pigeon shooting on the Boat Deck, bicycles for shore visits and fishing expeditions and speedboat rides.

Not the least of the joys of an Hebridean Princess journey are its all-inclusive fares. Included in the tariff are the entrance fees to all castles, gardens and other attractions listed in the itineraries, coach tours and snacks or meals taken ashore, as shown in the itineraries, specially selected wines, spirits, champagne, beers and soft drinks on board, in addition to the meals, snacks, fresh fruit and refreshments throughout the day in the lounges, on deck and in guests' private rooms, the ship's bicycles and use of the mini-gym and fishing tackle, pier and harbour dues, and very importantly the gratuities – tips are not expected …. they are included in the price.

We were whiling away the time in an hotel lounge in Oban, the "Gateway to the Isles", prior to boarding when a lady approached us after noticing our luggage and the distinctive Hebridean labels and said "Oh, how I envy you. We've just disembarked and I'd give the world to go right back!"

It's no wonder that many of Hebridean Princess guests are repeat customers. We wrote, years ago, of a New Yorker who had enjoyed his Caribbean cruise so much that he indulged himself with 17 back-to-back cruises. This had nothing on one guest on our cruise who was on her 30th Hebridean Princess cruise. Another was on her 17th. And by the way, if you're travelling alone, you won't be shy of company – at mealtimes you'll be placed at tables with up to five other single guests and will usually be hosted by a senior officer and the ship's guide. The Captain also likes to meet guests on board and dine with them from time to time.

We've decided, pending a lottery success, that our vessel of choice for a permanent and hedonistic country house hotel lifestyle would be the Hebridean Princess.


---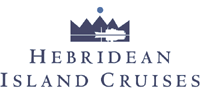 Hebridean International Cruises, the Small cruise Ship Company, has two ships: The Hebridean Princess sails to many Scottish Isles other than those we visited and also to Northern Ireland, and Norway; her sister ship, the 80-guest Hebridean Spirit provides opportunities to visit more distant destinations with itineraries designed to follow the sun from the northernmost extremities of Norway, North and Baltic Seas, the Mediterranean, the Caribbean and also to the tropics of the Indian Ocean.
For further information visit Hebridean International Cruises at
www.hebridean.co.uk
For reservations email
[email protected]
.
Photos courtesy Hebridean International Cruises