Cruise Articles - Cruise Reviews :
Alaska with All Aboard Yacht Charters

Really Seeing Alaska Up Close and Personal
Here's your chance to experience the wilds of Alaska .… whales, fjords, bears, eagles, glaciers, and more .... really up close and personal in a lovingly restored and iconic private yacht from yesteryear.  
The 87-foot classic yacht MV Discovery is no mega cruise ship from which there would be distant views of whales on the horizon. Rather, it is a small private yacht where you get almost within touching distance of a whale as it cavorts in the icy waters.

There's no worrying about overcrowded onboard hot tubs. Instead, clients disembark to swim in their own private hot springs on shore.
 
And there are bears aplenty. The Discovery is one of only two yachts in all of Alaska with a permit to enter the Pack Creek and Anan Creek bear observatories. Getting up close and personal with the Brown and Black bears is all part of the journey. 
 
The Discovery was originally built in 1931 by Hollywood talent mogul William Morris and named "Holiday" (later it became the "Discovery"). The Discovery went through a painstaking bow to stern restoration in 1998. From her teak decks and deckhouse to her fine Mahogany panelling she reflects an era long past when craftsmanship meant pride in artistry.
Her accommodations include 6 nicely appointed private staterooms all with opening portholes, 2 heads and showers below deck. On the main deck she features beautiful mahogany dining and main salons, an on deck head, galley and a fantail lounge. Her spacious teak decks allow unique opportunities for wildlife viewing and fishing.
For tenders the Discovery carries two Boston Whalers with outboards, very stable kayaks and a Whitehall rowing skiff. Passengers can use these for fishing and shore excursions. There are also crab and shrimp pots and salt water tackle for both salmon and halibut fishing is provided. Discovery also has a CD player, color TV, DVD, VCR, cassette players and satellite radio, a large assortment of movies, natural history tapes, games and a well stocked library.
With only six cabins, the crew of 5 provides outstanding and very personal service. Alaska Charters has been in operation since 1981. Captain Ben, and his father Captain John, have plied the waters of Alaska since the 1970s. 
 
The intimate setting allows them to do fun things like have contests to guess the number of shrimp in a given shrimp pot with the winner receiving a bottle of the Discovery's private label wine as the prize. Or, if being on the yacht gets a little monotonous, you can get into one of the onboard sea kayaks to paddle yourself for a while. 
Discovery's Gourmet Chef Brian Lewis conjures up some succulent dishes with fresh seafood – caught off the boat each day by the guests, if they choose. He's happy to serve up anything, from Prime Rib or New York Steaks to fresh Salmon and Halibut upon request  
The Discovery's ports of call are not overcrowded tourist traps. Rather, you'll anchor at small little "settlements" where you can hike along the shore and back into the woods. While the huge Alaska cruise ships make the tourist shops of Juneau, Ketchikan and Sitka their focal points, the Discovery visits small quaint boardwalk towns like Tenakee Springs and focuses on the wildlife.
The days are spent watching whales, Steller seal lions, Dall's Porpoises, eagles, seals and just soaking in the beautiful scenery and snow capped mountains of the inside passage of Southeast, Alaska. It explores the glacial fjords and the Temperate Rain Forests of the Tongass National Forest and passengers walk salmon spawning streams to see the magnificent bears of Alaska; it travels through Tracy Arm, one of the world's most incredible fjords where bears and mountain goats are common.
Guests can book a single cabin. The Discovery can also be chartered for events like corporate retreats or family reunions. 
All Aboard Yacht Charters was one of the very first eco tour operators in Southeast Alaska. As Captain John says: "We love Alaska, its beauty, its wildlife, its raw nature. We care deeply about the impact we have as tour operators on the fragile eco system. The animals we observe we consider friends rather than objects, we are the uninvited guests, after all."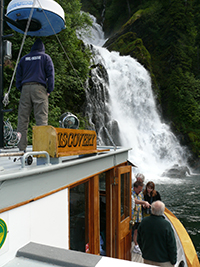 "Most Alaska Small Ship Cruise ships and charter boats are in constant pursuit of the whales, who are constantly trying to take evasive action, he adds. "We sit patiently in an area and allow the whales to pursue us. We try to avoid other boats and people whenever possible so that we can observe these animals without affecting or modifying their behaviour."
All Aboard Yacht Charters has hundreds of testimonials from happy clients.

There was this from Thordis: "To John & The Crew, I have so many wonderful Memories to bring back from my Alaska cruise with you. First of all the camaraderie of you all and your kindness to me always. The beautiful and awesome things we saw along the way. The glaciers, the whales and porpoises, the bears and bald eagles and salmon. I so enjoyed our leisurely wander of travel, taking each day as it came with new wonders to see each day, and just being on the water with a competent skipper who nurtured God's creatures and respected them. This cruise was all I expected and so so much more. I thank you all again, With all my Love, Thordis"
Captain John says: "We hope that our passengers leave as long term friends rather than customers."
It's no wonder so many of them have been back 8 or 9 times.


---

For more Information about Alaska Cruise Tours and Adventure Travel Vacations or if you'd like a brochure on the Discovery's Alaska Cruises go to www.alaskacharters.com or email [email protected]


Photos: courtesy of All Aboard Yacht Charters