Cruise Articles - Cruise Reviews :
Panama Canal with Holland America Line

Visiting the Big Ditch
by Brooke Cunningham
It was black out when the alarm went off, and while I have never been a fan of pre-dawn waking this was going to be great. After 4 days cruising across the Gulf of Mexico, my friend and I had set a 5a.m. alarm in order to be on deck when Holland America's Zuiderdam got into the line-up to enter the Panama Canal.
We found our way forward to a little used balcony on the 7th deck for a high clear view of the pre-dawn activity. I had always wanted to see the Panama Canal and in the black morning, punctuated by brilliant stars and the pinkish lights marking the distant shore, we still couldn't see it. What we could see were huge ghostly figures outlined in running lights, tankers, cargo carriers and another cruise ship silently waiting.
Aboard the Zuiderdam it was all activity as the guests gathered on deck, the captain made periodic announcements, and crewmen wandered with baskets of sweet pastries filled with creamy cheese called "Panama Buns" and with trays of Mimosas. The sky became pink at the eastern edge, which strangely enough felt like the south to me. As the light came up we could see the staging area seemingly carved out of the jungle to the left of the ship, a line up of cog rail engines and the enormous lock gates. To our right was another 1000' long cruise ship which turned out to be our partner in passage. In front it was easy to measure the height to be scaled to reach Gatun Lake, the fresh water man-made lake which contributes 23 billion gallons of water each day to allow this whole process to function.
I was struck by the seeming simplicity of the system. It was designed nearly a hundred years ago, with several different countries making the attempt to build it. Most were defeated by the jungle wet land diseases that they could not understand or cope with. Finally completed in 1914 the engineering is so good that there has only been one change. From the first passage through until 1938 the bow and stern lines on a ship were secured to live mules which walked along the banks keeping the ships centered until they reached Gatun Lake. The powers that be eventually decided that a cog rail system would replace the mules. I didn't even ask why that was. If you have ever dealt with a live mule for any period of time you know that answer. Still, now they call the cog rail engines "mules" in honor of a much more even temperament.
Other than that the Panama Canal has served nearly a million ships without fail. It is impressive in its smooth operation of the seemingly impossible task of humping some of the world's largest ships up and over an 83 foot hill, across 50 miles of man-made lake and down the other side in a few hours. All this to avoid rounding the horn by way of the southern ocean, which to all but the lobotomized is well worth avoiding.
Once in Gatun Lake, we got off the Zuiderdam and were shuttled ashore. We boarded busses for a 2-hour ride which traveled smaller and smaller roads, finally ending on a tiny one lane dirt track where the land ended at the river. There waiting for us were 30 foot long dug out canoes with barely clad Indians standing around. Boarding the dug outs with a nearly naked man on the bow and the stern, we raced down a river the size of a lake for nearly 45 minutes until we came to the most beautiful of simple village outposts. Raised platforms, open sided on the ground level, with small ladders ascending to small enclosed rooms of woven grasses were scattered around a central thatch roofed community shelter.
The Embara Indians were cheerfully interested with our presence. They made us lunch of fish and plantain which was served in a banana leaf pouch while they played music, danced and offered up their handcrafts for sale. I realize that this could sound staged, but it really didn't feel that way at all, rather as if life in a quiet riverside village was lovely, but today there was something to do. The Indians were at ease, the children were endearing, and the atmosphere was one of people who did not share a common language all having a comfortable afternoon together. I was sorry to leave so soon, and Lili was wondering if our guide had done a head count and would notice if she didn't arrive back at the bus.
While visiting the Embara took only a few hours of the nine days we were at sea, it is something that we will think about for the rest of our lives. The canal is a wonder that we won't soon stop talking about, and getting to Panama on the Zuiderdam to spend that afternoon wasn't exactly a burden.
Our cabin was cozy but had a sitting area and a balcony that we really enjoyed. The beds were very comfortable, and for some reason the few times we chose to turn on the tv it was to watch the view out the stern or the bow of the ship. Truthfully, the ship had so many wonderful places to be, that we mostly just slept in our cabin.
In actuality, I think we ate our way to Panama and back. There must have been a dozen places where you could find delicious things being served at any given time. We made a habit of starting each day with coffee in our cabin, followed by salmon, capers and bagels on deck and then curling up with a book poolside. The stress was hard to bear. It seemed a few minutes later it was time to decide which of the many offerings to try for lunch. Poolside barbecue and salad? Sushi? Hot or cold pasta? Maybe deli goodies on the upper deck. So many tasty things, so little time.
In the late afternoon, tea was served in the Vista Lounge along with creative small bites which were different every day. After that it became our habit to go back to the cabin and change, before venturing out to find pre-dinner cocktails. Choices ranged from elegant fine art surroundings to a game room tavern, to a sports bar, or a casino to an hour of drinks and live theatre before dining.
For dinner we had a standing reservation at the Vista Dining Room where the food was fresh, different and interesting each evening, but we weren't locked into it. We came to love Mario, Al and Putu who took such good care of us when we showed up, but there were several dinner options. If we wanted to dress up there was fine dining on white linen at the Pinnacle Grille. If we felt like grazing pool side and playing dominos, there was the Lido Restaurant which offered asian, italian, deli, bistro, American homestyle and an enormous salad bar all cafeteria style.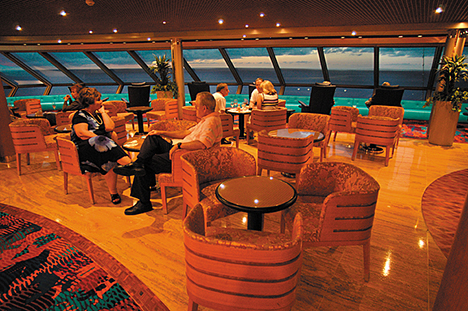 The Crow's Nest not only had interesting light fare in the library, but a lovely circular bar with the best view on the ship. If our choice was to not dress at all, dinner could be brought to our room but we were having way too much fun to do that even once.
Each evening we would go in search of something fun to do after dinner. There was a second performance in the theatre, a rocking disco called Northern Lights, The Screening Room for brand new movies, even a very busy Casino. One night in particular we ended up in the Crows Nest singing show tunes full volume until the wee hours with a live piano player. Say goodnight Gracie.
We quickly learned that aside from the mandatory eating and sunning we could be as relaxed or as busy as we wanted. Choosing restaurants and places to read were the big decisions of the day! The ship itself offered such a nice life that there was really no reason to get off. Still, it stopped in Aruba so we had a day of eating, sunning and shopping on Aruba. It also stopped on Curacao where sunning meant a beach excursion in the morning followed by eating and shopping in lovely Willemstad.
We had immediately achieved a very low RPM aboard the Zuiderdam laughing about how readily we adapted to this stress free life. Life at home meant the freezing rain, turtlenecks and fleece lined boots of early winter in Vermont. With that in mind, if there was ever a moment when it occurred to us that we should be doing something, we took ourselves to the wonderful Greenhouse Spa until it wore off. To my mind this was about the best way to get through "stick season" that we have found yet.



Photo: Photo courtesy Holland America Line

---
Holland America cruise information :
http://www.hollandamerica.com
phone 877.932.4259



Brooke Cunningham

[email protected]

Feature Articles on:
~ Exotic Yacht Vacations
~ Luxury Spas & Resort Destinations
~ Sustainable Investment Projects
for vacation homes and retirement
In Mexico, Caribbean & Central America

www.CoastalStories.com


Robb Report
Yachting Matters
Mega Yachts
Hemispheres
Brides Guide
Senior Times
World Travel News
Travellady.com
East West News Bureau