Cruise Articles - Cruise Reviews :
Alaska with Ruby Turner and Holland America Line

Gone Fishin' with the Rotterdam
by Ruby Turner
Men and fish are alike. They both get into trouble when they open their mouths. This is what happened when our husbands and boyfriends (habs) opened their mouths and said the women could pick this year's fishing destination. We gleefully chose a cruise to Alaska with all the luxury that cruising offers and pointed out to the men that a choice of fishing adventures were offered along the route.
The women got to choose the accommodation and it was quickly decided we would book the ms Rotterdam's new lanai cabins. These newly renovated cabins have private access to the promenade deck which provide the same luxury as the veranda cabins but at a lower rate. We were delighted with the spacious cabins which had plenty of storage space and very comfortable beds. The pleasure of being able to walk directly out of our cabins to sit and enjoy our morning coffee on deck was a delightful bonus.
Once they got over the shock, the habs began doing their research and joined in the fun of anticipating an eventful holiday. After delving into the pros and cons of different fishing options, it was decided a Holland America seven-day cruise on ms Rotterdam from Seattle in August provided the best chance of catching fish. This cruise itinerary included stops in Juneau where there is excellent fly-fishing options and a stop in Sitka where catching halibut and salmon are almost guaranteed by the charter companies.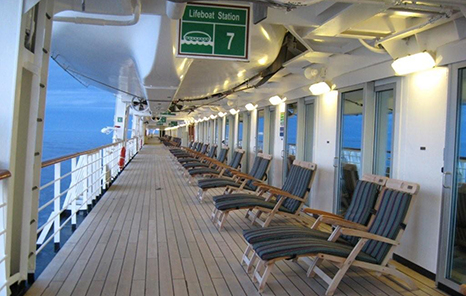 The first fishing stop was Juneau where it quickly became apparent that not all flyer-fishers are alike. Some are cheap, some are not. The cheap ones bring their own gear and purchase their fishing licences online. In Juneau, these penny pinchers walked from the ship to Brad Elfer's fishing shop on South Franklin Street. They just needed to buy some local flies before hiring a taxi to take them a short distance out of town to a local fishing spot.
The others had pre-booked a fishing excursion at the ship's tour desk and enjoyed a short flight over pristine wilderness to a spot where they had a great day of eco-conscious catch-and-release fishing. Both groups considered it a great day of fishing as the fish were biting and the sun was shining.
In Sitka the fishers decided it would be fun for them all to fish together and Holland America's tour manager arranged for the group all to be on the same charter boat. Fishing for king salmon and halibut off Sitka can mean rough seas but these seasoned fishers had all brought along their method of avoiding seasickness. The salmon fishing was hot but the halibut were nowhere to be found. The six salmon that were caught were donated to the Senior's Home in Sitka. This kind gesture made the women very happy as the last thing they wanted to find waiting for them at the end of the cruise was frozen fish being delivered to their doors.
The women organized their days starting at the sumptuous Greenhouse Spa & Salon. The wonderful pampering of the well-being packages offered included a select combination of rejuvenating spa treatments along with other healthful amenities. There are so many treatment choices that you can arrange for a different one every day of the week. Of course package prices and combination offers make the week treatment package very tempting. For the few who were interested in a more active holiday, the large modern work-out room provided all the equipment needed to keep in shape. Complimentary fitness options included yoga, Pilates sessions and spinning classes.
Daily activities such as cooking classes in the Culinary Arts Centre and wine tasting events gave the women a variety of events to enjoy. They did venture off the ship in Juneau and had a great day dog sledding on Mendenhall Glacier. It was a great combo of a scenic helicopter flight plus 25 minutes dog sledding at the Mendenhall Glacier camp. It was a great photo opportunity and lots of fun.


All the couples agreed that the highlight of the cruise was the chance to view the Hubbard Glacier on-board the ms Rotterdam. The ice conditions were favourable to getting this mid-size ship within 2.5 kilometres of the glacier. That was close enough to see the ice calving and feel the resulting swells. The ship spent over two hours in this magnificent location with refreshments being served on all decks.
We all had a great holiday and the fishing options proved to be a great influence for deciding our group's next excursion. It seems there are just as many fishing options along the cruising route for the Panama Canal as there is along the Alaska shoreline. Holland America offers a great savings for repeat cruisers so we'll be taking advantage of that offer when we book for 2011.

Photos courtesy Gregor Turner
---

Visit Holland America Line at www.hollandamerica.com


---

Ruby Turner
Ruby Turner is an enthusiastic traveller and former industry professional. She held the position of Marketing Administrator for American Express Travel Canada before beginning a career in television and as a regular columnist for the Vancouver Sun. Her articles appear across Canada as part of CanWest Publication Network as well as appearing in international newspapers and on numerous websites.
• Europe: Cruising the Croatian Adriatic Coast – by Ruby Turner