Cruise Articles - Cruise Reviews :
Northeast Asia on the Azamara Quest

Boutique Luxury Cruising with Azamara
by Byron Clayton
Remember the last time one of your friends returned from a holiday and they could not stop raving about their hotel? They use descriptions like special, intimate, amazing food, wonderful atmosphere and incredible service. They tell you, in a hushed voice, you have to go see it before everyone else finds out about it. 
I have just discovered the best new boutique hotel and surprisingly, it happens to be everywhere you want to go and places you haven't thought of. How can it be that you have not heard of this before? Because this boutique hotel is actually a cruise line and it is called Azamara Club Cruises.
I discovered the secret of its success on a 12-night, Northeast Asia Voyage on the Azamara Quest. Our ports of call were; Shanghai, Qingdao, Tainjin (Beijing), Incheon (Seoul), Jeju Island, and Hong Kong.
So how did Azamara come up with the brand name? It was created by truncating three words; from the romance language, Azure meaning blue and Mara meaning sea and from astronomy, Acamar which is the name of a bright star that can be seen from the Mediterranean. Combining the trio creates Azamara which literally means the brightest star in the deep blue sea. When you add in the exclusive, intimate feeling, the brand becomes Azamara Club Cruises.
Azamara Club Cruise is possibly a brand you have never heard of but it is quietly winning praises and accolades world over. It feels like an exclusive club and those who 'are in the know' want their best friends to hear the secret and nobody else. 
Azamara is the baby boutique, luxury cruise brand of industry giant, Royal Caribbean. Their tag line is, "you'll love where we take you," and indeed, they stay true to their promise by offering niche ports that large, mass market ships cannot visit due to their size. With only two ships holding less than 700 passengers each, the experience is intimate and personal from the beginning.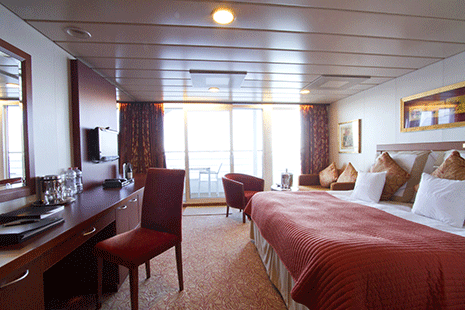 The cruise line will tell you that the Azamara difference is their destination focus but I will tell you it is their service. It is true that they spend more time and have more overnight stays in port than anyone in the industry but past guests rave about their superb service. For guests who want to truly experience cultural immersion, night tours are an incredible new way to enhance your experience but the crew on-board will make you want to come back early.
I believe Azamara comes close to recreating the bygone era of first-class liner travel but in the modern era. White glove service, rich wood interiors, plush leather sofas, wooden deck chairs, marble bathrooms, traditional English butlers and staff whose number one goal is to make you happy. There are no plastic chairs, plates or cups on this ship. Yes, I am talking about quality. A vacation experience where more is included than excluded. 
You will find all the choices and options you would expect in a cruise experience but, with very few of the nickel and diming extra add-on costs that are becoming standards across the cruise industry. Refreshing, impressive, surprised; these are the descriptors that come to mind of the Azamara. 
For those that are well traveled, Azamara makes life easy. Recognizing that people across the world tip differently, gratuities are included in the base cost. Transportation to/from city centers and the ports are provided for.
Every day, complimentary boutique wines are served both during lunch and dinner. The staff freely refill your glass until you tell them you've had enough. Needless to say, they are not stingy on their service or customer satisfaction. The wines offered are from a different country and selection each day covering a wide range . For example, on our first day, they served us Italian, next was French, after that was Argentinian, then California, Australian and so on. These wines are selected by an expert sommelier who is always available should you have any questions. 
Specialty coffees are also included and I am not talking about the automatic machine that sputters some caustic brew. It's all about made to order specialty coffees; Macchiato, Cappuccino, Latte, Americano, Espresso, Decaffeinate, specialty teas and more. 
And should you decide that Azamara is the brand for you, once you become one of their Le Club Voyage members, the benefits just keep coming. You can expect things like; free internet, free laundry, exclusive champagne brunch, intimate wine tastings and more. If you spend a bit more and book an accommodation in one of their incredible Suites, you will have no shortage of invitations to private functions including a state dinner with the Captain and senior officers. All this is done to ensure you get to know the wonderful Azamara crew who in turn will become the closest thing to family by the end of the cruise.
The food prepared on board is Michelin star. From wanting a light bite and a coffee at the Mosaic Café to a gourmet specialty burger at the Pool Grill to enjoying a casual themed buffet in Windows or a more formal meal in the Discoveries main restaurant. You can also top it off by perhaps indulging in either one of the specialty restaurants, Aqualina (seafood) or Prime C (steakhouse). All of the food is handmade from the breads to the mashed potatoes, everything is made from scratch. This attention to detail provides a lot of flexibility for those with special diets. Sugar free, gluten free, low fat, no egg, no shellfish, vegetarian, whatever your request might be, there is never a problem for the chefs to prepare you a spectacular meal.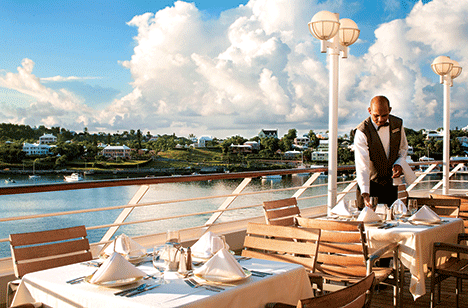 Azamara knows from experience that the best advertising in the world is word of mouth. When someone you trust tells you about a good thing, you are far more likely to listen than by being influenced by some flashy ad in a newspaper or magazine. I talked to over a dozen Azamara guests past and present and asked them 2 questions; how many cruises have they been on and what was their favorite? Some had been on more than 50 cruises and most at least 20 and guess what, they all have the same favorite – Azamara. Why? Because the staff make you feel like you are part of a family. A family that is based on trust, service and up and beyond your satisfaction and no crew or staff is beyond your reach including the Captain. Being a smaller ship you meet the staff and friends you've made on the cruise easily and more often. This deepens the friendship and cruise experience for many who have come to make life-long friends with those they met on the Azamara.
It may sound like I am being overly dramatic but many leave with tears in their eyes having to say goodbye to the friends & family they have gained on the Azamara. When was the last time you had a vacation that was so good that you did not want to leave? Let's add some facts to that statement. On any given cruise, approximately 60% of Azamara's passengers are returning guests. It is not uncommon for 25% of the guests to taking back-to-back cruises on the same ship.
Azamara is definitely doing something impressive. In an industry that has many cruise brands and great products, differentiation is not easy. Longer stays at intimate destinations with service beyond your expectations is a compelling experience.
Would I recommend Azamara to my best friend? Absolutely, in fact, I've already told her!




---
For more information on Azamara Club Cruises visit
www.azamaraclubcruises.com/


Photos courtesy Azamara Club Cruises



---


Byron Clayton

Byron Clayton has been a freelance writer and passionate cruiser since 1984. He started the website Clayton Shipping in 2007, with a focus on ship appreciation in Asia. Byron has been living and traveling extensively in Asia for the last 10 years and he regularly publishes articles on shipping in Asia, UK and US.

Byron lives in Singapore with his wife and their two Pugs.

He can be contacted at [email protected]



---