Cruise Articles - Cruise Reviews :
From Japan to Alaska to Canada – A Repositioning Cruise with Holland America

From Japan to Alaska to Canada – Repositioning Cruise with Holland America
by Julie Rekai Rickerd
In spite of being avid cruisers since the early days of "The Love Boat", we had never cruised for longer than eleven days at a time, nor had we sailed on a repositioning cruise.
When the opportunity arose for a seventeen day repositioning cruise with six days at sea from Kobe, Japan to Vancouver, British Columbia aboard Holland America Line's "Volendam", we grabbed it.
The ship had spent the fall and winter in Australian and Asian waters and was set to cross the Pacific Ocean for her spring and summer Alaskan itineraries.
Kobe is located a short, half-hour bus or ferry ride from Japan's third largest city, Osaka. By good fortune, after carefully researching and comparing airline routings and fares, we happened on an ideal routing and fare on China Eastern Airlines. Their daily, midday flight from Vancouver, BC would get us to Osaka with only a quick change of aircraft in Shanghai. The fare in both Business and Economy classes was almost half the price of all the other airlines and we thoroughly enjoyed China Eastern's comfort and service standards which were at least twice that of airlines we had recently flown. Meals were delicious and frequent; a hot lunch and breakfast, as well as noodle soup on demand. We were then served a full dinner on our less than two-hour flight from Shanghai to Osaka where we arrived at 9:30PM local time as scheduled.
Once we reached our Osaka hotel we were ready for bed, slept like logs and completely adjusted to the time change when we awoke the next morning. After a Japanese breakfast of soup and vegetable salad, we boarded a bus for the drive to the Port of Kobe where the "Volendam" awaited us. We checked in quickly, dropped off our luggage and took a complimentary shuttle into town. For the next four hours we walked around Kobe's large Chinatown and its Old Foreign Settlement District that dates back to 1868 when the Port was opened to American, European, Russian and Chinese traders.
Setting sail, like taking off in an airplane never ceases to thrill. We looked forward to the adventures that lay ahead as we bade farewell to Kobe and its lush, green hilly surroundings.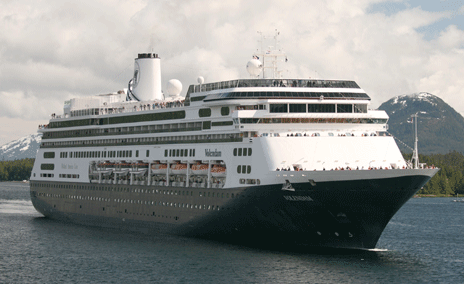 After settling into our spacious cabin with its large window and bathroom, complete with tub, we located the main dining room, "The Rotterdam", for dinner. We chose open seating which allowed us to dine between 5:30 and 9:30 PM either by ourselves or sharing a table of four to eight people. We elected to share and beginning with our very first meal we continually met interesting and amusing people. Pat, from Hawaii regaled us with tales about the two hundred days she had spent at sea aboard Holland America Line ships to date and her strategy for the next one hundred; Bob and Maureen from Brisbane, Australia had never cruised before.
Having had a long, active day we skipped the nightlife: the music and dancing, the movie, the casino, and the late night snack. We turned in early and luxuriated in being rocked to sleep by the gentle motion of our ship on its way to our first stop, Yokohama.
In the morning, following a lengthy swim in the heated pool (one of two of the ship's pools), a delectable never-ending-sized breakfast buffet and a brisk mile's walk on Open Deck 3, we listened to "Travel Guide Kelly" as she detailed our sightseeing options during our Japanese ports of call. We booked three of the many tours on offer at the ship's extremely well-run and efficient Shore Excursion Office.
Our first foray was to Kamakura, about an hour's bus ride from the port of Yokohama. An English-speaking guide accompanied us to the Koutohuin Buddhist Temple where we all admired the 421/2 feet-tall, 121-ton great Buddha Daibutsu, the second largest statue of Buddha in all of Japan. We then went to the nearby Shinto Hachimangu Shrine, dedicated to the God of War; in Hakodate we explored the well-stocked and busy Hakodate morning market followed by a cable car ride to the summit of Mount Hakodate from where we had a panoramic view of the old city below that was once home to many Russian traders; in Kushiro we hiked through Kushiro Marshland National Park, the largest wetland in Japan, admired the remarkable red-crowned Japanese cranes in the Japanese Crane Reserve and were dazzled by the limitless variety of fish and seafood at the huge Washo Fish Market.
These four days passed very quickly and before we knew it we were waving farewell to the coast of Japan, heading north-east toward the International Date Line and six consecutive days at sea.
It would be remiss of me not to admit that we were wary of how we would fill the time during the six sea days. As it turned out, we ended up never having enough hours in each day to participate in all the activities and services available to us.

Since the "Volendam" is a medium-sized ship with a capacity of 1440 passengers and a crew of 620, the 1200 of us on board felt positively pampered by the excellent staff and crew.
Just prior to our expedition, the "Volendam" had welcomed 54 quilters on a two-week "Quilt Seminars at Sea" cruise to China, South Korea and Japan, on which professional quilters were on board conducting quilting classes, complete with "homework". Thirteen of the quilters had remained on the ship for the trans-Pacific crossing, among them Diana and Tom from near Seattle. The cruise was Diana's 50th birthday present from Tom and he was enjoying it as much as she. They were daily fixtures at poolside tables on the Lido deck, joined by Kerry from Portland, Oregon, Judy from Roseneath, Ontario, Carol from Edmonton and several other members of the quilting group. While the ladies produced a beautiful array of quilting squares, Christmas decorations, and even baby booties, Tom put together sensational photo montages of his trip on his laptop.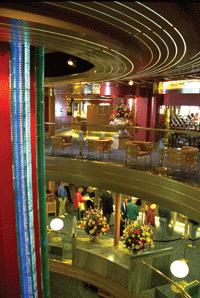 Apart from the amenities that a modern cruise ship is required to have these days such as lots of great food, a luxury and duty free shopping concourse, a casino, a movie theater, a spa, a gym, a library, access to the Internet, many bars, and endless musical entertainment, the "Volendam" has many unique features that make it what the ship's Hotel Director, Rene Tuinman calls "a happy ship". In the 21 years Tuinman has been with Holland America Line, he says the three years aboard the "Volendam" have been his best.
Among the "extras" we encountered was the Culinary Arts Center, the venue in which "Party Planner Beth", from Cobourg, Ontario, held cooking demonstrations and creative crafts classes. To add excitement, attendees were asked to submit a favorite recipe and an original crafts idea. The "best" in each category won a prize and all the participants received a printed recipe "book" that contained all the entries.
"Techspert Brian" ran a daily Digital Workshop during which he unraveled the mysteries of Windows 8, explored PC Basics, explained how to use a digital camera, edit the photos, and produce slideshows and movies.
"Lifestylist Meagan" kept everyone fit with twice daily Tai Chi classes, stretch and relax sessions, aqua aerobics, multi walks around the open decks and classic shipboard games like Bocce Ball and Shuffleboard.
Ballroom dancing enthusiasts entered the "Dancing with the Stars At Sea" competition that involved strenuous rehearsals and fierce competition among the entrants.

Most ships today have specialty restaurants; the "Volendam" has two; Canaletto and Pinnacle Grill. The former has an excellent Italian menu that includes two of Egidiana Maccioni's favorites: Italian herb sausage and cannellini beans to start, followed by chicken cacciatore al forno with caramelized carrots and parmesan polenta. Mrs. Maccioni's husband, Sirio, owner of New York City's renowned "Le Cirque" restaurant shone in the Pinnacle Grill. Apart from the Grill's own excellent daily lunch and dinner menus, one night was devoted to a replica of "Le Cirque's" menu coupled with selections from "Le Cirque's" fine wine list.
We shared a table with Patricia and Lee from Minnesota at the "Le Cirque" event. They told us they were veterans of 47 Holland America cruises, six to eight a year, and loved them all.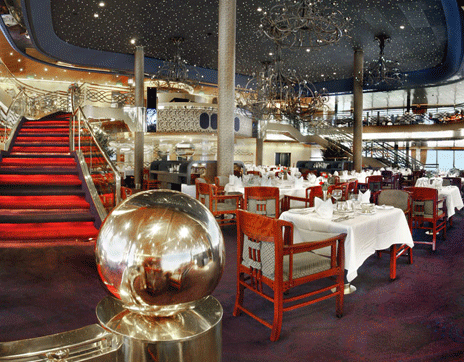 Special culinary treats were the multicultural poolside barbeques, buffets and Mami's noodle soup and dim sum "hut". Mami's noodle soups changed daily: Japanese, Indonesian, Korean, Thai, Philippine. Another unique pleasure was a food station devoted entirely to fresh fruit served by an expert young peeler/cutter of such delights as mangoes, papaya, melons, dragon and passion fruits, pineapples, grapes, apples and bananas.
Carol, a swimmer, and Bill, a reader from Bendigo, Australia and I joined up to attend the excellent series of presentations by Major General (Retired) Bill Crews delivered on Japanese, Aleutian Islands and Alaskan political and military history from the 1600s to the present. Dr. George Stosur, a geologist, filled in the physical aspects of our surroundings as he defined the make-up of the lands, islands and sea that we were traversing.
We were asked to advance our watches by an hour each day after leaving Japan until we reached the International Date Line at which point we were rewarded by an entire, extra day. We have certificates to prove our crossing and the fact that we lived through two Tuesdays that week.
For the next three days we pursued our now-familiar routines and thrived on the warm hospitality of the young and enthusiastic officers, staff and crew. Our Captain and his officers were mostly Dutch while staff and crew were mainly from Indonesia and the Philippines. Many were graduates of the special cruise academies in these countries. Their excellent training was evident in their efficiency and friendliness. Extreme measures were in force for ultimate passenger safety and hygiene. Both public and private areas "shone" throughout the journey.
On our fourth day we began to see mountainous islands in the distance and seagulls circling the ship. The land masses were the volcanic Aleutian Islands chain leading to the Alaska mainland. We reached the Alaskan island of Kodiak in brilliant sunshine. It was strange to step on land again but we were soon overwhelmed by the natural beauty around us. Dake Schmidt of "MemoryMakers", a local tour and guide service took us around the enchanting isle. We learned that it was home to the largest fishing fleet in Alaska, thousands of bald eagles, emperor geese, harlequin ducks, hummingbirds, Sitka spruce, black-tailed deer and, of course, Kodiak bears. The Russian Orthodox Church and nearby museum are reminders of the days of Russian sovereignty of the state.

We admired the fish hatchery from which Sockeye and Chinook salmon are bred and then released into the wild and Fort Abercrombie, its cannons and pill boxes from where the Japanese were beaten back in two World Wars. Even the quilters were satisfied as they "swarmed" the well-stocked quilt shop in the downtown area for "supplies". Since only about seven cruise ships stop in Kodiak each season, we felt most privileged to have experienced this secluded corner of paradise.
We had a day at sea to digest the glory of Kodiak and then sailed for many magical hours around Glacier Bay. The silence and tranquility of the majestic glaciers were only broken by the frequent, excited passenger cries of "whales", "bear" as sightings of these "locals" were confirmed.
Our next stop was in Alaska's first "city", Ketchikan. Amidst an awesome setting, the town flourished thanks to its fishing, lumber and mining industries. In 1906 alone, it produced $21.5 million of gold. We walked around amidst turn-of-the-century long houses, many of which are still inhabited and marveled at the amazing totem poles in the Totem Heritage Center.
In one of the most beautiful settings of Ketchikan we found "The Point", an art gallery, bead store, yarn shop and café, owned and run by artists Cheri and Terry Pyles. Their unique works grace the walls. Sure enough our quilters were already there, sharing crafts stories, purchasing supplies and enjoying lunch.
We left Ketchikan reluctantly as the next day would be our last at sea and on board. Sad as we were at the thought, we marveled at the remarkable beauty of the Inside Passage we were sailing through. The vistas were breathtaking.
I was walking my last four miles on Open Deck 3 when I passed Lois from Vancouver and heard her say "I could just turn around and do this all over again".
No argument from us. We had had 17 wonderful days aboard the "Volendam" and now feel secure in considering an even longer stretch in the very near future.



---

For further information:
www.hollandamerica.com
www.flychinaeastern.com
www.memorymakersinak.com
www.alaskanart.net
---
Top photo courtesy Noel Bell
All others - Holland America Line
---

For more information about Holland America Line visit its web site at
http://www.hollandamerica.com



---

Julie Rekai Rickerd

Julie Rekai Rickerd is a Toronto-based travel and arts writer whose love of global adventure began at an early age. Forever on the move ever since, she has had the good fortune to visit all 7 of the world's continents. She has shared the details and pleasures of these journeys with her readers for many years. Among her favorite modes of travel are cruises that she began to enjoy in the early 1980s when there were but a few small ships plying the tourism waters. She has followed the extraordinary evolution of the enormous cruise industry with great interest and never does she miss an opportunity to take a cruise to one of the many corners of the world where ships of all sizes now go.


Articles by Julie Rekai Rickerd at Prow's Edge Cruise Magazine
• Escaping Winter on a Caribbean Cruise – by Julie Rekai Rickerd
• On the Queen Victoria in the Panama Canal – by Julie Rekai Rickerd