Cruise Articles - Cruise Reviews :
Caribbean Cruise with Oasis of The Seas
Royal Caribbean International
An Oasis of Memories: Seven Days Aboard The World's Largest Cruise Ship
by David Kriso
Saturday, February 16th was a day which I could not wait for. It was a cruise experience which I had on my traveler's laundry list for more than a year. I was about to sail on the world's largest cruise ship, the Oasis of The Seas.
For more than a month, I was sharing via email my countdown to the trip. It was a cruise I looked forward to more than any cruise I've been on in the past. My brother and I had an early flight to Fort Lauderdale, FL. On final approach, we flew over the cruise terminal area. Right below us was the Oasis herself. She was a big vessel. That is an understatement. She wasn't big until we boarded her for real.

After claiming our luggage, we purchased our transfer to the pier. We were one step closer to our cruise. We met a few of our fellow guests. Once everyone was together, we were led to the bus outside. The bus ride to the pier was a quick one. The ride was only fifteen minutes. As the ship came into view, I still could not believe that we were going to be sailing onboard her. The bus pulled up to the curbside, and our bags were unloaded. As we processed inside the terminal, I said to my brother, "Here we go!". The check-in process was oh so efficient. We were checked in quite quickly. We had our embarkation pictures taken and we were then directed upstairs to the boarding area. We were all situated according to Crown & Anchor level, guests in suites, and so forth. It was very well-organized. Before we knew it, it was show time. We presented our Sea Pass cards, and we proceeded onto the gangway. As we boarded the ship, I said "Let's see what this baby is all about!".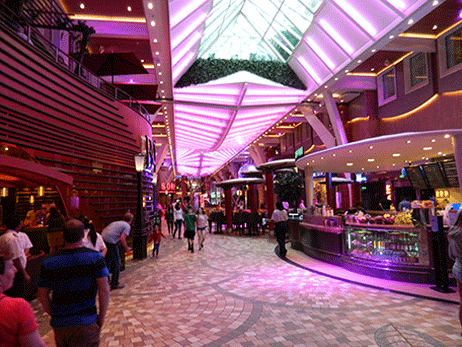 Once aboard the vessel, I was getting anxious. We started walking down the Royal Promenade, the heart of the ship. Many of the shops and small eateries are located there. I could not believe what I was seeing. This ship looked like as if they put a bicycle pump to the Voyager and Freedom class ships. This ship was far larger than those ships alone. The Oasis of The Seas is 1,187 feet long and weighs 225,000 gross tons. She is 208 feet wide, twice the width of the Titanic. The Titanic could actually fit inside her Royal Promenade. Imagine that! Our cabins weren't ready yet. We had lunch upstairs in the Windjammer. It is located on Deck 16. Unlike the Windjammer on other ships, the Oasis's Windjammer is set up in a series of islands. Breads were on one island, pastas were on another, along with hot items including soups, hot dogs and so on. The desserts were located on the far end. It was very well laid out. The layout was so impressive, it wasn't hard to find what you wished to eat.
Shortly after 1pm, our staterooms were ready. The rooms were standard size. The bathroom was a bit wider, with cubby holes to hold toiletry items. It was quite nifty. On other ships, you feel forced to keeping your toiletries in your dop kit. My brother and I had a Central Park balcony. Central Park is the newest break-through public area onboard any cruise ship. Central Park is the first ever living park at sea. It is located on Deck 8. More than twelve thousand types of plants and vegetation are featured in Central Park. There's also an array of specialty restaurants located in Central Park, including Chops Grille and Giovanni's Table. Giovanni's Table is absolutely fantastic. The food is incredible. It's definitely not to be passed up.
Late that afternoon came the lifeboat muster drill. I have never seen a drill for six thousand people. To see a city of passengers gathering for a lifeboat and safety drill is a sight to behold. By five o'clock, the drill was over. It was cast-off time. The sunset over Fort Lauderdale was absolutely unforgettable. It was never such a beautiful evening departing from the pier. Watching the sunset over Florida is an experience not to be missed. I'm so used to seeing the sunset over the Verrazano Bridge when sailing out the New York area. They don't call Florida the Sunshine State for nothing.
Once out to sea, the onboard activities were well underway. The sail away parade had begun, the alcoholic drinks were being chugged down, guests were zip lining, riding the flow riders, and enjoying the six swimming pools. I ordered my favorite drink, the Fuzzy Navel. It is a combination of Peach Schnapps and Orange Juice. See my travel blog story, "Cruise Drinks: Straight Up and Straight Down", at davidekriso.blogspot.com. Later that evening, my brother and I went to the ice show, "Frozen In Time". With such a massive number of guests on board, it was nifty to see how they kept the crowd under control. Guests sailing on the Oasis or her sister ship, Allure of The Seas, are encouraged to make reservations for the onboard shows ahead of time. As the guests entered, the cruise staff scanned the guests' Sea Pass cards. The ice show, "Frozen In Time", was absolutely phenomenal. The skaters were fantastic. They never missed a turn or a spin. They're true professionals. It's a show definitely not to miss out on.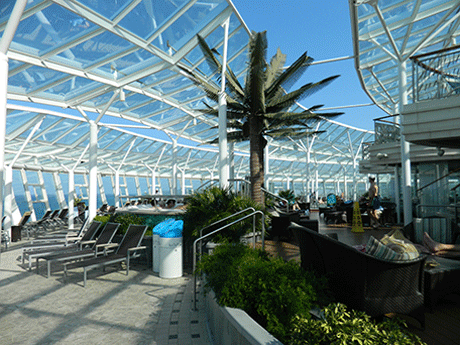 The next day, was a sea day. We went to see Broadway show, "Hairspray". There was no intermission. The show was ninety minutes in length. Even without an intermission, it was a great experience. I would call it an off, off, off, off, off, off, off-Broadway production. Honestly, I felt like I was immersed in a real Broadway environment. The show was truly fabulous. After seeing the show the second time, seeing it on a cruise ship was a far better experience than on Broadway. You're not in those cramped theater seats, you're not bothered by those annoying late arrivals, and best of all...you don't feel so clostrophobic. When on vacation, anything and everything is better.
Dinner onboard was absolutely fabulous. The food selections were wonderful. On one night during the cruise, I had the grilled fillet of salmon. It was far better than what I have in a restaurant on shore. Another great selection on the menu was the marinated grilled chicken breast. It tasted so good, I wanted to order it again and again. Dessert was truly sinful. On one night my brother ordered the Key Lime Pie while I ordered a dessert known as the Chocolate Sensation. It was by far fantastic.
The third day of the cruise, we were supposed to make our first scheduled port-of-call, Labadee, Haiti. Labadee is Royal Caribbean's private Caribbean paradise. It is a peninsular area set off from the main land. Due to rough sea conditions and high winds, Labadee had to be scrubbed. Our next port-of-call was Falmouth, Jamaica. We arrived in Falmouth the following morning. The weather in Falmouth was gorgeous. The skies were a perfect shade of blue, as if it was freshly painted. My brother and I had no excursions booked. We did however walk around the visitors center and shopping area. Royal Caribbean built the Falmouth pier especially for the Oasis and Allure of The Seas. There were more than half dozen jewelry shops, and shops featuring a wide variety of island theme souvenirs. In Falmouth, a Jimmy Buffet's Margaritaville was in the construction process. If you're a Jimmy Buffett fan, Margaritaville will be the place to hang out, have a few drinks, shop, and just be a "parrot head".
At 7pm, we departed Falmouth. We were off to our second and last port-of-call, Cozumel, Mexico. For dinner, my brother and I enjoyed a complimentary dinner at Giovanni's Table. It's one of the eight specialty restaurants featured onboard. The dishes were all family style. We were able to order whatever we wished, and share them back and forth. The food was wonderful. If you're looking for an unforgettable Italian dining experience, Giovanni's Table is a must-do on the Oasis or Allure of the Seas.
Late at night, we attended "The Quest" game show, in Studio B. Studio B is the ship's ice skating rink. If you haven't taken part in "The Quest", don't miss it. It is an on-site adult scavenger hunt. The audience is broken up into a series of teams. Each team has two captains. The team captains count on everyone in their section of the audience to come up with the items needed, or perform daring things in front of their fellow guests. It is considered to be the wildest game show on the high seas. But beware, the show gets more and more risque as the night progresses. If you're under eighteen years of age, there are other plentyful nighttime activities to enjoy onboard. The Quest is a PG-13-style show, however, some parts of the game will leave you laughing uncontrollably. It's an onboard show not to pass up.



The next day, was another sea day. At high noon, one of the most notable events took place in the Aqua Theater. Personally, it is my favorite. It is the "Men's International Belly Flop Competition". On the Oasis of The Seas, the competition is done in a rather interesting manner. Instead of being judged on style and grace on the first round and on self-inflicted pain in the second round, it's judge on one single jump. The jump is scored on two factors, the jump itself and on underwater showmanship. That being said, every one of the eight contestants including myself had to do some gesture in front of the underwater camera. I nailed this perfect horizontal landing, with more pain than you ever imagined. Practice makes perfect! See the story on my travel blog entitled, "The Men's International Belly-flop Competition: KEYS TO VICTORY!". Unfortunately, there was a technical difficulty. My jump wasn't able to be replayed, reviewed, or scored. The cruise director asked the audience if they wanted me to do the jump again. With a standing ovation, I agreed to do the jump again. I got back up on the jumping platform, but unfortunately could not get the height that I had on the first jump. I was then given a 4.59 out of 5 for that jump. I was beat out by five tenths of a point. For the remaining three days of the cruise, more than a hundred guests onboard told me that they wished I had won first place. I wasn't all that worried about winning. It was all about the fun of participating in a competition which I enjoy so much on every cruise.
Later at night, another favorite onboard event took place. On the Royal Promenade, the 1970s Disco Inferno Street Party kicked off. The cruise director and her staff dressed up like disco dancers, and of course, the Village People. She happened to be dressed up as the police officer. I made sure I went prepared. I have always passed up on the 1970s Disco Inferno Street Party. Not on this cruise! Since I was sailing on board the world's largest cruise ship, I wanted to make the best of every opportunity. Prior to the cruise, I bought each myself and my brother a 1970s Afro wig. I never had such a blast on the Royal Promenade floor. The activities manager was never so happy to see me. One of my fellow belly-floppers's families was there dancing with me. It was too fun of an evening. It was truly a night to remember.
The next morning, we tied up in sunny Cozumel, Mexico. My brother and I stepped off the ship to walk around for an hour. We walked around the duty-free shops, browsed through the t-shirt stores, checked out some of the interesting souvenirs, and then headed back on board. Shortly later, I went to the Vitality Spa for my complimentary Swedish massage. The ship's Vitality Spa is like no other spa on the high seas. You walk into the spa and you check in at the front desk. Next, you're directed down a long corridor decorated with exotic flowers. Afterwards, it's a walk down a glass stairway. You then enter massive reception room where you fill out consent paperwork. The massage was wonderful. Never have I had such a relieving experience. It's something which everyone should make a point of doing on any cruise.
Unfortunately, the seventh and final day of the cruise came along. The trip had gone so fast. Who says the cruise has to be over? There was still plenty more to do. Besides packing our luggage for disembarkation, there was lots more to experience. My brother and I each took a zip on the zip line, I rode the Flow Rider for my very first time, and later we took care of some last minute duty-free souvenir shopping. We loaded up on Royal Caribbean gear, including postcards, a pair of Oasis of The Seas hats, t-shirts, and whatever else we could buy with our Crown & Anchor coupons. No cruise is ever over without a mean round of shopping. See the story on my travel blog entitled, "Shop Til You Drop: The Great Secrets of Duty-Free Shopping".
Once shopping was complete, we brought our priceless treasures up to our cabin and finished up our packing. Packing to go home is not the same as it is at the beginning. Stashing one thing on top of the other is often the way you have to close out any cruise. We had to pack our damp swim suits in our carry-on, I had to wrap my Oasis of The Seas coffee mug in a wrinkled undershirt, and had to stuff all the remaining duty-free treasures in any crevices I could find in my suitcase. When done packing, we went downstairs to the Royal Promenade for the farewell celebration. Was the Royal Promenade rocking! It was rocking more than the ship! I kid you not. It may have been the end of an incredible cruise vacation, but I had already started my countdown to our next cruise onboard the Oasis of The Seas. Rest assured. It's not too far away.
Photos by David Kriso
---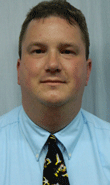 David Kriso

Since the Fall of 2011, David Kriso has been in pursuit of a professional travel writing career. David lives in Hasbrouck Heights, NJ, outside New York City. David is a part-time cruise line agent at the ports of New York City and Bayonne, NJ. He has also worked at the Boston cruise terminal. He is published both locally in his home town's newspapers, The Gazette and The Observer. His stories discuss passenger rail and cruise travel. David is also published online, on Amtrak's story web site Whistlestop.Amtrak.com.

Outside writing, he is a teacher, an active alumnus of Salve Regina University, and a sixteen-year member of the Knights of Columbus. He currently serves as chancellor for his Knights of Columbus council in Hasbrouck Heights.

David can be contacted at [email protected]