Cruise Lines - Aqua Expeditions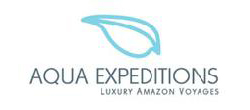 The brainchild of Francesco Galli-Zugaro, Aqua Expeditions is entirely unique to the Peruvian Amazon. Trips cater to discriminating, adventurous travelers and explore the more remote and pristine areas in the upper Amazon River and its tributaries. M/V Aqua, the flagship vessel, is 140-feet long with 12 spacious and luxurious guest suites.  All of the suites are 230 to 240 square feet with large outward-facing picture windows and en-suite sitting areas. There is additional accommodation for one child in each of the 12 suites.
This Lima, Peru-based tour operator operates its first custom built luxury cruise ship, the M/V Aqua year round, sailing on 7,4 and 3 night itineraries - from and to - Iquitos, Peru and taking travelers on a luxurious journey to the sources of the Amazon, the remote Pacaya Samiria Reserve, and beyond with outstanding wildlife viewing and shore excursions into the Amazon rainforest and jungle.

Cruise Area
The Peruvian Amazon
Aqua Expeditions Cruise Ship
M/V Aqua
24 guests
For more information about cruises with Aqua Expeditions please visit: www.aquaexpeditions.com