Cruise Lines - Hansa Cruises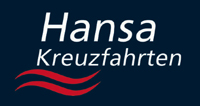 Hansa Cruises, a brand of Delphin Cruises GmbH, specializes in cruises classified as 3- to 4- stars chiefly for the German-speaking markets. It is noted for its high quality and attractive pricing, excellent cuisine and a fair price policy for on board spending. Beverages, for instance, are inexpensive and usually more favorable than ashore. The onboard language is German.
Hansa Cruises Cruise Areas
The ships cruise worldwide from Germany with varied routes searching out unusual ports. The itineraries include Antarctica, South America, Caribbean and Black Sea, Mediterranean, North Cape, Iceland, Baltic, Scandinavia, Greece, England, Ireland, Scotland and the Danube.

Hansa Cruises Cruise Ships
Ms Delphin
16,214 tons
470 passengers

Ms Princess Daphne
15,833 tons
450 passengers

Ms Delphin Voyager
23,000 tons
650 passengers

River cruise ships
Ms Johannes Brahms
84 passengers

Ms Bellissima
134 passengers
For more information about cruise with Hansa Cruises please visit:
http://www.hansakreuzfahrten.de/Ueber_Hansa/Hansa_cruises.html