Cruise Lines - Windstar Cruises

Windstar Cruises operates three sailing yachts known for their ability to visit hidden harbors and secluded coves of the world's most treasured destinations.

Carrying just 148 to 312 guests, the luxurious ships of Windstar cruise to nearly 50 nations, calling at 100 ports throughout Europe, the Caribbean and the Americas.

Sailing under the banner of its appropriate tag line "180 Degrees From Ordinary," Windstar was created with the vision to offer an alternative to the typical cruise or resort vacation. Well known for cruising off the beaten path, the upscale line visits exotic locales and hidden harbors that larger ships cannot access.

Windstar's distinctive four- and five-masted ships – the Wind Star, Wind Spirit and Wind Surf – sail some of the world's most beautiful waters, with strong presences in the Caribbean, Costa Rica, Panama Canal and Europe, including the Mediterranean and Greek Islands.

In addition, the Wind Star, Wind Spirit and Wind Surf will operate Transatlantic voyages of 14 days each for guests who wish to experience the unique thrill of crossing an ocean in a spectacular sailing ship.Windstar's unique concept of sailing has led the cruise industry in the luxury small ship, casual attire and alternative dining arenas. Pioneering and refining these concepts has earned Windstar an excellent reputation and market niche, winning the allegiance of a whole new generation of contemporary cruise vacationers, one-third of whom are first- time cruisers.



Windstar Cruises Cruise Areas
Windstar is well known for traveling off the beaten path on itineraries from the Mediterranean, Amalfi Coast and Greek Isles to the Aegean Sea, the Caribbean and Costa Rica. The upscale line sails into the exotic locales and hidden harbors that larger ships simply cannot access – magical and mysterious places like Capri, Italy; Portimão, Portugal; or Bequia, Grenadines. In addition, the Wind Star, Wind Spirit and Wind Surf operate Transatlantic voyages of 14 days each.



Windstar Cruises Awards
Windstar Cruises has been recognized by Prow's Edge Cruise Magazine as one of the top three Best Food Cruise Lines 2013/2014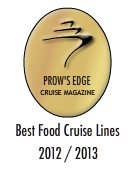 Other recent world class awards for Windstar Cruises include those awarded by Condé Nast Traveler magazine recognized Windstar on their annual Gold List of "Best Cruise Lines", Travel + Leisure magazine who selected Windstar Cruises as one of the top five "World's Best Small-Ship Cruise Lines" based on their annual readers' survey, and Porthole Cruise Magazine who awarded Windstar the "Most Romantic Cruise Line" award for the seventh time in a row.



Who Cruises with Windstar Cruises
Windstar passengers seek upscale luxury accommodations, but desire a casually elegant atmosphere. Cruisers range in age from 20s to 80s – average age 51, average income $175,000-plus. They are generally professionals, experienced travelers and first-time cruisers. Windstar is couples-oriented, perfect for honeymooners, anniversary celebrants and adult family reunions. Windstar handles a good amount of charter and incentive travel business each year.



Windstar Cruises Cruise Ships
Wind Spirit
5,350 tons
148 passengers

Wind Star
5,350 tons
148 passengers

Wind Surf
14,745 tons
312 passengers


For more information about cruises with Windstar please visit: Windstar Cruises