Cruise Lines - Scenic Cruises

Scenic Cruises operates the newest and most luxurious fleet of river cruise ships in Europe.  Its five 'Space-Ships', increasing to seven this spring, sail river voyages throughout Europe, Russia and Egypt, with tours ranging from seven to 21 nights.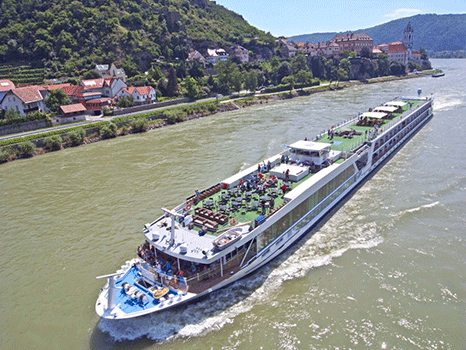 Photo: Scenic Cruises


Guests enjoy larger staterooms and suites, more than 80% with full-size balconies, private butler service in Junior and Royal Suites, private concerts, exclusive performances, onboard entertainment, tour leaders, meals in a choice of three dining venues - served with complimentary premium wines, beers and soft drinks, escorted airport transfers – even gratuities and baggage handling – all included in the fare. 
The result of the efforts of some of Europe's top river ship designers and naval architects, the design of the Scenic Cruises vessels are unique and offer more than 20% more space than the usual river cruise ships.
The Scenic Cruises vessels are more than 20% larger than the other cruise ships in Europe offering similar cruises and features one of the largest observation lounges of any river cruise ship. Even the restaurant is larger than average.
Operated by Scenic Tours, founded more than 20 years ago when it originally focused on travel to Australia, the conpany later expanded its offerings to include European river cruises.The river cruise ships of Scenic Cruises are also the first river cruise ships in Europe to be 100% owned and operated by an Australian company.
Scenic Cruises Cruise Ships
Marketed as "Exclusive, Scenic 'Space-Ships'" the cruise ships of Scenic Cruises feature unique designs unlike any other ships on Europe's waterways.

With facilities similar to those to be found on ocean liners, the "Space Ships" feature large private balconies and cabins with more space than any other river cruise ships.

One of the latest additions to the fleet is the Scenic Cruises fleet of ships is the Scenic Tsar on which more than 6.25 million Euros will be invested to create a luxury river cruising vessel for the Russian waterways.



EUROPE
Scenic Crystal
To be launched in 2012
169 passengers
Scenic Pearl
Launched in 2011
169 passengers
Scenic Diamond
Launched in 2009
169 passengers
Scenic Ruby
Launched in 2009
169 passengers
Scenic Emerald
Launched in 2008
169 passengers
Scenic Sapphire
Launched in 2008
169 passengers

RUSSIA
Scenic Tsar
To be launched in 2012
112 passengers
For more information about cruises with Scenic Cruises visit:
http://scenictours.com/european-river-cruising/