Cruise Lines - Viking River Cruises
Viking River Cruises, the world's largest river cruise company, offers quality service, gourmet cuisine and comfortable scenic all-inclusive cruising along the majestic rivers of Europe, Russia and China.

The intimate, deluxe ships average 150 passengers for Europe and just 186 for China. Accommodation is in an outside, river view cabin with private bathroom and shower, hotel-style beds and large picture windows that open in many cabins. The beautifully appointed public areas have single-seating restaurants, bar, and lounge.

All itineraries are designed to provide travelers with comprehensive sightseeing opportunities.

The company has been honored multiple times as the top river cruise line on Condé Nast Traveler's "Gold List" and Travel & Leisure's "World's Best" Awards.


Viking River Cruises Cruise Areas
Viking River Cruises offers 19 itineraries in Europe, Russia, Ukraine and China, ranging from 8 to 22 days. While the majority of its river cruises are in Europe, the company is also a Russia specialist with two comprehensive journeys along the Volga, Neva and Svir between Moscow and St. Petersburg and one trip through Ukraine between Kiev and Odessa.
In China, Viking has the very best ships, featuring all balcony staterooms and fully equipped Western-style kitchens. The company's three China "cruisetours" take visitors to China's highlights, including Beijing, Shanghai and the Terra Cotta Army in Xian, plus a Yangtze River cruise.
Viking River Cruises Awards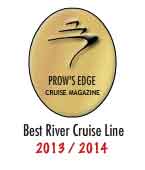 For the third year running, Viking River Cruises has been recognized by Prow's Edge Cruise Magazine as one of the top three Best River Cruise Lines 2013/2014

Viking River Cruises is consistently voted as being among the top cruise lines in the world.

These include Cruise Critics Editor's Picks in 2012 citing Viking River Cruises as the "Best New River Cruise", Travel + Leisure 2012 World's Best Awards readers' survey choice of the "World's Best River Cruise Line" Travel Weekly Readers Choice Award for "Best River Cruise Line, and Conde Nast Traveler inclusion of Viking River Cruises in the annual Gold List, Reader's Choice and Best Small Ships lists.

Viking River Cruises Cruise Ships
Europe - Rhine, Main & Danube
Viking Longship Aegir
Viking Longship Atla
Viking Longship Baldur
Viking Longship Bragi
Viking Longship Delling
Viking Longship Embla
Viking Longship Forseti
Viking Longship Freya
Viking Longship Gullveig
Viking Longship Heimdal
Viking Longship Idi
Viking Longship Idun
Viking Longship Jarl
Viking Longship Kvasir
Viking Longship Lif
Viking Longship Magni
Viking Longship Njord
Viking Longship Odin
Viking Longship Rinda
Viking Longship Skadi
Viking Longship Tor
Viking Longship Var
Viking Helvetia
Viking Legend
Viking Prestige
Viking Sky
Viking Sun
MS Vienna
Europe - Elbe (Germany)
Viking Fontane
Viking Schumann
Europe - Seine & Rhône (France)
Viking Longship Buri
Viking Europe
Viking Longship Hermod
Viking Neptune
Viking Pride
Viking Spirit
Europe - Douro (Portugal & Spain)
Viking Douro
Viking Hemming
Viking Torgil
Russia
Viking Helgi
Viking Ingvar
Viking Rurik
Viking Truvor
Ukraine
Viking Lomonosov
China
Viking Emerald
Southeast Asia
RV Indochina
Viking Mandalay
Viking Mekong
Egypt
MS Esplanade
MS Omar El Khayam



For more infomation about river cruises with Viking River Cruises please visit : Viking River Cruises