Cruise Lines - The Yachts of Seabourn
Ultra-luxury cruise leader Seabourn Cruise Line has earned unanimous accolades from cruising guidebooks, travel critics, and traveler polls since its founding in 1987. Its fleet of all-suite ships, Seabourn Pride, Seabourn Spirit, Seabourn Legend, Seabourn Odyssey, Seabourn Sojourn and the Seabourn Questare renowned for:
• Extraordinary levels of personalized service, with nearly one staff member per guest
• Sumptuous ocean-view suites of 277 square feet or more, many with balconies
• Award-winning cuisine served in an open-seating Restaurant
• Exceptional shoreside experiences in the world's most desirable destinations
It has been annonuced however that
It was announced on February 19, 2013 that Seabourn reached an agreement with Windstar Cruises for the sale of the three smaller Seabourn ships. Seabourn Pride will depart the fleet in April of 2014, sisters Seabourn Legend & Seabourn Spirit will depart in April and May of 2015, respectfully, no cruises will be cancelled as the ships will sail with Seabourn until their initial dry dock periods.

It is also expected for Seabourn to order a fourth sister ship to the Odyssey, Sojourn & Quest sometime within 2013, it will be a combined size of the Pride, Spirit and Legend sister.

The Yachts of Seabourn offer guests an array of value-packed Signature Delights on board, such as open bars including wines, spirits and French champagne; a complimentary Exclusively Seabourn shoreside experience on each cruise; soothing Massage Moments for guests on deck; superb cuisine; free water sports from the ship's fold-out marina; Movies Under the Stars; Caviar in the Surf beach barbecues and more. Tipping is neither required nor expected.

Innovative options include Seabourn's Personal Shopper excursions with a local expert by private car; Personal Valet luggage shipping service from home to suite and back; Vintage Seabourn premium wines pre-purchase program.

Seabourn Cruise Line has also won the award for one of the Best Luxury Cruise Lines - 2013/2014 in the Prow's Edge Cruise Magazine Awards 2013/2014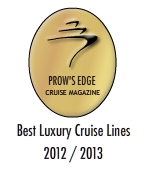 Who cruises with the Yachts of Seabourn
Seabourn satisfies an affluent, well-traveled clientele who want the "best of the best" and seek "trophy experiences" in exceptional destinations. Ideal prospects may be frequent guests at exclusive hotels, restaurants, resorts, and upscale tours, who have not considered a cruise vacation because they are unaware of Seabourn's intimate, ultra-luxury alternative cruising style.
The Yachts of Seabourn Cruise Areas
• Summer: Mediterranean; Scandinavia. Russia; Norwegian Fjords
• Spring: South America; India, Arabia; Western Europe; Mediterranean; Caribbean; Panama, Belize, Costa Rica; Transatlantic; Amazon
• Winter: , Vietnam; Malaysia; South America; Caribbean; Mexican Riviera, Panama, Belize, Costa Rica
• Fall: Canada & New England, Mediterranean, Spain, India & Arabia, Transatlantic
• Christmas Holiday: Caribbean; Thailand, Vietnam
The Yachts of Seabourn Cruise Ships
Seabourn Legend
10,000 tons
208 passengers
Seabourn Pride
10,000 tons
208 passengers
Seabourn Spirit
10,000 tons
208 passengers
Seabourn Odyssey
32,000 tons
450 passengers
Seabourn Quest
32,000 tons
450 passengers
Seabourn Sojourn
32,000 tons
450 passengers
For more information about cruises with Seabourn please visit :
The Yachts of Seabourn