Cruise Lines - Lindblad Expeditions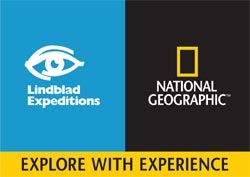 When Lars-Eric Lindblad set out with the first groups of expedition travelers in the late 1950s, he was following his passion to discover unknown places and to share the unique cultural and environmental aspects of these places with others. What he didn't realize at the time was that he was laying the foundation for what we know today to be "eco-tourism."

Lindbladexpeditions are active adventures ,engaging the mind and body, exploring with Zodiacs, kayaks and on foot, the remote beaches and hidden coves close to nature to make personal contact with the many marvels on earth.

Since the earliest days, Lindblad Expeditions hase introduced curious and intrepid travelers to regions that they call the "international capitals of wildness" — Alaska, Antarctica, Arctic Svalbard, Baja, Costa Rica and Galápagos.

Without a doubt, these are some of the most fascinating, unspoiled and life-enhancing destinations on the planet.

Guests are encouraged to also think of exploring, in a new way, the more familiar destinations of Europe, the British Isles, the Mediterranean, and the Baltics, arriving from the sea and looking at a region from a whole new perspective. In Central America including Nicaragua, Costa Rica, and Panama or in North America's Alaska, our expeditions are a wonderful blend of both the wild and rich cultural history of these regions.

The staff of dedicated Lindblad experts is made up of biologists, geologists,zoologists, botanists and local experts who don't see themselves as guides, but rather explorers. The leaders have dedicated years — even decades — to exploration, conservation and scientific understanding of Lindblad's key geographies. They have forged access into areas unknown and unvisited by others, and they have the demonstrated expertise to confidently lead groups into these remote and unpredictable regions.

Their passion resonates; it is what makes expeditions as special as they are.

The staunch belief of Lindblad Expeditions is that a traveler's own individual experience can be life changing — leading to greater understanding, appreciation and eventual stewardship of a place.

Once someone has experienced the natural and cultural wonders of a place, they become part of the cycle of helping to sustain, preserve or even repair these places.

Lindblad Expeditions believse that exceptional leadership is a key component to guiding this transformation process, in a way that respects both guests and the regions we visit.






Lindblad Expeditions Awards

This year Lindblad Expeditions, for the 2nd year, has been recognized by Prow's Edge Cruise Magazine as one of the top two Best Adventure Cruise Lines - 2013/2014

Lindblad Expeditions has been the winner of many prestigious awards including being recognized as one of the 2013 Gold List Cruise Lines by Conde Nast Traveler this ear in 2013, as one of the Top Small Ship Cruise Lines by Travel & Leisure World's Best Awards, the Best for Adventure by Cruise Critic's 2012 Editors' Pick Awards, one of the Top 25 Cruise Lines by
Conde Nast Traveler 2012 Readers Choice Awards and many more.
Lindblad Expeditions Cruise Ships
National Geographic Explorer
148 guests
National Geographic Endeavour
96 guests

National Geographic Sea Bird
62 guests
National Geographic Sea Lion
62 guests
National Geographic Islander
48 guests
Delfin II
28 guests

Oceanic Discoverer
68 guests

Lord of the Glens
54 guests

Sea Cloud
58 guests

Jahan
58 guests

For more information on cruises with Lindblad Expeditions please visit:
http://www.expeditions.com/