Cruise Lines – Avalon Waterways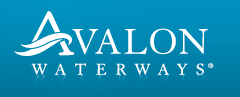 The award-winning small ship cruise company Avalon Waterways is part of the Globus family of brands. Avalon Waterways is making waves in river and small ship cruising by offering travelers the newest, most luxurious ships in Europe, China, Egypt and the Galápagos.
The company's ships feature state-of-the-art design and technology and large staterooms with flat screen TVs, Egyptian linens, large wardrobes, and mini bar. 90%+ of the staterooms in the Avalon fleet have panoramic sliding glass doors and French balconies, enhancing the views. Handcrafted cuisines incorporate local flavors with a choice of complimentary wine, beer or soft drinks with dinner.
In addition to countless trade accolades, Avalon Waterways has garnered some of the industry's most prestigious honors:  Among them, Avalon Waterways was voted the No. 2 Best Small-Ship Cruise Line in Travel + Leisure's  2009 World's Best Awards, featured in Condé Nast Traveler's 2009 Gold List and voted a Top 10 Small Ship Cruise Line in the publication's 2008 Reader's Choice. 

Avalon Waterways Cruise Areas
From Europe to Egypt and from China to the Galapagos Island, Avalon offers a wide variety of cruises.
Avalon Waterways Cruise Ships
Avalon Felicity
138 passengers
Avalon Luminary
138 passengers
Avalon Affinity
138 passengers
Avalon Creativity
140 passengers
Avalon Scenery®
138 passengers
Avalon Imagery® (2007)
170 passengers
Avalon Tranquility® (2007)
170 passengers
Avalon Tapestry® (2006)
164 passengers
Avalon Poetry®
176 passengers
Avalon Artistry®
178 passengers
Victoria Anna
226 passengers
Victoria Jenna
400 passengers
Royal Lotus
124 passengers
La Pinta
48 passengers
M/V Santa Cruz
88 passengers

For more information about cruises with Avalon Waterways please visit: http://www.avalonwaterways.com/