Cruise Lines - Blount Small Ship Adventures

American Canadian Caribbean Line, a family-owned small ship cruise line established in 1966, has changed its name to Blount Small Ship Adventures.

The new name is a tribute to ACCL founder Capt. Luther H. Blount, founder of the line, who passed away in 2006. "Our name now explains the type of cruise we operate – small, informal, yacht-style – rather than the locales we visit," notes Ms. Blount, one of three daughters of Capt. Blount who run both the family-owned cruise line and a thriving shipyard. "It's reflective of my father's spirit of adventure which lives on today. There's no question he has left his mark on the industry and continues to be remembered as a travel visionary."

Capt. Blount designed and built a fleet of one-of-a-kind vessels that could take him and his passengers to places no one else could get to. He coined the marketing slogan, "Go where the big ships cannot" to describe the small ship adventure that is perpetuated as the Blount brand.

His ships feature patented innovations such as the bow ramps that allow passengers to disembark the vessel right onto the beach, and retractable pilothouses for sailing underneath low bridges and tropical overhanging vegetation.

The company operates three US-registry and US-crewed ships. Each ship carries 66-98 passengers and the most recent fleet has been retrofitted over the past three years.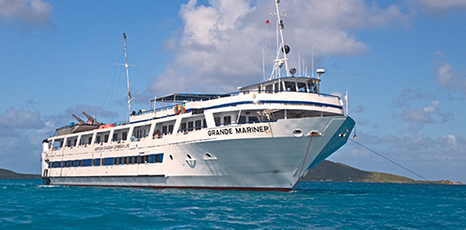 Photo - Grand Mariner - courtesy Blount Small Ship Adventures

The latest ship – the 100-passenger M/V Grande Mariner – scheduled to be completed before its May 23, 2010 departure from the cruise line headquarters in Warren, RI to Chicago. Renovations include updates and improvements to cabins, washrooms and common areas.

The cruise line has added new itineraries and ports of call to the Blount Small Ship Adventures 2011 schedule such as New York City to Toronto; Ontario's Georgian Bay region; St. Maarten to St. Martin and Belize/Guatemala. Onboard programs including culinary demonstrations, wine tastings, and performances have been developed as well as in-port kayaking and bike activities. New ships are in the plans, too.
For more information about cruise with Blount Small Ship Adventures please visit: http://www.blountsmallshipadventures.com