Cruise Lines - Cunard Line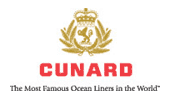 If travel is meant to be savored, then crossing the oceans should be a majestic experience, not merely a hop across the pond. For travelers of this persuasion, only one name evokes the pleasures of the Golden Era of Ocean Travel: Cunard Line.
Proudly continuing a tradition that began in 1840, flagship Queen Mary 2 offers luxurious amenities and accommodation.

Maintaining the tradition of its Cunard and White Star Line predecessors, Queen Mary 2 is the only ship offering regularly scheduled Transatlantic service between New York and Southampton, England.

Queen Victoria offers the very best of the heritage and traditions of Cunard, along with some exciting innovations and at-sea "firsts" including private viewing boxes in the Royal Court Theatre, a Cunardia museum, fencing programme and a two-storey library featuring an elegant spiral staircase.

Queen Elizabeth pays homage to the art deco décor period, and features related artwork and finishes throughout the ship. The ship also offers unique Cunard elements—such as The Verandah restaurant offering French cuisine, the Garden Lounge which will host evening supper clubs, the Games Deck featuring paddle tennis, bowls and croquet, and the first Fortnum & Mason shop.

All Cunard ships feature the celebrated Queens Grills and Princess Grills accommodation and exclusive dining.


Who sails with Cunard Line
Cunard Line caters to sophisticated, well-seasoned travelers who enjoy the finer things in life. The classic liners attract like-minded guests who enjoy the Cunard hallmarks of impeccable White Star Service, fine dining, sumptuous surroundings, civilized adventure and the legacy of historic voyages and Transatlantic travel.
Cunard Line Cruise Areas
• Spring: Transatlantic, Canary Islands, Iberia, Scandinavia, Baltic, Mediterranean, Europe, United Kingdom, United States
• Summer: Transatlantic, Mediterranean, Scandinavia, Baltic, Europe, United Kingdom, Canada & New England
• Fall: Transatlantic, Canada/New England, Caribbean, Mediterranean, Canary Islands, Iberia, Europe
• Winter: World Voyages, Canary Islands, Iberia, Caribbean, Panama Canal, Hawaii, Mexico, Europe
Cunard Line Fleet

Queen Elizabeth
92,000 tons
2,092 passengers

Queen Mary 2
151,400 tons
2,620 passengers

Queen Victoria
90,000 tons
2,014 passengers


For more information about cruises with Cunard please visit:
http://www.cunard.com/