Cruise Lines - China Regal Cruises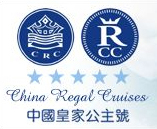 The only ALL 5-Star western managed Yangtze River cruise company. China Regal Cruises was the first Yangtze cruise company to gain the coveted 5-Star designation from the Chinese National Tourism Bureau and remains the only western managed cruise company to have the 5-Star designation for all ships in its fleet.

China Regal Cruises offers floating luxury hotels with the highest standards for the most discriminating traveler. This is the ideal platform for viewing the many outstanding geological, historical, and technical wonders to be found along the Yangtze, many of which can only be seen and all of which can best be seen from a vessel on the river.


China Regal Cruise Ships
TheGerman-built Princess Jeannie, Princess Elaine and Princess Sheena are the only Yangtze ships designed and manufactured abroad. Their state-of-the-art engineering and stabilizers make for quiet journeys and virtually motionless passages.
China Regal Cruise Areas
Upstream 6 days, 5 nights from Wuhan to Chongqing
Downstream 4 days 3 nights from Chongqing to Wuhan
For more information about cruise with China Regal Cruises please visit:
http://www.chinaregalcruises.com/about.htm