Cruise Lines – Captain Cook Cruises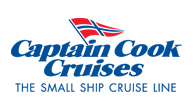 From the islands of Fiji to the bays and beaches of Sydney Harbour to the outback vastness of the Murray River basin, Captain Cook Cruises draws on over 38 years of cruising knowledge to create unique and exciting travel experiences.

Captain Cook Cruises is a family-owned, Australian 'small ship' cruise operator and the recipient of numerous awards including Australian, New South Wales, Tropical North Queensland and South Australian `Tourism Awards for Excellence', Fiji Visitors Bureau `Best Cruise Line', and the Australian Federation of Travel Agents `Best Cruise Line'.


The company operates a fleet of 16 vessels and offers a choice of over 150 cruises weekly throughout Australia and Fiji.

Our vessels have hosted some of the world's most prestigious events and dignitaries including the President of the United States, President of China, Vice Chancellor of Germany and members of the British Royal family.


Captain Cook Cruises Cruise Areas
Cape York, Murray River, Fiji Islands.
Captain Cook Cruises CruiseShips
Captain Cook Cruises employs some 500 enthusiastic men and women and owns or manages nine vessels on Sydney Harbour, which includes an accommodated ship, "Captain Cook's Explorer" and the company's flagship, the beautiful and distinguished "Sydney 2000", capable of carrying 700 passengers for lunch or dinner on three decks. In other parts of Australia, the Murray River and in the Fiji Islands, Captain Cook Cruises has built and operates a stylish fleet of small ships capable of nestling close to shore, giving passengers an opportunity to enjoy each destination with its activities and culture in safe and special accommodated surroundings.
For more information about cruises with Captain Cook Cruises please visit:
http://www.captaincook.com.au/home.asp