Cruise Lines - Uniworld Boutique River Cruise Collection

Uniworld River Cruises, Inc. d/b/a Uniworld Boutique River Cruise Collection, headquartered in Los Angeles, was founded in 1976 and was the first river cruise company to focus on the North American traveler. The introduction of all English-speaking river cruises, meals catering to the North American market, pre- and post-extension land programs—all standard offerings today—were the result of innovations introduced by Uniworld. In addition, Uniworld was the first North American cruise line to enter many new destinations, including Russia, Ukraine, and Portugal. The company was acquired in 2004 by The Travel Corporation, a highly successful and diversified travel company.

With the financial backing of The Travel Corporation, Uniworld has made and continues to make significant capital investments in new ships, product upgrades, and innovative program enhancements. Uniworld opened an office in Basel, Switzerland, as well as satellite offices in the Netherlands and France to ensure complete control over every aspect of product delivery: nautical, hospitality, and land operations. While many of Uniworld's competitors subcontract out their operations, Uniworld made the decision to invest heavily in owning and operating the majority of its ships, which allows the company to have complete control over its entire operation.
In 2014, Uniworld will have a fleet of eleven company-owned and operated ships in Europe, as well as charter partnerships in Russia, Egypt, Portugal, China, Vietnam, and Cambodia. Uniworld's fleet has been designed and decorated by the Red Carnation Hotel Collection design team. Red Carnation operates an award-winning collection of family-run, world-class hotels, and it is renowned for its expertise in operating luxury boutique hotels. As a sister company to Uniworld, the renowned Red Carnation design team has personally overseen every detail of Uniworld's European ships in recent years, helping to create stunning, welcoming interiors. The close synergy shared between Uniworld and Red Carnation has resulted in unparalleled levels of quality of service and stylish luxury, allowing Uniworld to offer the very finest river cruising experience available.
Uniworld's guests enjoy an intimate, boutique cruise experience onboard luxuriously appointed river cruise ships with 5-star inclusions. With an average capacity of 130 guests and a ratio of one highly trained crew member to every three guests, Uniworld provides award-winning service and has been recognized as one of the world's best cruise lines in surveys published by both Condé Nast Traveler and Travel + Leisure. Uniworld's superb food and beverage program—awarded by Zagat as the only river cruise company to receive high standards in dining—has been created by Bernhard Zorn, Uniworld's certified Global Master Chef, who ensures his team of world-class chefs prepare a wonderful selection of dishes using fresh local produce available from the destinations of each itinerary. Further, Uniworld's distinctive wine program was developed by Red Carnation's renowned sommelier from their Relais & Châteaux member hotel.
Onshore, Uniworld offers high-quality included excursions, hosted by expert English-speaking local experts who use state-of-the-art Quietvox headset systems to enhance guests' sightseeing experience. All of Uniworld's itineraries and excursions are planned by Uniworld employees who physically investigate every aspect of each itinerary to ensure the highest level of delivery throughout each cruise.
Areas covered by Uniworld Boutique River Cruise Collection
Uniworld offers over 500 departures sailing on over 15 rivers in more than 20 countries throughout Europe, Russia, Egypt, China, Vietnam, and Cambodia.

Uniworld's luxury value-packed 2013 boutique river cruises include:

• The finest riverview staterooms afloat—many with French balconies—offering deluxe signature touches including handcrafted beds from Savoir® of England and a wide variety of pillow options for the most soothing night's sleep
• Luxurious marble-clad bathrooms stocked with L'Occitane products, plush towels, and soft robes
• All onboard meals flawlessly prepared using only the freshest ingredients from local farmers' markets
• Complimentary fine wines, beer, and soft drinks during lunch and dinner onboard company- owned European ships*; bottled water in your stateroom; and a 24-hour specialty coffee and tea bar
• A variety of dining experiences, from al fresco dining to Captain's Welcome Gala and Farewell Dinners, and more
• Award-winner service from a professionally trained, English-speaking staff on ships with an average capacity of just 130 guests and the highest staff-to-guest ratio in the river cruise industry
• Complimentary Internet and Wi-Fi access
• Signature Lectures and intriguing local entertainment
• Captivating shore excursions, fully hosted by English-speaking local experts using state-of-the-art Quietvox audio systems
• "Choice Is Yours" shore excursions
• Complimentary use of bicycles and Nordic walking sticks for onshore enjoyment
• Complimentary well-equipped fitness center and exercise classes
• Complimentary airport transfers on arrival and departure days
• Exclusive Epicurean Adventurer ProgramTM on select itineraries
• Multigenerational Family-Friendly Program on select itineraries

* Wine, beer, and soft drinks are served during dinner in Portugal, Russia, Vietnam, and Cambodia. Other amenities and inclusions may vary in these destinations

Uniworld's "true all-inclusive" 2014 Europe boutique river cruises include all the amenities and features listed above, as well as:

• All gratuities onboard and onshore
• Unlimited beverages onboard, including fine wine, beer, spirits, soft drinks, specialty coffee and tea, and bottled water†

† Unlimited beverages do not include premium wine and premium spirits

Areas covered by Uniworld Boutique River Cruise Collection
Uniworld offers over 500 departures sailing on over 15 rivers in more than 20 countries throughout Europe, Russia, Egypt, China, Vietnam, and Cambodia.



The Epicurean Adventurer Program offered by Uniworld Boutique River Cruise Collection
Uniworld offers lovers of food and wine the exclusive Epicurean Adventurer ProgramTM, which is included at no extra charge. This program is designed to take guests deeper into the wonderful world of craft beer and wine, and expand their knowledge of its relationship with food. Guests will savor different wines poured throughout the course of their meal at a special food and wine pairing dinner. They will partake in an onboard culinary demonstration and tasting, and be treated to private wine tastings onshore that are available only to Uniworld guests.


2013 Epicurean Adventurer ProgramTM itineraries:

• Burgundy & Provence | Arles to Lyon | 8 Days
• Castles along the Rhine | Basel to Amsterdam | 8 Days
• Enchanting Danube | Budapest to Passau | 8 Days
• European Jewels | Budapest to Amsterdam | 15 Days
• Grand European Discovery | Basel to Vienna | 15 Days
• Grand European Highlights | Belgrade to Basel | 22 Days
• Grand European River Voyage | Amsterdam to Istanbul | 27 Days
• Grand France | Paris to Arles | 17 Days
• Imperial Capitals of Europe | Istanbul to Vienna | 15 Days
• Legendary Rhine & Moselle | Amsterdam to Basel | 13 Days
• Paris & the Heart of Europe | Paris to Vienna | 18 Days
• Rhine Discovery | Nuremberg to Basel | 8 Days
• Splendors of Italy | Venice to Rome | 13 Days
• Venice & the Po River | Venice to Venice | 8 Days


Awards for Uniworld Boutique River Cruise Collection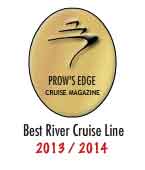 For the third year running, Uniworld Boutique River Cruise Collection has been recognized by Prow's Edge Cruise Magazine as one of the top three Best River Cruise Lines 2013/2014

Still more awards include Condé Nast Traveler's Readers' Cruise Poll award for being one of the "Top 100 Cruise Ships in the World", Travel + Leisure's World's Best Service Award for the "World's Best Service" in the river cruise category, Cruise Critic Editors' Picks award for "Best River Cruise Line", as well as Los Angeles Times Readers' Choice Award for "Best Cruise Line" and many more.



Uniworld Luxury Boutique River Cruise Ships


S.S. Catherine (NEW for 2014) Inauguration: 2014 | Length: 443 ft | Width: 37.5 ft | Voltage: 110/220 volts | Guests: 159 | Royal Suite: 1 (410 sq ft) | Suites: 5 (305 sq ft) | Categories 1 – 3 Staterooms: 61 (194 sq ft) | Categories 4 – 5 Staterooms: 13 (162 sq ft) | Public areas & amenities include: Van Gogh Lounge; Bar du Leopard; Cézanne Restaurant; Gordes Terrace; Matisse Terrace (top deck) with chess and shuffleboard; swimming pool; Fitness Center; Serenity River SpaTM; Boutique; laundry services; elevator; 24-hour specialty coffee and tea bar; and complimentary Internet and Wi-Fi access


S.S Antoinette (2013 Condé Nast Traveler Readers' Cruise Poll, "Top 100 Cruise Ships in the World"— Score 95.5) Inaugurated: 2011 | Length: 443 ft | Width: 37.5 ft | Voltage: 110/220 volts | Guests: 160 | Royal Suite: 1 (391 sq ft) | Suites: 8 (294 sq ft) | Categories 1 – 3 Staterooms: 53 (196 sq ft) | Categories 4 – 5 Staterooms: 18 (163 sq ft) | Public areas & amenities include: Salon du Grand Trianon; L'Orangerie Sky Lounge; Restaurant de Versailles; Bar du Leopard; Sun Deck with chess and shuffleboard; heated enclosed swimming pool; Le Cinema Pigalle; Fitness Center; Serenity River SpaTM; Boutique; laundry services; elevator; 24-hour specialty coffee and tea bar; and complimentary Internet and Wi-Fi access


River Beatrice (2013 Condé Nast Traveler Readers' Cruise Poll, "Top 100 Cruise Ships in the World"— Score 94.8) Inaugurated: 2009 | Length: 410 ft | Width: 37.5 ft | Voltage: 110/220 volts | Guests: 162 | Owner's Suite: 1 (300 sq ft) | Suites: 14 (225 sq ft) | Category 1 Staterooms: 17 (150 sq ft) | Categories 2 – 5 Staterooms: 49 (150 sq ft) | Public areas & amenities include: Main Lounge with full-service bar; Captain's Lounge/Library; Restaurant; Sun Deck with chess and shuffleboard; Fitness Center; Serenity River SpaTM; Boutique; laundry services; elevator; 24-hour specialty coffee and tea bar; and complimentary Internet and Wi-Fi access


River Queen (2013 Condé Nast Traveler Readers' Cruise Poll, "Top 100 Cruise Ships in the World"— Score 94.4) Inaugurated: 1999 | Remodeled: 2010 | Length: 361 ft | Width: 37.5 ft | Voltage: 110/220 volts | Guests: 132 | Suites: 4 (215 sq ft) | Categories 1 – 5 Staterooms: 62 (151 sq ft) | Public areas & amenities include: Main Lounge with full-service bar and fireplace; Captain's Lounge/Library with full-service bar; Restaurant; Sun Deck with chess and shuffleboard; Fitness Center; Sauna; Serenity River SpaTM; Boutique; laundry services; elevator; 24-hour specialty coffee and tea bar; and complimentary Internet and Wi-Fi access


River Royale (2013 Condé Nast Traveler Readers' Cruise Poll, "Top 100 Cruise Ships in the World"— Score 91.5) Inaugurated: 2006 | Remodel scheduled for 2014 | Length: 361 ft | Width: 37.5 ft | Voltage: 110/220 volts | Guests: 132 | Suite: 1 (217 sq ft) | Category 1 Staterooms: 26 (140 sq ft) | Categories 2 – 3 Staterooms: 39 (151 sq ft) | Public areas & amenities include: Renoir Lounge with full-service bar; Library; Cézanne Restaurant; Sun Deck with chess and shuffleboard; Fitness Center; Sauna; Serenity River SpaTM; Jacuzzi® on the Sun Deck; Boutique; laundry services; elevator; 24-hour specialty coffee and tea station; and complimentary Internet and Wi-Fi access


River Countess (2013 Condé Nast Traveler Readers' Cruise Poll, "Top 100 Cruise Ships in the World"— Score 93.3) Inaugurated: 2003 | Remodeled: 2012 | Length: 361 ft | Width: 37.5 ft | Voltage: 220 volts | Guests: 134 | Suites: 4 (214 sq ft) | Categories 1 – 5 Staterooms: 63 (151 sq ft) | Public areas & amenities include: Il Castillo Lounge with full-service bar; Captain's Lounge/Library with full-service bar; Sienna Salon Sky Lounge; Savoy Restaurant; Sun Deck with chess and shuffleboard; Fitness Center; Sauna; Serenity River SpaTM; Boutique; laundry services; elevator; 24-hour specialty coffee and tea bar; and complimentary Internet and Wi-Fi access


River Duchess (2013 Condé Nast Traveler Readers' Cruise Poll, "Top 100 Cruise Ships in the World"— Score 90.7) Inaugurated: 2003 | Remodeled: 2012 | Length: 361 ft | Width: 37.5 ft | Voltage: 220 volts | Guests: 134 | Suites: 4 (214 sq ft) | Categories 1 – 5 Staterooms: 63 (151 sq ft) | Public areas & amenities include: Blue Danube Lounge with full-service bar; Captain's Lounge/Library with full-service bar; La Motte Sky Lounge; Palace Restaurant; Sun Deck with chess and shuffleboard; Fitness Center; Sauna; Serenity River SpaTM; Boutique; laundry services; elevator; 24-hour specialty coffee and tea bar; and complimentary Internet and Wi-Fi access


River Empress (2013 Condé Nast Traveler Readers' Cruise Poll, "Top 100 Cruise Ships in the World"— Score 91.9) Inaugurated: 2001 | Remodel scheduled for 2014 | Length: 361 ft | Width: 37.5 ft | Voltage: 220 volts | Guests: 134 | Suites: 4 (214 sq ft) | Categories 1 – 5 Staterooms: 63 (151 sq ft) | Public areas & amenities include: Main Lounge with full-service bar; Captain's Lounge/Library with full-service bar; Sky Lounge; Restaurant; Sun Deck with chess and shuffleboard; Fitness Center; Sauna; Serenity River SpaTM; Boutique; laundry services; elevator; 24-hour specialty coffee and tea bar; and complimentary Internet and Wi-Fi access


River Princess (2013 Condé Nast Traveler Readers' Cruise Poll, "Top 100 Cruise Ships in the World"— Score 94.1) Inaugurated: 2001 | Remodeled: 2011 | Length: 361 ft | Width: 37.5 ft | Voltage: 220 volts | Guests: 132 | Suites: 4 (214 sq ft) | Categories 1 – 5 Staterooms: 62 (151 sq ft) | Public areas & amenities include: Main Lounge with full-service bar; Library and game room; Restaurant; Sun Deck with chess and shuffleboard; Fitness Center; Serenity River SpaTM; Boutique; laundry services; 24-hour specialty coffee and tea bar; and complimentary Internet and Wi-Fi access
River Ambassador (2013 Condé Nast Traveler Readers' Cruise Poll, "Top 100 Cruise Ships in the World"—Score 94.3) Inaugurated: 1993 | Remodeled: 2011 | Length: 361 ft | Width: 37.5 ft | Voltage: 220 volts | Guests: 120 | Suites: 4 (256 sq ft) | Categories 1 – 3 Staterooms: 56 (128 sq ft) | Public areas & amenities include: Main Lounge with full-service bar; Library and game room; Restaurant; Sun Deck with chess and shuffleboard; Fitness Center; Serenity River SpaTM; Boutique; laundry services; 24-hour specialty coffee and tea bar; and complimentary Internet and Wi-Fi access


River Baroness (2013 Condé Nast Traveler Readers' Cruise Poll, "Top 100 Cruise Ships in the World"— Score 92.3) Inaugurated: 1994 | Remodeled: 2011 | Length: 361 ft | Width: 37.5 ft | Voltage: 220 volts | Guests: 120 | Suites: 4 (256 sq ft) | Categories 1 – 3 Staterooms: 56 (128 sq ft) Public areas & amenities include: Monet Lounge with full-service bar; Van Gogh Restaurant; Sun Deck with chess and shuffleboard; Fitness Center; Serenity River SpaTM; Boutique; laundry services; 24-hour specialty coffee and tea bar; and complimentary Internet and Wi-Fi access


Queen Isabel (NEW for 2013) Guests: 118 | Suites: 2 (323 sq ft) | Junior Suites: 18 (215 sq ft) | Category 1 Staterooms: 23 (161 sq ft) | Category 2– 3: 16 (161 sq ft) | Public areas & amenities include: Main Lounge with full-service bar; Restaurant; Sun Deck with swimming pool; Fitness Center; Serenity River SpaTM; Boutique; elevator; 24-hour specialty coffee and tea bar; and complimentary Internet and Wi-Fi access


River Victoria Remodeled: 2011 | Length: 423 ft | Width: 55 ft | Voltage: 220 volts and 110 volts in bathroom | Guests: 206 | Presidential Suites: 2 (409 sq ft) | Junior Suites: 2 (334 sq ft) | Deluxe Suites: 6 (269 sq ft) | Categories 1 – 3 Staterooms: 62 (210 sq ft) | Categories 4 – 5 Staterooms: 26 (135 sq ft) | Category 6 Staterooms: 5 (161 sq ft) | Public areas & amenities include: Chagall Lounge with full-service bar and dance floor; Katarina Bar; Pushkin Restaurant; Sun Deck patio with lounge chairs; Fitness Center; Boutique; Serenity River SpaTM; Library; elevator; 24-hour specialty coffee and tea bar; and complimentary Internet and Wi-Fi access


River Tosca (2013 Condé Nast Traveler Readers' Cruise Poll, "Top 100 Cruise Ships in the World"— Score 89.4) Inaugurated: 2009 | Length: 236 ft (72 m) | Width: 46 ft (14 m) | Voltage: 220 volts | Guests: 82 | Presidential Suites: 2 (651 sq ft) | Suites: 39 (313 – 335 sq ft) | Public areas & amenities include: Lounge with full-service bar; Library; Restaurant; Sun Deck with cabanas and swimming pool; Fitness Center; Massage Room; Boutique; and complimentary Internet and Wi-Fi access


Prince Abbas
Inaugurated: 1998 | Length: 280.5 ft (85.5 m) | Width: 50.9 ft (15.5 m) | Voltage: 220 volts | Guests: 140 | Standard Staterooms: 50 (226 sq ft) | Public areas & amenities include: Lounge with full-service bar; Library; Restaurant; Sun Deck with shaded restaurant, mosaic-lined swimming pool and Jacuzzi; Fitness Center; and Billiard Room


Century Legend and Century Paragon (NEW for 2013) Inaugurated: 2013 | Length: 456 ft | Width: 65 ft | Voltage: 220 volts | Guests: 398 | Presidential Suites: 2 (1,140 sq ft) | Uniworld Signature Suites: 34 (301 sq ft) | Public areas & amenities include: 2 restaurants, including Executive VIP Restaurant; 6-story atrium; multi-function lounge; Spa with massage services; Beauty Salon; Fitness Center; lap pool with relaxation area and pool bar; movie theater; game rooms; Library; Boutique; elevator; and complimentary Wi-Fi in Executive Lounge area


River Orchid (NEW for 2013) Inaugurated: 2013 | Length: 168 ft | Width: 33.4 ft | Voltage: 220 volts | Guests: 60 | Suites: 2 (232 sq ft) | Staterooms: 28 (168 sq ft) | Public areas & amenities include: Panoramic Restaurant; Lecture and Movie Room; Spa for massage treatments; and Sun Deck with full-service bar


---


For more information about river cruises with Uniworld please visit:
http://www.uniworld.com/