Cruise Lines - Silversea Cruises

Silversea is a cruise company reflecting generations of maritime and travel experience. In the early 1990s, the Lefebvre family of Rome, former owners of Sitmar Cruises, conceived and organized a unique cruise company pledging to build and operate the highest quality ships in the ultra-luxury segment.

The name "Silversea" was chosen because it connotes quality and luxury as well as capturing the romance and special sensations of the sea.
The fleet was purpose-built for the ultra-luxury market, establishing a new class of smaller, intimate vessels that could slip into more exotic ports off the beaten path.

These elite vessels were specifically designed for fewer guests, more space and the highest levels of personalized service, delivered by Italian officers and European staff. All-ocean view suites, most with private veranda, and open seating dining options so guests dine when, where and with whom they desire, add to the very special ambiance created onboard.

But what is also unique is that they incorporate the favorite amenities found on larger ships, such as an elaborate show lounge featuring nightly entertainment, casino, spa and state-of-the-art fitness facility.


Awards for Silversea Cruises
Silversea Cruises has often been applauded by many leading consumer and trade publications, including Berlitz Complete Guide to Cruising & Cruise Ships, Condé Nast Traveller, Frommer's, Porthole Cruise Magazine, Stern's Guide to the Cruise Vacation, Travel + Leisure, and the list of accolades constantly grows, the most recent of which comes from Prow's Edge Cruise Magazine who has given the award for one of three Best Exclusive Boutique Luxury Cruise Lines - 2013/2014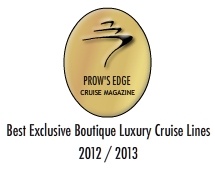 Who Cruises with Silversea Cruises
Silversea typcially attracts affluent travelers accustomed to the finest hotel and resort accommodations and travelers interested in experiencing enriching adventures and intriguing destinations, in an atmosphere of luxurious comfort and gracious service.


Silversea Cruises Cruise Areas
• Mediterranean (Spring/Summer/Fall)
• Northern Europe & Baltic (Summer)
• Far East & South Pacific (Winter/Spring)
• South America (Fall/Winter)
• New England & Colonial Coast (Fall)
• Alaska (Summer)
• Amazon, Caribbean & Panama Canal (Fall/Winter/Spring)
• Africa & India (Fall/Winter)
• Australia & New Zealand (Winter)



Silversea Cruises Cruise Ships
Silversea launched its first ship, Silver Cloud, in 1994, followed by Silver Wind in 1995, Silver Shadow in 2000 and Silver Whisper in 2001.

December 2009 marked the arrival of Silver Spirit, that now serves as the flagship of Silversea's six-ship fleet.

Two other vessels include the Silver Galapagos that concentrates on the Galapagos area, and the expedition ship, the Silver Explorer that was formerly thePrince Albert II

Silver Cloud
16,800 tons
296 passengers

Silver Wind
16,800 tons
296 passengers

Silver Shadow
28,258 tons
382 passengers

Silver Whisper
28,258 tons
382 passengers

Silver Spirit
36,000 tons
540 passengers

Silver Galapagos
Galapagos Area Ship
4,077 tons
100 passengers

Silver Explorer
(formery the Prince Albert II)
Expedition ship
6,072 tons
132 passengers



For more information about cruises with Silversea Cruises please visit : Silversea Cruises