Cruise Lines - Victoria Cruises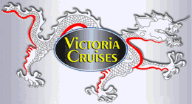 Victoria Cruises holds the distinction of operating and managing the largest fleet of vessels with the coveted five-star rating from the China National Tourism Administration. A true pioneer and innovator, Victoria Cruises delivers an unrivaled and unsurpassed Yangtze River experience. An American company, Victoria targets a global marketplace with customers in the US, Australia, the UK, Germany and other European countries.
All ships in the fleet boast the same deluxe style and décor from tastefully-appointed cabins and elegant atriums with sparkling chandeliers and gleaming woods to an overall décor throughout of American and European influences with Asian accents.
All cabins feature Internet access, satellite TV with HBO and BBC broadcasts plus Sky Sports from Hong Kong. All cabins (with the exception of cabins on the Victoria Rose) feature private balconies for viewing the magnificent Three Gorges scenery, and full baths in the bathrooms.
Ships are served by crews of 110-128 and multi-lingual Western cruise directors and local river guides. All ships are four-passenger-deck vessels of China registry.
Victoria Cruises Cruise Areas
Four- to nine-day itineraries journey downstream or upstream between Chongqing and Shanghai (Grand Yangtze Discovery) or Chongqing and Yichang (Three Gorges Highlights). The eight-day Three Gorges Explorer itinerary, roundtrip from Chongqing to Yichang and back to Chongqing, entices travelers with different shore excursions in each direction. A program between Chongqing and Wuhan (on the Victoria Rose) plus seasonal specials are also available.
Victoria Cruises Cruise Ships
Victoria Katarina
266 passengers
Victoria Prince
206 passengers
Victoria Queen
206 passengers
Victoria Star
206 passengers
Victoria Empress
198 passengers
Victoria Rose
130 passengers
Victoria Anna
308 passengers
For more information about cruises with Victoria Cruises please visit :
Victoria Cruises