Cruise Lines - Sea Voyager Expeditions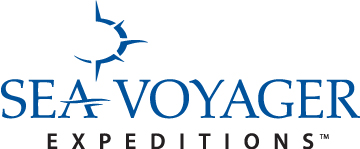 Sea Voyager Expeditions, headed by former executive director of International Association of Antarctica Tour Operators (IAATO) and eco-tourism expert Denise Landau, is dedicated to exploring the expedition cruise areas of Central and South America.
As Denise Landau, CEO and president explains:  "itineraries are as varied as the noisy monkeys, the myriad of colorful butterflies, and the thousands of species of birds unique and endemic to this region." 


The M/V Sea Voyager, the pride and joy of Sea Voyager Expeditions, a winner in Condé Nast's 2009 Best Small Ships Awards and having recently undergone extensive re-fittings, is a versatile expedition ship designed for the tropics. 
All staterooms are air-conditioned with outside views through panoramic windows, ample storage, and private bath. 
The ship has a roomy lounge with large windows, bar, fitness room, library with WiFi, massage room, dining room with 2-12 guests per table, buffet, deck space, fore, aft and covered decks, and a platform for getting on/off Zodiacs, kayaks, swimming and snorkeling.
High class food offered aboard the m/v Sea Voyager is prepared by talented chefs making use of local ingredients, freshly caught seafood and even locally grown coffee.
Committed to being the leader in tropical expeditions and preserving their unique destinations, Sea Voyager Expeditions is run by cruise industry professionals, many with more than 25 years of expedition travel experience.



Sea Voyager Expeditions Cruise Areas

Sea Voyager Expeditions focuses on four of the world's most fauna- and wildlife-rich countries -- Colombia, Panamá, Costa Rica and Ecuador, highlighting untouched wilderness, rarely-visited small villages and Indigenous peoples. Offering such unique itineraries, Sea Voyager Expeditions manage to locate, reach and explore destinations not accessible or commonly pursued by the larger cruise ships and cruise lines.



Sea Voyager Expeditions Unique Offerings

A cruise with Sea Voyager Expeditions is filled with gems not available on other cruise ships and other cruise lines such as:
• the wetlands of Humedal de San-San Pond Sak, with its great variety of flora and fauna, dolphins and manatees
• the World Heritage Sites of Cartagena, Coiba and Darien
• humpback whale migrations
• indigenous people such as Colombia's Arawak, Catio and Embera
• the pristine rain forests and rugged natural beauty of the Osa Peninsula in Costa Rica, named by National Geographic as "the most biologically intense place on Earth"
• the Choco-Darién region with its 8,000 plant species, 400 species of trees, 4 species of mangroves, and nearly 600 bird species as well as many unique mammal species, including Jaguars, Ocelots, Giant Anteaters, Tapirs, and Tamarins
The novelty of a the m/v Sea Voyager is the offering simple on board relaxation along with the amazing excursions and offerings by the accompanying and experienced naturalists and guides. Passengers can suite their own tastes and needs.
Sea Voyager Expeditions Cruise Seasons
Sea Voyager Expeditions offer their cruises all year round




Sea Voyager Expeditions Cruise Ship

m/v Sea Voyager
60 -64 passengers
For more information visit www.seavoyagerexpeditions.com, call (888) 912-2572 or email: [email protected].